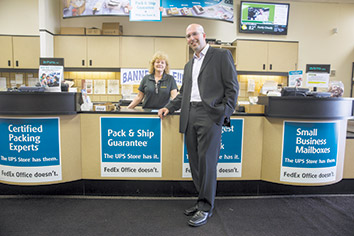 When Barb Albano bought her first UPS Store in Noblesville, she remembers her attorney coming to the closing and watching while she signed the papers.
When she began the process of buying her second store in Westfield, Albano turned to her neighbor for legal assistance.
Albano's neighbor, Josh Brown, not only has experience in business, but he has built his solo practice concentrating primarily on franchise law. He helps entrepreneurs who buy or sell franchises navigate the federal and state laws and regulations that govern the operations of these businesses.
"It's a very, very fascinating area of the law," Brown said. "It touches on a lot of business concepts."
Equally fascinating to Brown was the number of individuals who invest their life savings into buying a franchise without enlisting the help of an attorney. The franchise agreements can number upward of 400 pages and bind the owner-operators anywhere from five to 20 years.
With his experience in business and his desire to help small business owners, Brown carved out his niche legal practice. His firm in Carmel is small and very specialized, but he gets to know his clients serving not only as an attorney but also as a consultant.
Brown's cross-town neighbor is Phil Sever, co-founder of the Sever Storey law firm which focuses solely on representing landowners in eminent domain cases. Sever, too, has established a niche practice that enables him to wear shorts and sandals to work and to find some positive outcome in what he sees as potentially unfair land acquisitions.
The common thread connecting Brown and Sever is that their niche practices, each developed through personal and professional experiences, incorporate practical approaches to serving their clients.
Pickles and pipelines
Brown's expertise in franchise law began with part-time jobs he worked while in high school. Today, as he chooses sandwich toppings at a Subway restaurant, he knows from experience exactly how many pickles are to be placed on each sub.
He always planned to go to law school. However, after finishing his undergraduate degree at Indiana University in Bloomington, Brown wanted a break from the classroom. For five years, he worked full time in business management, including a couple of stints for franchise owner-operators.
It is not surprising that he was drawn to business law after graduating from Valparaiso University Law School in 2006. Brown worked for private firms, doing mostly corporate litigation where he soon realized he did not want to build his whole career on litigation.
He explained he gets much more enjoyment from helping people build things rather than dealing with the mess after the business falls apart.
Sever, by contrast, discovered the possibilities that eminent domain law held only when the Rockies Express Pipeline cut across south-central Indiana.
Dubbed the REX pipeline, the 1,600-plus-mile conduit was constructed to carry natural gas from Colorado to eastern Ohio. When construction reached Indiana, Sever and his law partner Tonny Storey started attending the public meetings between the energy company and landowners. Sever Storey took on 20 to 30 property owners as clients and soon their general practice shifted to a niche practice.
Phil Sever (right) and Tonny Storey, founding partners at Sever Storey, focus their entire practice on representing landowners in eminent domain cases. (Submitted photo)
Sever and Storey found they really enjoyed representing landowners and digging into the finer points of complex eminent domain law. Since the REX pipeline, Sever Storey has opened offices in Illinois, Ohio and North Carolina, following big road projects that involve land grabs.
Sever acknowledged he never expected to be in four states but the expansion, "just made sense."
Relating to clients
Speaking of his work, Sever peppers his language with terms like "regular folks," "normal folks," and "the takers." They are his words for landowners facing eminent domain and the government agencies scooping up property for large public works projects.
This language stems from his experience as a student attending the University of Akron School of Law at night. He spent his days working as a document clerk for a large firm where he believed he was well liked, playing on the firm's basketball team while still managing to keep his grades in the top quarter of his class.
Sever then approached the hiring partner about a summer associate position. That partner schooled Sever on the terminology of first-, second- and third-tier law schools, telling him the firm only hires students and graduates from the Ivy League and would never consider anyone from Akron.
The response from Sever was, "I quit." If the firm held no opportunity for him, Sever did not want to waste his time.
When landowners come to him with government offers for their homes, Sever remembers that a prestigious law firm snubbed a guy going to a "normal school." In the eminent domain situation, he explained, the government has been planning for years but only gives each household a month to decide to either sign the agreement or get taken to court.
To Sever, that is an unfair situation and one he and his firm tries to remedy.
Brown grew up around the legal profession, having a father, aunt and uncle who are attorneys, and he saw how lawyers can help people. He wants his clients to consider him to be more than someone who can untangle a legal matter. Brown would like to be seen as a trusted business advisor with whom clients feel comfortable asking questions and bouncing around ideas.
"If I can build that kind of relationship with my clients, I've done a really good job," he said.
Bye, bye billable hour
Both Brown and Sever turned to alternative fee structures because of their clients. Unless they are dealing with larger companies or corporations, charging by the hour will not attract many small businesses or even be feasible for individuals.
Brown typically charges his clients a flat fee. He outlines the services he can provide and then assigns a dollar amount. This eliminates any surprises that can come when a client opens an attorney's bill and stops the internal debate clients have with themselves about whether to call the lawyer with a question.
"I was just kind of blown away, myself, by the number of people who don't seek out attorneys," he said. "People do whatever they can to avoid getting an attorney because they feel it's really expensive and they'll get charged for every phone call."
Sever primarily works on a contingency fee arrangement. "Regular folks" are better able to manage a contingency fee because few are sitting on piles of cash from which they can pay an hourly rate, he explained.
Under his fee structure, his firm takes a percentage of any amount increased from the original offer.
As an example, Sever and his firm represented the Delphi Pentecostal Church in an eminent domain case with the state over the Hoosier Heartland project. The church rejected the state's initial offer of $534,000 and was able to resolve the matter for $1 million. Sever based his fee on the approximate $500,000 value his firm added.
All the little details
Brown's client Albano became a small business owner after getting downsized for the third time in five years. She turned to Brown for help navigating the agreements and disclosures that come with purchasing a franchise, and she still consults with him whenever she has a legal question or needs direction.
Brown pays attention to the details, she said. He points out things she did not even know to consider. That allows her to focus on her niche of helping customers with their shipping and printing needs.
"I enjoy 'wowing' people," Albano said. "It gives me the opportunity to interact with the people and solve their problems."•
Please enable JavaScript to view this content.