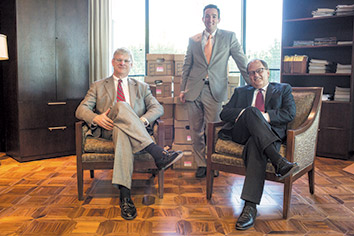 Several attorneys recently have departed established firms to form their own practices, leveraging their legal talents, goodwill and loyal clientele to satisfy entrepreneurial longings.
In three such recent startups, attorneys partnered with colleagues from prior work lives to form an enterprise all their own.
"I always thought I would like to have my own firm at some point," said Tara Rabiola, who with Jaimie Cairns opened Cairns & Rabiola LLP in downtown Indianapolis after talking about it and planning for just a couple of months. "There's no perfect time. It's a leap of faith no matter when you do it."
But it wasn't an uninformed leap. "We tried to be very conservative with (estimating) expenses," Rabiola said. "This is our livelihood, so we don't want to bite off more than we can chew."
Rabiola said she and Cairns shared a computer spreadsheet and charted every conceivable cost. They got tech help and moving assistance from family members, who also provided encouragement, as did clients and former firm partners.
The family law attorneys had
practiced at the five-attorney shop of Ruppert & Schaefer P.C. before opening this month in Lockerbie Marketplace in Indianapolis.
"It has not been nearly as scary or overwhelming as I thought this would be. We've been very lucky, I would say. It's been a very amicable split" from Ruppert & Schaefer, Rabiola said.
That's been the experience of other attorneys who've planted their flags recently. They describe a similar delicate separation process: Informing the firm of their intention, after which the firm notifies clients who then have a decision to make – stick with the firm or follow their lawyer.
Densborn Blachly LLP formed when former Taft Stettinius & Hollister LLP partners Don Densborn and David Blachly joined with sole practitioner Jarod Brown to open an office on the north side of Indianapolis. Densborn said the practice will be positioned to serve small to mid-sized companies with business, real estate and financial transactions.
As the three talked for more than two years about the prospect of starting a firm, discretion was paramount, Densborn said. "We were circumspect about not talking to clients or employees about our intentions until we had permission to do so.
"Once we announced to the firm what our intentions were, it could not have gone better," he said. "I have nothing but kind words for the way the transition was carried off."
Densborn believes every client with an active matter followed Blachly and him to the new firm. Clay Barnes, CEO of Materials Processing Inc., said the choice was clear when he learned Densborn was forming his own firm. Materials Processing employs more than 450 people in plants in Indiana, Texas and Mexico, and has had a relationship with Densborn for 17 years.
"Taft is a fine law firm, but when it comes to who I want at point, it's Don," Barnes said, noting Densborn's connections to niche attorneys at Taft and elsewhere when the need arises. "We get the best of both worlds, basically."
Blachly and Densborn have worked together off and on since 1990, when Densborn hired Blachly at former Indianapolis law firm Johnson Smith LLP.
The new firm's mission statement took just two drafts to write, Densborn said, and recalls some of the early Johnson Smith ethos. "The basic tenets of it, Dave Blachly and I have been talking about for more than 10 years," he said. One of those tenets: "To provide a platform for talented lawyers, not just to ply their skills, but to self-actualize personally and professionally." The goal is to attract talented lawyers, on their terms, to do the work they do best, Densborn said.
The firm settled on space with room to grow in the Parkwood office complex on East 96th Street.
"There's a lot of talent out there," Densborn said, noting the firm hopes to hire soon or find partnership arrangements.
Another recent startup, Robert Means LLC, also chose to put down roots on the north side of Indianapolis, locating in Five River Crossing on River Road. Founders Jeffrey Roberts and William Means were on a path toward becoming partners at their respective firms, Roberts said, but they also wanted a firm to call their own.
"We were both 11 or 12 years out in our practices, and we both were extremely confident in our ability to represent clients in the best way possible," Roberts said. But starting a firm took more than just entrepreneurial desire. "It's tempting for anyone who has a business mind, but I think it would have been irresponsible to do this before we honed our skills."
Cairns & Rabiola LLP attorneys Tara Rabiola, left, and Jaimie Cairns recently opened their family law practice in offices at Lockerbie Marketplace in downtown Indianapolis. After several months of planning, they left their former firm to set up shop. (IL Photo/ Aaron P. Bernstein)
Roberts and Means worked together years back at Riley Bennett & Egloff LLP and stayed in touch afterward. Over the years, they worked at firms large and small, taking pieces of what works from each to form the kind of shop they wanted. Roberts practices mainly in business law while Means primarily practices family law.
"When we were planning this, we envisioned a scenario where it would be very slow from Day One and we would have to work our way up," Roberts said. "We were pleasantly surprised quite a few (clients) followed us."
Like Densborn Blachly, Roberts Means chose space where there was room to grow from the start. Growth may take the form of hiring attorneys or associates, or partnering with other lawyers in an of-counsel or other arrangement. "It's exciting for us to be in that position as firm owners to discuss those types of strategic growth opportunities," Roberts said. "You don't get to do that as much if you're in a larger firm environment."
Densborn said formation of his new firm comes at a time that the profession is enduring seismic changes. "Most experts say law firms will have to be big to the point of being international in scope, or you've got to be more 'boutiquish,' if you will," he said.
"I think we're focused more on controlling costs for the benefit of our clients and making profit that way than just trying to raise billable rates for hours across the board. … The corporate community is clearly rebelling against the billable hour."
Cairns and Rabiola likewise were concerned about making sure they could offer clients good service at a reasonable cost. Immediate growth wasn't a consideration for them. Rabiola said they chose their office space for a couple of key reasons: its central location and free parking.
"Something we both really felt was important was doing divorce and custody cases as efficiently and affordably as possible," Rabiola said. "Our clients write checks from the same account they use to buy groceries from and pay the mortgage with."
To keep costs down, Rabiola and Cairns are doing it all – answering the phones, paying the bills, scheduling and handling other office chores in addition to representing the couple of dozen or so clients who followed each of them.
Rabiola's philosophy for anyone thinking of leaving a firm to start their own: "Go into it knowing there are no guarantees out there. Do it smartly and conservatively. … You can always get bigger."
Roberts believes this is a good time for new firms that have a vision, but the idea of establishing a startup isn't for everyone.
"There are certainly attorneys out there who want to practice law, and that's it," he said. "And that's great. But you can't have that mindset if you do what we did.
"Running the business and practicing law are two completely different tasks, but they're both equally important when you open and run a small firm like we have," Roberts said.•
Please enable JavaScript to view this content.