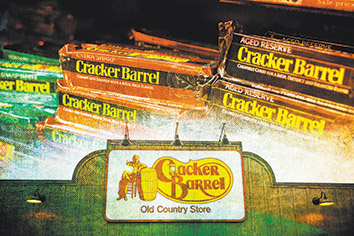 A federal appeals court ruled recently that savvy consumers might be confused if food branded Cracker Barrel Old Country Store was sold in grocery stores that carry Kraft's Cracker Barrel brand cheese. Turns out even a law professor who teaches a course on trademarks and unfair competition might be fooled.
"When I thought of that cheese in the store, that's what I would have thought of," Notre Dame School of Law professor and associate dean Mark McKenna said. "In my mind at least, I associate the Cracker Barrel mark much more with the restaurant."
The 7th Circuit Court of Appeals on Nov. 14 affirmed an Illinois District Court's temporary injunction won by Kraft Foods, which claimed that allowing the restaurant chain's branded hams and other foods to be sold in groceries would confuse consumers familiar with Kraft's Cracker Barrel cheese trademark.
"In some respects, the case is an application of some pretty standard principles of trademark law," McKenna said. "What's different about this case is you have longstanding mutual use of trademarks in different areas."
Northfield, Ill.-based Kraft sued the Tennessee-based restaurant chain in Kraft Foods Group Brands LLC v. Cracker Barrel Old Country Store, Inc., et al., 13-2559. The restaurant is free to sell its branded food items in its establishments, but Kraft has a trademark to defend when both items are sold in the same stores, the 7th Circuit held.The lawsuit against Cracker Barrel was filed after the restaurant began selling hams under license to a few groceries, but the opinion notes those sales stopped after Kraft sued.
Daniel P. Albers of Barnes & Thornburg LLP in Chicago represented Cracker Barrel and said he couldn't discuss what the company might do after the ruling. "Cracker Barrel is disappointed with the ruling but pleased the court supports the sale of its product through its old country stores, mail order and online," he said.
The restaurant has been doing that for years without challenge from Kraft. Albers said Kraft also has stipulated as part of this litigation that it has no objection to the restaurant selling items in grocery stores using its distinctive silhouette logo of Uncle Herschel in a rocking chair with the wording modified to "CB Old Country Store."
New York attorney Barbara Solomon of Fross Zelnick Lehrman & Zissu P.C. represented Kraft at oral arguments before the 7th Circuit but did not reply to inquiries seeking comment.
The 7th Circuit opinion isn't a ruling on the merits, Albers noted. "There's not a lot of precedent where two companies coexisted this long and used the same words in their respective marks, and that was an issue we raised (at the District Court)."
Albers argued that a 66-year-old 7th Circuit ruling, California Fruit Growers Exch. v. Sunkist Baking Co., 166 F.2d 971 (1947), could have helped his client prevail. In that case, Hoosier jurist Sherman Minton wrote an opinion reversing a ruling that a baking company's use of the "Sunkist" brand infringed the trademark on citrus and other such products. The case was remanded for dismissal.
Krieg DeVault LLP intellectual property litigation practice chairman Ali Warr said he thinks the Kraft opinion strikes a balance using time-tested principles. Warr is not involved in the litigation.
"We know in trademark law, first in time is first in right," Warr said. "What the preliminary injunction does is protects the Cracker Barrel trademark for Kraft's cheese in grocery story outlets." Kraft perfected a Cracker Barrel trademark in the 1950s, and the restaurant chain didn't trademark its name until the 1970s.
"It permits the coexistence of two otherwise identical trademarks … based on the channels of trade and the potential for customer confusion," he said.
Similarity of the goods being sold also enters the equation. McKenna noted that there are all kinds of similar trademarks – think of Delta Air Lines and Delta Faucets, or Ace Bandages and Ace Hardware for example. But usually those brands are unlikely to compete in similar lines of commerce, so infringement isn't typically an issue, he said.
Experts noted that 7th Circuit Judge Richard Posner went to some length in this case to note such factors. The opinion borrows from U.S. Supreme Court Justice Learned Hand's observation that it would be hard for the seller of steam shovels to find grounds for a complaint against a lipstick using the same trademark.
"Cheese and deli meat are much more closely related," Warr said.
Affirming the preliminary injunction, he continued, "sends a pretty strong signal to Cracker Barrel that Kraft has a substantial likelihood of succeeding on the merits in the case at trial." But the opinion also gives Cracker Barrel Old Country Stores an avenue to proceed in the District Court or appeal because it was critical of Kraft's expert survey, he said.
"If I'm Cracker Barrel Old Country Store and I don't like this ruling, this is one issue I would attack in proceeding to trial," Warr said. "Conversely, if I'm Kraft, now I have time to conduct a more thorough survey."
McKenna said the case also is interesting in that Kraft had not objected to Cracker Barrel's sale of similar food items until they began appearing on grocery store shelves.
In an opinion complete with pictures of the competing logos and an inconclusive exploration of consumer psychology in trademark cases, Posner wrote that Kraft must prevail. He noted prior court observations that "the average buyer is 'neither savant nor dolt,' but is one who 'lacks special competency with reference to the matter at hand.'"
"Even savvy consumers might be fooled, because they know that producers often vary the appearance of their trademarks," Posner wrote. Classifying the products as similar low-cost packaged food items, he found that if the restaurant chain prevailed, "similar products with confusingly similar trade names will be sold through the same distribution channel – grocery stores, and often the same grocery stores.
"Such similarities and overlap would increase the likelihood of consumer confusion detrimental to Kraft," the court held.
Cracker Barrel operates more than 620 restaurants – including 29 in Indiana – and Kraft's Cracker Barrel cheese is sold in thousands of grocery stores.•
Please enable JavaScript to view this content.