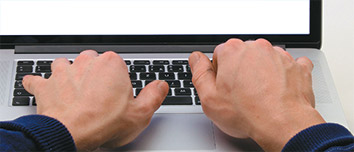 When James Reed penned an article about pets and divorce, his colleagues at Bingham Greenebaum Doll LLP were about as enthusiastic as a cat facing a bath.
Reed and former BGD attorney Tamara McMillian had written about the questions of pet custody and visitation that can arise when owners end their marriage. Originally, the article was submitted for the firm's monthly newsletter sent to clients and referral services. But Reed said the decision-makers were hesitant to print the story, thinking it did not have the gravitas needed for that audience.
No problem. Reed had a new trick – the firm's blog.
He and McMillian refashioned the article, made it more conversational, gave it the title, "Who Gets the Pet?" and posted it on BGD's website in February 2012.
The clicks immediately followed. Many visitors read the post and one, who was worried about his pet in his divorce, hired Reed as his attorney.
"It shows in the larger context how to connect with a larger audience or connect with a client," Reed said, noting an ad in a newspaper does not provide the same level of access. "You have to make a deeper connection, a more personal connection with the individual."

A post about pets and divorce shows the impact blogs can have. For lawyers, online writings can bring new clients, serve as a means to learn about a new topic and provide a creative outlet. For law firms, blogs can help establish their attorneys as thought-leaders in particular practice areas and promote the firm as a whole.
Legal blogs on the Internet cover a range of topics from specific practice areas, career tips, and new tech gadgets for lawyers to recent court decisions and legal news along with gossipy sites laced with innuendo and wisecracks.
Masson
Douglas Masson of Hoffman Luhman & Masson P.C. carved out his niche in the blogosphere in 2004 when he started his thread "Masson's Blog: A Citizen's Guide to Indiana." Formerly with the Legislative Services Agency, Masson filled a void by writing about state issues as well as the nuts and bolts of the legislative process.
"When I see something worth writing about, I dash off a blog post," Masson said. "I always take the approach I'm writing because I enjoy it."
He sees his blog as part of the so-called "third space" where people can gather and discuss the events of the day. As such, he offers his opinion but tempers his tone so he does not attack or disparage those who disagree.
Although he acknowledged ranting is emotionally gratifying, Masson knows his readers, often conversing with them in the comments section of the blog, and he understands their views even if he does not share them. His goal with the blog is not to pick a fight but to be a place where individuals interested in public policy can talk.
Scholarship and advocacy
In April, the PrawfsBlawg celebrated its 10th anniversary by asking readers what they thought the future held for blogging. The handful of responses was not optimistic: blogs are losing interest to other platforms like Facebook; online discussions are often hateful; and professors have little incentive to blog since writing an entry is not considered serious scholarly work.
Ryznar
Margaret Ryznar, associate professor at Indiana University Robert H. McKinney School of Law, sees a brighter future. She maintains the Family Law Prof Blog that is part of the Law Professor Blogs Network and is a contributor to the Huffington Post and the PrawfsBlawg.
Ryznar will write a blog to trot out a new theory she is developing or highlight a new aspect of the law she has discovered to get feedback from other law school professors. She then uses those suggestions and observations as she continues her research.
"Blogging is a great supplement to scholarship, but it's not a substitute for scholarship," Ryznar said. "Whereas traditional scholarship, such as journal articles and books, allows the author to analyze and develop a topic at great length and over time, blogging allows the author to get out ideas quickly and receive immediate feedback."
At Valparaiso University Law School, blogging has entered the curriculum. Assistant professor Faisal Kutty teaches the how-tos of blog writing as part of his legal journalism class, which also includes writing press releases, letters to the editor and opinion pieces.
Kutty
A former solo practitioner who built his firm to include eight attorneys, Kutty sees this type of writing as a way for practicing lawyers to build their reputations and distinguish themselves in a crowded marketplace.
Kutty advises his students to mine current events for blog post ideas. He also tells them to compose an almost sensational title and compelling introduction to lure readers, but he counsels them to think carefully before broaching a very controversial topic or writing from a purely emotional standpoint.
"I think passion is important but passion has to be constrained," Kutty said. "Are the arguments reasonable and can you back them up?"
Taking the professor's guidance, one student stopped working on a piece about abortion. Some ideas, Kutty said, are worth fighting for, but students should be aware that a post they write today could come back to haunt them in a job interview or cost them clients.
Through the Indiana Law Blog, attorney Marcia Oddi has helped to educate the public about the judicial system and prodded state courts to be more accessible. She started the blog 12 years ago and has posted a daily serving of legal news, commentary and opinions from the state and federal appellate courts. Sometimes the posts wade into the lawyerly weeds such as the recent discussion about putting certain court documents under seal.
Oddi got the idea for the ILB after reading the blog "How Appealing." Using her blog to promote open government, she has repeatedly called upon the Indiana Court of Appeals to publicize its not-for-publication decisions and has pushed the Indiana Supreme Court to make case briefs available online.
Building a client base
BGD distinguishes itself through full-content marketing which mixes blogging with videos and articles as a way to introduce itself to potential clients. Since 2005, the firm has published more than 1,000 blog pieces, 145 attorneys have written posts, and an average of 3,000 visitors click on the blogs each month.
Lawyers writing blogs is a no-brainer, said Robyn Radomski, BGD chief marketing officer. Blogs can help establish attorneys as experts and drive Web traffic along with potentially bring in clients and recruit new attorneys and staff.
Radomski
Marketing himself and building his own level of knowledge was John Waller's motivation when he started his blog in November 2006. The Wooden & McLaughlin LLP partner concedes the title, "Indiana Commercial Foreclosure Law," is not alluring, and its focus – issues that arise when business loans go into default – is very narrow. Still, he is attracting readers, becoming known in the field and staying current on developments in that practice area.
Waller
The work has produced results, Waller said. He believes his blogging has been a success based on feedback from readers and professionals.
Waller echoed many when he pointed out that maintaining a blog over several years is difficult. He has to grab whatever spare hours he has between his work and his family time to write. He stays motivated by making his blog a priority and approaching the writing like exercise – just do it.•
Please enable JavaScript to view this content.