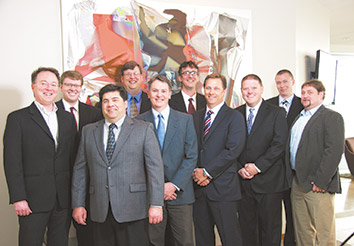 Not so long ago, patent and intellectual property attorneys most often practiced in firms that specialized in the technical, complex legal systems that govern and protect invention and creation.
But big firms saw opportunities and seized them, sometimes gobbling up entire practices.
"I think the larger firms do want to have an IP presence, especially in the patent area," said Paul J. Maginot, a partner in the Indianapolis patent/IP boutique firm Maginot Moore & Beck LLP. "I think it allows them to be full-service providers, which does make a lot of sense."
The trend of big general law firms adding IP practices was chronicled 25 years ago in an early edition of the Indiana Lawyer. Veteran practitioners say the trend has gained momentum as technology exploded in recent decades, and with it, the demand for patent, copyright and IP legal services.
Still, large-firm and boutique attorneys say there are plenty of reasons both kinds of practices will continue to coexist.
Faegre Baker Daniels LLP partner Doug Yerkeson has experienced both kinds of IP environments. He started out in the mid-1990s in a boutique firm in Dayton, Ohio, before working for a time at Bose McKinney & Evans LLP, then joining FagreBD.
"A lot of general-practice firms are building intellectual-property practices, usually by acquiring or merging with IP boutique firms," Yerkeson said. "It's a growing area, and I think over the last 25 years, intellectual property has become increasingly important for our clients and, quite honestly, I think there's plenty of work to go around."
In just a few years, FaegreBD has built an IP practice of about 100 lawyers who are concentrated in offices in Indianapolis, Minnesota and Colorado, Yerkeson said. The firm also has an IP presence at its offices in Fort Wayne and South Bend.
Taft Stettinius & Hollister LLP also has built a notable IP practice, recently hiring away four partner-level attorneys from Krieg DeVault LLP.
"I would say 20 years ago, Taft had no patent attorneys or intellectual property practitioners," Taft partner Jonathan Polak said. "We've gone from zero to just a little under 50 in the last seven years. It's hyper-growth. We've done it not really through organic growth, but through lateral hiring," he said.
More than half of Taft's IP practice is based in Indianapolis, and about half the firm's total IP lawyers are registered patent attorneys.
Polak said clients hiring law firms to handle litigation increasingly look for those that can handle the volume of work that can be involved with patent litigation. "That is the No. 1 market driver and why it is that larger law firms have embraced bringing on large groups of IP attorneys," he said.
"You have to reach a critical mass where they can really hit their stride," he said of big-firm IP practices. "Once you hit that level of 40 IP practitioners, clients begin to understand we can really do some good things for them."
Taft's IP clients range from The Hershey Co. to Allison Transmission; from the Judy Garland estate to John Deere. The diverse demand of patent, copyright and trademark litigation requires lawyers with backgrounds in mechanical engineering, electrical engineering, health sciences and multiple other disciplines, Polak said.
Charles P. Schmal is a patent attorney at the Indianapolis boutique firm Woodard Emhardt Moriarty McNett & Henry LLP. He said the firm takes a different approach than larger firms might, helping enterprises not just with legal issues, but also partnering to help them realize their business potential.
"All we do is deal with the clients we represent from the smallest independent inventor all the way up to the biggest companies," he said. "We kind of like to think we can grow with them. … We think we have that knowledge and expertise."
Like many patent attorneys, Schmal's path to the law came as a second profession. He had earned an industrial engineering degree and was working for Thomson Consumer Electronics when he was inspired by the work of an in-house patent lawyer.
Schmal thinks there will always be room for the specialized work of IP boutiques, especially for patent attorneys. Engineers often prefer their legal services provided in an atmosphere where the work is focused on their particular field, he said. "It's a little bit different mentality."
Indiana University Robert H. McKinney School of Law IP professor Xuan Thao-Nguyen said the practice is portable and in demand, and IP boutiques in Indianapolis are doing very well even as larger firms are staking out their own practices.
"Some IP lawyers don't want to be part of big firms," Thao-Nguyen said. "They don't want to face conflicts because at a big firm, you bring in your client but your client may be conflicted out. … It's pro and con with a big firm."
Maginot said boutique attorneys also enjoy an independence they might not have within a larger firm. At the same time, boutiques have opportunities for big rewards if a larger firm likes the practice and offers to take it on.
At Maginot's firm, business development comes mostly from existing customers, which range from small clients to large multinationals. "Some of our larger clients we've had for decades, and we tend to pick up some clients but not lose that many, so the amount of business seems to go up annually," he said.
Good, too, for Indiana patent and IP firms is the lower cost of doing business, which Maginot said has led some companies on the East and West coasts to shift IP work to firms here.
Even in big firms, though, Yerkeson said IP practices typically have some degree of autonomy.
"What I've seen in my practice has been quite often the IP groups in the large firms can operate almost as boutiques within a larger firm structure," he said.•
Reporter Marilyn Odendahl contributed to this story.
Please enable JavaScript to view this content.