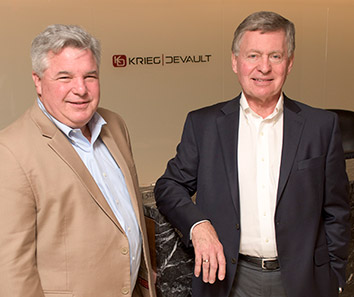 Before the stormy falling out between the state of Indiana and IBM led to the cancelation of a $1.3 billion welfare services contract, before the ensuring years of litigation, something happened 10 years ago that now seems like a harbinger.
Krieg DeVault LLP partner William Neale was working into a Sunday evening in March 2006. He and other lawyers at the firm were trying to land the state business of writing the agreement governing privatization of eligibility determinations for Indiana welfare benefits.
Neale left his office in the Regions Tower mere hours before a freak spring storm later that night smashed out the windows of his office and others on several floors atop the high-rise.
"Had it happened during the business day, I'm convinced people would have been sucked out of this building," Neale said from the firm's 27th-floor office. "It's just a miracle that nobody was injured or killed."
The next day, Krieg DeVault lawyers met with representatives of the Indiana Family and Social Services Administration, but Neale said the storm changed the order of business. "Now, we're going to talk about disaster preparedness first," he said. "That was built into everything we were talking about."
 
Disaster preparedness remained a focus for Neale and Krieg DeVault partner Bob Greising as they led a team that drafted the most complex transaction either ever handled. "It was not a cookie-cutter," said Greising, who along with Neale has facilitated numerous large public-private partnership agreements and complex transactions.
Greising said most private transactions deal with personal and economic interests, but this was different. Public interest and public policy were at stake. "We talked about the need to protect our most vulnerable citizens, the importance of continuity of services, no matter what happened," he said. "There was an element of empathy, an element of servanthood" among those working on the master services agreement.
The contract they perfected protected the state, the Indiana Supreme Court ruled March 22. The court ruled IBM's performance under the contract was a material breach and remanded the nearly six-year-old litigation to Marion Superior Judge David Dreyer for a determination of the state's damages, while affirming about $50 million in damages for IBM.
"The trial court's determination that IBM did not materially breach the agreement is incorrect as it ignored uncontroverted evidence and made several legal errors," Justice Steven David wrote for the court. " … Because IBM failed to perform satisfactorily as determined by the State (and by its own admission), consistently failed to meet certain timeliness metrics, and failed to assist the State in achieving its Policy Objectives, we hold that IBM did materially breach the MSA through its collective breaches in light of the MSA as whole," David wrote.
The FSSA privatization policy championed by then-Gov. Mitch Daniels was controversial, but Neale said that was never an issue during what he called sometimes "strong" negotiations between the state and IBM in crafting the contract. The parties realized they would be working together, and it was in everyone's interest to reach solutions as the agreement was being written.
Daniels' chief of staff Earl Goode said the administration saw a need to modernize FSSA, which was dealing with 1960s-era technology. It believed IBM's expertise could deliver. But as problems arose early in the 10-year deal, Goode was appointed to a task force to review IBM's work.
"We determined that continuing (with IBM) was not going to get the desired results," Goode said, which led to the termination of the contract and resulting litigation. Senior FSSA staff took charge and retained some IBM subcontractors. "Within a few months, we actually got back on track."
Despite the tumult, Goode said the state ultimately benefitted. Indiana went from having one of the poorest records of welfare delivery to one of the best in terms of response time, accuracy and fraud prevention. The contract, he said, was the key.
"I had confidence that ultimately this was going to happen based on my understanding of the contract," he said of the Supreme Court ruling. "Without the provisions in the contract that gave us the ability to hold IBM responsible for providing a number of achievements necessary to improve the system, and ultimately they weren't able to, it gave us the ability to terminate."
"Everybody's gratified with what the Supreme Court ruled. That's what we believed all along," Neale said.
"In every contract you're involved in, you have to assume that things may not work out. Lawyers have to think of the things you don't want to think about sometimes. … As transactional lawyers, our goal is to draft a contract that clearly sets out the rights and responsibilities of the parties, which was especially challenging in this instance."
"There certainly was disappointment it was not working out, but in terms of the contract, we think it really held up well," Griesing said. "There was a process for dealing with unhappiness, with disputes, with failure to perform, and there was a process to ensure there was a dialog with the vendor, with IBM.
"I was very confident the contract would hold up. I also had thought that a business resolution might have been reached before this, because most of the time, it is," he said.
Jay Lefkowitz, a partner at Kirkland & Ellis LLP in New York who represented IBM before the Supreme Court, did not return a message seeking comment for this article.
Barnes & Thornburg LLP partner Peter Rusthoven represented the state in the IBM appeals and said the inclusion of policy objectives at the beginning of a lengthy contract was significant. "If you've got any doubt what the agreement means, interpret it in light of the policy objectives," he said, which included timely delivery of services to people in need. He said there was testimony in the record from IBM officials that the state was unsatisfied with its performance and that the state had reasonable grounds to be unsatisfied.
Rusthoven said he expects the state's damages will exceed the $50 million or so IBM is entitled to. The state is arguing for damages of about $175 million. "The state's position from the outset was this was a very major and very important deal, and IBM simply failed to perform in the way it agreed to perform," he said.
"We're very pleased on behalf of the state and its citizens that position was vindicated. Now we go figure out what IBM owes the state."
After the 2006 storm gutted Krieg DeVault's offices, Neale said lawyers shared close quarters with staff at FSSA for weeks, and the experience proved to be great for team-building. Neale worked from five different offices throughout the year as the agreement progressed and the firm's storm-ravaged offices remained off limits. At various times, he said, 20 or so lawyers at the firm in various practice areas were involved, as were state experts on areas such as health care, information technology and human resources.
Neale said lawyers on the project worked six days a week, typically until 9 or 10 p.m. and sometimes until midnight, for much of the year. Neale said Greising served as a "contract quarterback" in drafting the agreement for good reason. "I have dealt with transactional lawyers all over this country. There is nobody better than Bob Greising," he said. Greising, like a good quarterback, praised his team's execution.
"It's unlike anything I've ever done before, or ever will again," Neale said. "The irony is, the contract would have been up this year."•
Please enable JavaScript to view this content.