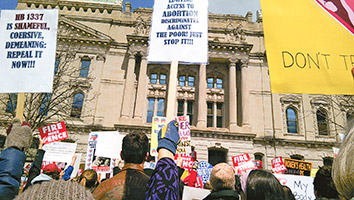 Protesters rallying at the Statehouse April 9 against a new Indiana law restricting access to abortion foreshadowed another costly court battle over a divisive social issue. If recent history is a guide, the court fight will cost taxpayers not just the state's expense of defending House Enrolled Act 1337, but also the legal fees for Planned Parenthood of Indiana and Kentucky to sue the state over the law.
Under the administration of Gov. Mike Pence, legal fees paid to the American Civil Liberties Union of Indiana have soared beyond $1.4 million and may approach $2 million, according to an Indiana Lawyer analysis. The $1.4 million total does not include fees that have been or will be paid in the current fiscal year ending June 30 or other legal fees ACLU claims are owed by the state. The fees represent the state's payment of legal bills to parties who prevail in federal court on claims that government action violated their constitutionally protected civil rights.
The $1.4 million taxpayers paid the ACLU in legal fees during Pence's term is more than double the amount paid during second term of his predecessor, Gov. Mitch Daniels, according to available state records. Since Pence took office, $1,461,700 in fees has been paid to ACLU by the attorney general's office, which represents the state in litigation. By contrast, payments to ACLU during Daniels' second term were about $700,000.
Indiana University Robert H. McKinney School of Law professor John L. Hill teaches constitutional law and said the increase isn't all Pence's fault. "I think some of it has to do with new challenges to old policies — like the 7th Circuit challenge to Indiana's traditional marriage law.
"At least some of this is the result of the changing social/cultural environment which makes some of these challenges more attractive/palatable, i.e. winnable," Hill said in an email.
Pence took office Jan. 1, 2013, halfway through that fiscal year. During Daniels' portion of FY 2013, state claims records show only $25,894 was paid to ACLU, but much of that fiscal year's $334,903 in ACLU claims — and some in later years — reflects litigation expenses that originated during Daniels' administration.
Nevertheless, the claims history and likely future costs under Pence show a trend of soaring fees that likely will continue in part due to constitutional lawsuits over the governor's positions on hot-button social issues.
The ACLU represents Planned Parenthood in a suit filed April 7 that seeks to block HEA 1337 from taking effect July 1. The new law would prohibit abortions because of genetic abnormality, race, sex or ancestry, and would mandate disposal of an aborted fetus only through burial or cremation. Before its passage, opponents warned the bill raised an unconstitutional burden to the right to abortion and that its enactment would be met with a federal lawsuit.
Planned Parenthood's suit is the third the ACLU filed on its behalf in recent years seeking to block an act of the General Assembly restricting access to abortion that was signed into law either by Pence or Daniels. In the two prior suits, the Indiana laws were ruled unconstitutional, resulting in the state cutting checks to the ACLU for Planned Parenthood's legal fees — $170,342 in 2013, and for $122,945 last year.
During the Pence years, ACLU also has fought and won cases — and clients' legal fees — contesting state laws regarding who may marry, who may perform marriages, and other hotly contested social issues. Taxpayers picked up the tab for plaintiffs' legal fees in each case because court rulings found state violations of civil rights. Among these cases, the state paid ACLU $149,933 last year for representing couples in suits that successfully struck down Indiana's same-sex marriage ban. Other lawyers also represented litigants in those cases — the state estimates total plaintiffs' legal fees it paid in the same-sex marriage cases alone were about $1.4 million.
A Pence spokeswoman declined to comment about the steep increase in fees or answer submitted questions for this article. "We are not going to comment on current or past litigation," Kara Brooks wrote in an email.
The $1.4 million paid to ACLU during the Pence years does not include, for instance, fees of approximately $520,000 the ACLU says it's owed for a recently resolved, long-running suit originating under the Daniels administration involving the Department of Correction's solitary confinement of mentally ill prisoners. The total also does not include any potential fees if ACLU's clients prevail in the pending abortion case or another current suit in which ACLU is representing a nonprofit agency that to date has successfully fought Pence's suspension of federal funds for the resettlement of Syrian refugees.
In the latter case, Exodus Refugee Immigration Inc. v. Mike Pence, et al., 1:15-CV-1858, Judge Tanya Walton Pratt of the U.S. Court for the Southern District of Indiana granted a preliminary injunction against Pence's order suspending certain federal refugee resettlement funding. Pratt also denied Pence's request to stay the order, ruling Exodus is likely to prevail on the merits. A victory for Exodus could produce a hefty legal bill because ACLU spared little expense: Its top national immigration lawyers traveled from New York to appear in court and helped draft expansive briefs in response to the state's arguments. Pence has appealed Pratt's rulings to the 7th Circuit Court of Appeals.
"Obviously, the reason that the Exodus case is here is that the governor took a certain position," ACLU of Indiana Legal Director Ken Falk said. He called that case and the Planned Parenthood cases outliers in terms of expected fees should the plaintiffs prevail. "There are a lot of lawyers involved," he said of the Exodus case. "The governor made a judgment, and now the state is defending that judgment."
Falk declined to comment on reasons for the increase in litigation and fees ACLU has been awarded under Pence, but he said the cases "certainly" often involve hot-button social issues. "Politicians have a right to take a position," he said, as long as their attorneys advise them they believe the position is constitutionally defensible.
"It's not unusual when you have a civil liberties case, that it arises out of the Legislature's or the governor's action … that may be directed toward a view of majority rule," he said. "Frequently minorities have to worry about the governor, the General Assembly and the majority taking away rights."
Attorney General Greg Zoeller said in a statement, "Legal challenges are supported by public funds in order to provide for an opportunity to have the courts review state actions. This is part of our system of checks and balances and is an important means to ensure that government has acted within its limited authority and to protect individual liberty."
The AG's office has a duty to defend acts of the Legislature and actions of officeholders to protect the state's interests, spokesman Bryan Corbin said. "The State's lawyers cannot decline to defend their client based on subjective opinion, personal whim or prognostication. The Attorney General's Office has a duty to defend the state client as long as a nonfrivolous defense exists.
"If the state's lawyers were to subjectively select which statutes they will defend from ACLU challenges and which laws they will abandon to be struck down without any defense, this would in practice be a 'litigation veto' of laws the people's elected representatives passed that the state's lawyers did not like," Corbin said.
However, he pointed out that in 2012, the state ended its defense of warrantless arrest and consular ID provisions in a 2011 immigration law after the U.S. Supreme Court struck down similar language in an Arizona law. He noted the state continued to defend other portions of the law that were upheld in federal court.
At least 44 cases were filed by the ACLU against state actors from 2009-2015 in which the state prevailed or the cases ended without payment of legal fees to the organization, Corbin said.•
Please enable JavaScript to view this content.