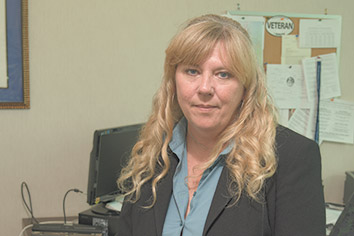 For the military veterans who seek help from Indiana Legal Services Inc., attorney Polli Pollem is likely a welcome comfort. The director of the military assistance project can speak the acronym-laden language of the armed forces, understands the labyrinth of ranks and duties, and knows the demands of life in uniform because for 22 years she served in the U.S. Air Force.
Pollem is among a trio of Indianapolis attorneys who left the military as officers, went to law school and have since found their way into legal aid. They credit their time in the service with providing them the means to get an undergraduate degree and fostering the desire to pursue a J.D. It also gave them the opportunity to learn how to handle responsibility and meet people from diverse backgrounds and cultures.
At the Neighborhood Christian Legal Clinic, Dee Dee Gowan, staff attorney and director of the low income tax clinic, and Art Johnson, in-house volunteer attorney, are both veterans. Gowan served eight years in the U.S. Navy and Johnson retired as a brigadier general after serving almost 28 years in the U.S. Air Force.
Each chose to work in legal aid, representing indigent clients and untangling them from their problems. They find such reward in their work that in conversations about their military careers and current jobs, none mentions retirement.
Gowan
"I love that I can impact people and help them in significant ways," Gowan said.
Pollem is the only one of the three who works primarily with military veterans. A retired captain, she helps many former service members who have a less-than-honorable discharge, or "bad paper," get an honorable discharge so they can qualify for benefits from the Veterans Benefits Administration.
She also assists veterans who are homeless along with those who need expungements and adjustments to their child support because of a drop in income. But some of the saddest are the individuals who come to her with bad paper. Many times these veterans were sexually assaulted or developed post-traumatic stress syndrome and as a result, either become a discipline problem or were retaliated against and eventually got booted.
The stories from these service members are starkly different from her experience in the military.
"I cry a lot," Pollem said. "As old and jaded as I am, I do spend a lot of time crying, and I feel like I'm one of the lucky ones."
Gowan joined Neighborhood Christian Legal Clinic after a stint at Faegre Baker Daniels LLP. She enjoyed her practice in the area of insurance regulation but with a second child on the way, she wanted to step back from the demands of full-time private practice.
She joined the clinic in 2004, is now part-time and describes her position as the "best job for a mom on the planet." The Indianapolis native calls upon her military training to run the tax clinic and her law school education to spot the problem then solve it.
Some clients who come to her have been tripped up by the complicated tax code and were told they owe thousands of dollars. In 2015, Gowan helped 282 clients by either correcting or decreasing more than $1.4 million in tax liabilities.
Johnson
After a "spiritual epiphany," Johnson, a Roman Catholic, retired from his paying job and approached the clinic about offering his legal skills on a more regular basis. He had a general civil practice at Jensen & Associates in Indianapolis and worked at the Indiana Bureau of Motor Vehicles, but while attending a church event, he felt he was being called in a different direction.
These days, Johnson spends his time helping clients get a little peace of mind. He prepares their wills and the forms designating power of attorney and health care directives.
"I love the people there," Johnson said of his colleagues at the clinic. "Being with the young people and their ideals and commitment, it's a joy to go to the office. I love it."
The clients who sit across the desk from Gowan and Johnson many never know their attorneys served in the military with tours that included being stationed at the Pentagon.
Gowan served three years in Washington, D.C., just as the first Gulf War was escalating. She was one of five lieutenants who wrote daily briefs on operations and intelligence then presented the information to the Chief of Naval Operations.
"I loved it," Gowan said. "It is my most favorite memory right after getting married and having kids."
Growing up poor with a single mom, Gowan enrolled in the ROTC program as a way to pay for her education at Purdue University. She chose the Navy because that branch had both airplanes and ships and, perhaps most enticing, duty stations located on beaches.
Her interest in law school started during her posting in Hawaii where she had the opportunity to spend a couple weeks with the JAG Corps. It was further nursed during her tenure at the Pentagon. When she decided she wanted to return home, she enrolled in law school to help her transition from the military to the civilian world.
As a student in the night program at Indiana University Robert H. McKinney School of Law, Gowan met Johnson. He was asked to be her mentor but quickly became her friend. She described him as being kind, caring and wonderful.
Johnson's career in the Air Force included the divergent duties of overseeing nuclear missile operations and engaging in arms control negotiations. The attorneys from the various federal agencies he encountered impressed him with their analytical skills, professionalism and discipline. So when he retired from the military, he enrolled at IU McKinney in 1992.
Like Gowan, Pollem chose law school as a way to transition.
Pollem grew up in Chicago, a poor child from a very broken home. The Air Force taught her how to be a jet engine mechanic then sent her around the world to teach computer skills to other service members.
She spent 11 years on active duty and another 11 in the National Guard but when she left she wanted to do something that would make a difference. She decided on the law and as a 40-something enrolled at Western Michigan University Cooley Law School where she was fourth in her 2009 graduating class.
After clerking for a Michigan Supreme Court justice, Pollem was still a little undecided as to what came next, but then she saw an advertisement for a position at Indiana Legal Services. She applied, interviewed and accepted the job all within a week.
Her primarily task was establishing the military assistance project which she did in 2012. She's been running it ever since.
Thinking of her tenure at Indiana Legal Services, Pollem said, "I make a difference." Then she paused and qualified her statement in a way that underscored the burden of her work. "Well, today I made a difference. Sometimes I don't make a difference as good as I want to."•
Please enable JavaScript to view this content.