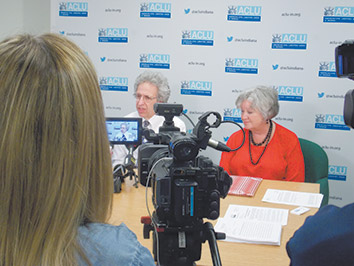 After a federal judge on June 30 blocked a restrictive new Indiana abortion law from taking effect, Planned Parenthood of Indiana and Kentucky and the American Civil Liberties Union of Indiana vowed to take aim at other recent enactments that might infringe on the constitutional right. A week later, a fresh federal lawsuit targeted another Indiana abortion law passed this year.
The groups on July 7 filed a 72-page suit arguing a requirement that women get an ultrasound at least 18 hours before an abortion has no medical justification and creates an undue burden — the basis on which the Supreme Court of the United States on June 28 struck down a restrictive Texas abortion law.
Planned Parenthood's latest suit challenges Indiana Code § 16-34-2-1.1(a)(5), which took effect July 1. The law requires a woman receive an ultrasound and mandatory information before she may have an abortion. Before July 1, Indiana required women getting an abortion to first have an ultrasound, but the law was amended this year to require that procedure be done at least 18 hours before an abortion.
The latest suit was filed before Judge Tanya Walton Pratt, who blocked a strict new Indiana anti-abortion law from taking effect. Pratt on June 30 granted a preliminary injunction enjoining House Enrolled Act 1337. That law would have prohibited abortions because of genetic abnormality, race, sex or ancestry, and would have mandated disposal of an aborted fetus only through burial or cremation, among other things.
That legislation Gov. Mike Pence signed into law was "unprecedented" in scope and in its rejection of long-established federal law, opponents said.
"I do want to stress that what the state of Indiana attempted to do here really grossly flies in the face of existing law," ACLU of Indiana Legal Director Ken Falk said June 30 at a news conference after Pratt's ruling, where he was joined by PPINK President and CEO Betty Cockrum. "The Legislature, no less than lawyers, should understand what the law is, and are bound to follow the law, and I can't for the life of me understand why the Legislature would pass a law that in essence overrules Roe v. Wade."
Indiana Attorney General Greg Zoeller had not said at IL deadline whether the state would appeal. "Now that Judge Pratt has entered a preliminary injunction, the State's lawyers are reviewing the ruling and will confer with their clients and decide within the time allowed whether to appeal to the U.S. 7th Circuit Court of Appeals or any options and strategies involving further proceedings in the trial court," according to a statement from his office issued June 30.
"What the Legislature has attempted to do here is unprecedented," Falk said. "We have since Roe v. Wade a continuous line of Supreme Court cases that say that a woman's right to obtain an abortion, pre-viability, is fundamental and simply cannot be interfered with by the state. The Texas case the Supreme Court decided dealt with issues of regulation and undue burden. This isn't an undue burden case. This is a case where the state of Indiana said, 'We don't care what the Supreme Court says, you cannot get an abortion if you get it for these reasons.' That's unprecedented. The court recognized there are no cases in the country that would allow that, because the law is completely opposite. This is a prime example of what one would think would be a gross overreach by the Legislature."
The case challenging the constitutionality of the ultrasound law, however, does argue undue burden. Jennifer Dalven, director of the Reproductive Freedom Project with the ACLU, said in a statement announcing the suit that the U.S. Supreme Court has made clear that restrictions cannot stand when their only purpose is to raise obstacles for women seeking an abortion. "Make no mistake about it, this Indiana law is just another example of an unnecessary restriction that is blatantly unconstitutional."
The case filed July 7 in the U.S. District Court for the Southern District of Indiana is Planned Parenthood of Indiana and Kentucky. v. Commissioner, Indiana State Department of Health; Prosecutors of Marion, Lake, Monroe and Tippecanoe Counties, 1:16-cv-1807.
Zoeller's spokesman Bryan Corbin said in a statement that the attorney general's office will "provide a vigorous defense" to the latest lawsuit and will review it and file a response in federal court "at the appropriate time."
In granting the preliminary injunction blocking HEA 1337, Pratt wrote Planned Parenthood "has clearly demonstrated that the anti-discrimination provisions and the information dissemination provision should be enjoined pending resolution of this litigation. It is likely to succeed on the merits of its challenges to these provisions as the anti-discrimination provisions directly contravene well-established law that precludes a state from prohibiting a woman from electing to have an abortion prior to fetal viability. …
"Second, PPINK has persuasively shown that the fetal tissue disposition provisions do not further a legitimate state interest and thus are likely unconstitutional."
Pence's spokeswoman Kara Brooks issued a one-paragraph statement on Pratt's ruling June 30.
"While disappointed in today's ruling, Governor Pence remains steadfast in his support for the unborn, especially those with disabilities. The governor will continue to stand for the sanctity of human life in all stages, for the compassionate and safe treatment of women faced with an enormously difficult decision, and for the rights of citizens to determine appropriate medical safety standards and procedures through their elected representatives."
Falk said he didn't know how much the state will pay in legal fees to the ACLU of Indiana as is the case when a lawsuit succeeds on constitutional grounds. Such fees have skyrocketed under Pence, and opponents warned before he signed the bill that it would draw an immediate constitutional challenge.
Bill author Rep. Casey Cox, R-Fort Wayne, issued a one-paragraph statement through an aide July 1. "I'm disappointed in the court's granting of a preliminary injunction against key provisions of HEA 1337," he said. "I believe the State of Indiana has a significant government interest in preserving and protecting life, eradicating societal discrimination and ensuring dignity in the final disposition of the unborn."
In a statement, Senate President Pro Tem David Long, R-Fort Wayne, was noncommittal about whether the state should appeal but took issue with part of Pratt's ruling.
"For the court to equate fetal remains with any other common medical waste is deeply troubling. I hope that will not be the final position taken by the court. I would also point out that this is a preliminary injunction and not a final decision on the matter."
Indeed, Falk said the state was free to appeal Pratt's ruling, seek a trial, or pursue another course of action. Cockrum said despite the U.S. Supreme Court ruling and Pratt's order, she would lay money on an appeal if she were a betting person. "If they behave as they have historically, they absolutely will appeal. And one has to believe that that's what they believe is necessary to play to their base. It's an important political year," she said.
"This case involves issues that have been divisive among many; but the State's lawyers had a duty to present a defense and answer the Court's questions, and we appreciate the Court's issuing a ruling promptly and thus providing clarity to medical professionals and the public," Zoeller said.
Cockrum said the rulings from the court should make it clear to lawmakers that restrictions on a woman's right to an abortion are costly battles for the state that it is likely to lose on constitutional grounds. "These kinds of bills should be shelved at this point," she said after Pratt struck down HEA 1337. Indiana already is the fourth-most restrictive state regarding its abortion laws, and that legislation might have made it the nation's most restrictive.
"That is no badge of honor. It puts women in danger, and it is discriminatory," she said.•
 
Please enable JavaScript to view this content.