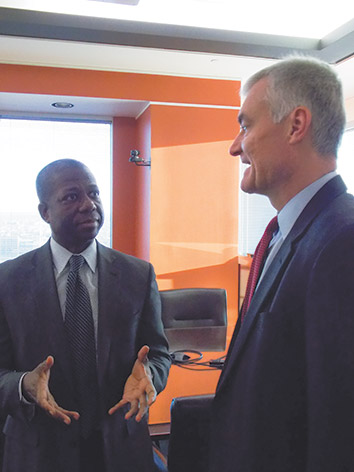 A ride in an elevator with attorney Joseph L. Smith shows why he is popular with colleagues. He smiles and continues an easy banter as he scrolls through his iPhone, looking at his calendar and email to see what his day holds.
Since joining Faegre Baker Daniels LLP in 2003, Smith's outgoing personality, business acumen and work on various firm committees has helped him build a rapport with other attorneys and understand the nuts and bolts of running a law office.
These qualifications got him noticed by the firm's leaders and led to his recent election to Faegre's management board. As one of the 13 members, Smith will have a key role in determining the policies and direction of the firm with more than 750 professionals.
"I am up for the challenge to take the firm to the next level," Smith said. Yet he adds in the next breath that the position comes with tremendous responsibility and the pressure is on that "I don't screw up."
Smith, 47, is among a new cadre of leaders stepping into management positions, taking a seat on high-level committees or becoming practice chairs in large law firms. Baby boomers are retiring or transitioning from their practices, creating openings in leadership roles.
However, this next generation's ascent comes as the legal profession is undergoing rapid change and younger lawyers have different career aspirations.
Technology is replacing many duties, like discovery, that previously helped train junior associates in the practice of law, and artificial intelligence will likely take over research functions. The demand for legal services also remains flat as more corporate clients keep work in-house. Millennial attorneys are not coming into law firms with the expectation that they will spend their entire workday there.
A firm's survival depends on cultivating new leaders. Legal consultant Roger Hayse of Hayse LLC in Dallas, Texas, has noticed an uptick in calls within the past two years from law firms with problems related to succession planning. Some inquiries come from senior partners who have no younger partners to assume management responsibilities.
As Hayse explained, the equation is simple — if a law firm wants to remain in the market, it has to ensure younger lawyers are being equipped to lead. In particular, Hayse said the attorneys stepping into more responsible roles now must have the ability to adapt to change and have a thirst for learning.
Grooming new leaders
McClamroch
At Bingham Greenebaum Doll LLP, managing partner Tobin McClamroch is optimistic about the firm's future. He believes his office is stocked with good people who will develop into strong leaders adept at keeping the firm viable. Good law firm leaders, he said, create and execute a vision for the future. They must be able to say no to ideas and strategies that divert limited resources from the firm's core strengths.
Perhaps most importantly, McClamroch believes firms can cultivate future managing partners and practice group chairs. "I don't think that leaders are born," he said. "I think they're made, but I think it comes from a lot of experience."
Law firms groom young lawyers for leadership in varying ways. They allow them to manage a client relationship and give them the chance to join a committee focused on areas such as recruiting or professional development.
Development of leaders also can be a good retention tool. Millennial attorneys are more mobile and more willing to switch employers. Younger lawyers will be enticed to stay if they see their firm adapting to the innovations and upheavals in the profession, and if they understand the business side of the firm.
Faegre's Thomas Froehle Jr. said firms have to give the younger generation a seat at the leaders' table. Not only does their youth give them more time to figure out how the firm can navigate the new territory, they are comfortable with technology and used to seeing change happen faster.
Faegre's interest in developing leaders helped keep him at the firm his entire career. "I felt like this was a place where people wanted new lawyers to succeed," he said, noting the firm was very welcoming to him and he had an easy time tapping into the experience of the more senior lawyers.
On March 1, Froehle, 53, was named the firm's new chair and managing partner. He sees leadership in today's market requiring innovation and willingness to change while keeping the firm's interests in mind.
"I think it's important that people in leadership have a firm view and can respond with the ability to see what is good for the institution," Froehle said.
Price
Matthew Price, 48, the new managing partner of Bingham's Indianapolis office, climbed through committees and eventually headed the firm's economic development group before being tapped for the top job in Indiana.
His plan now is to focus on esprit de corps in the office. To attract and keep lawyers, Price believes firms have to be places where attorneys can do good work and have opportunities to get to know their colleagues professionally and personally. Ultimately, building trust and respect among the lawyers will help the firm better serve clients.
To accomplish this, Price will be communicating with attorneys and staff by meeting with internal committees, poking his head into individual offices and listening more than he talks. He will also likely lead by example since he has strong ties to Bingham.
"It was love," Price said explaining why he took a senior management position. "At some point in my career, I realized I love this. I love what I do and I generally care about the people here, so I want to see us do the absolute best we can."
Teaching the business of law
John Trimble maintains that preparing younger attorneys for leadership must include teaching them the business of running a law firm. A partner at Lewis Wagner LLP, Trimble is immediate past chair of the law practice management committee for DRI, the world's largest defense attorney association.
More than encouraging new associates and junior partners to serve on committees, millennials should be introduced to the budget process and strategic planning as well as encouraged to offer their ideas and help shape the future of the firm.
"If people want to have young lawyers grow into law firm ownership, they need to be more transparent about the business of law firm operations," Trimble said. "The earlier that lawyers understand the business of law, the more likely they will step up and help operate the business."
Clark
Co-chair of Bingham's business litigation practice group, Briana Clark, 34, has a solid understanding of the legal business. She comes to leadership at Bingham having first worked as a file clerk then serving as a summer associate before being hired as an attorney.
She sees law firms as having to change their business models but not at the expense of focusing on clients. For example, firms need to accommodate the goals and expectations of younger attorneys who aren't interested in sitting in their offices for 10 hours by allowing them to work remotely and on their own time. But, she noted, in exchange for that freedom, they have to be available when the client needs them.
To help guide the firm through this new environment, Clark embraces a leadership style that reflects the growing emphasis on collaboration. Like Price, Clark believes communicating with members of the practice group will help create a culture where everyone feels included.
"I don't want to be a leader who dictates," Clark said. "I want to involve people to figure out the best answer."•
Please enable JavaScript to view this content.