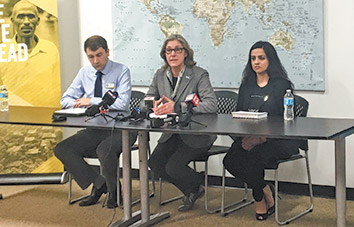 At her immigration law practice in Fort Wayne, attorney Jerri Mead has always used a lot of Kleenex.
The tangled bureaucracy that foreign-born individuals and families have to navigate to gain lawful status is hard and mean. Getting permanent residency is so intrusive that after applicants have their lives laid bare and examined under a microscope, they may not have the energy to continue to work to gain full citizenship.
So a box of Kleenex is never far from her clients' reach.
However, since the Trump administration took office, emotions have become even more heightened. Immigration attorneys say they are getting more calls from immigrants wanting help while fear and panic is rising among their clients.
The lawyers have stories of clients with permanent residency worried that if they travel abroad, they will not be allowed to return. Others who are undocumented are going back to their home countries on their own, figuring it is only a matter of time before they are caught by authorities. And many, after putting off the process for years, are filing petitions to get legal status.
"Some days you just don't know what to do," Mead said. "I have never seen anything like it."
In another indication of just how unprecedented these times are, the American Civil Liberties Union of Indiana is advising immigrants they do not have to open their doors. As part of the "Know your rights" initiative, the legal organization is helping protect residents from illegal search and seizures.
Henegar
Jane Henegar, executive director of the ACLU of Indiana, said immigrants are being told to have U.S. Immigration and Customs Enforcement officers slip any warrant they may have under the door. Residents also are being reminded that the warrant must have the person's name and be signed by a judge to be valid.
Hours after the White House unveiled its second travel ban March 6, the ACLU of Indiana held a press conference to denounce the executive order and promise it would be challenged in court. On March 15 and 16, federal judges in Hawaii and Maryland blocked Trump's revised travel ban, which was to have taken effect March 16.
Describing the order as a Muslim ban, Henegar said, "Freedom of religion is enshrined in our Constitution and no one should be discriminated against on the basis of how they look or how they choose to pray."
Deportation fear
The Neighborhood Christian Legal Clinic has also been informing immigrants of their rights and responsibilities. Staff attorney Rachel Van Tyle noted the need for balance by letting residents know what to do if they are stopped by police, but at the same time, making sure immigrants do not become afraid of law enforcement.
In addition, Van Tyle has noticed undocumented immigrants are making plans for possible deportation. They are coming to the clinic to establish powers of attorney and guardianships for children. Some are even applying for their children to get citizenship in their home country so the youngsters can leave the United States with them.
Having a plan in place, Van Tyle said, is giving immigrants some sense of security. They know their property and family will be cared for if the authorities come.
In Evansville, David Guerrettaz and other immigration attorneys are planning a community presentation for immigrants wanting to do similar estate planning. He said while the immigrant community is in a wait-and-see mode, some are gritting their teeth and getting more anxious by the day.
Guerrettaz, a partner at Ziemer Stayman Weitzel & Shoulders LLP, told of an undocumented client who married a U.S. citizen but was so fearful of being locked in a detention facility, he decided to return to his home country to wait for his provisional unlawful presence waiver. Another called Guerrettaz while the attorney was in court because her husband had been picked up and was being held by immigration authorities.
Van Tyle pointed out that even lawful immigrants are being impacted. One client, a Syrian woman who recently settled in Indiana, has been diagnosed with breast cancer. She wants her husband for support, but the new policies are leaving him stuck in Syria.
Aside from the two travel bans issued by the president, federal agencies such as the Department of Homeland Security are pumping out their own orders and directives.
Mead said the missives are coming out at a steady clip then being retracted almost as quickly. Plus, they are ambiguous and give a generous helping of discretion to the agency. This is creating a dilemma with attorneys not knowing what the rules are and uncertain about how much to pass along to clients.
Lawyers, Mead said, have to keep clients informed and be proactive, but they also must be careful. Giving them an update on the latest from Washington might just stir the hornets' nest and, because of the rapid retractions, unnecessarily alarm clients.
Brighter future?
Amid the upheaval, both Mead and Guerrettaz see the possibility that the country may emerge from this stressful time in a better place.
Guerrettaz is counting on the situation to prompt Congress to fix the broken immigration system. The issue has been on the agenda for years, but Capitol Hill has never been able to pass comprehensive reform.
This has left families and businesses in limbo. As an example, many employers rely on immigrant workers and each year enter the lottery to get H1-B visas that allow foreign-born works to come and get a job in the United States. But the demand outpaces the supply, with companies filing 200,000 requests annually for the allotted 65,000 visas.
"I'm all for legal immigration but goodness gracious, we need some immigration reform," he said. "I'm hopeful because of what we're seeing here, we'll see something (from Congress) in the next year or so."
Mead sees the enforcement and deportations forcing Americans to take a close look at who is entering the United States and reconcile that with their vision for the country. Citizens may have to confront ethnicity and race and answer the hard questions of what they want the country to be.
"I think we, as a nation, are going to have to pull it together and figure out who we are," Mead said. "I believe in the American people and in this country enough that I am certain in the end we will figure it out."•   
Please enable JavaScript to view this content.