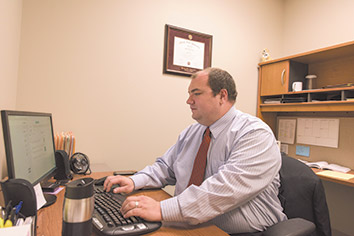 When rapid technological advancements began paving the way for companies such as Avvo and LegalZoom to successfully enter the legal market, the Indiana State Bar Association's Committee for the Future of the Provision of Legal Services became concerned.
The job of the committee was to make recommendations to the bar association on ways to help Hoosier attorneys stay competitive in the changing legal market. With technology as the driving force behind many of those changes, the committee decided the best course of action would be for the ISBA to devote part of its resources to ensuring its members can effectively use the legal tech tools available to them.
With that idea in mind, the Futures Committee took the concept of a "law practice management" position to the state bar's House of Delegates last fall, where the body gave its stamp of approval. Now, nearly seven months later, the committee's vision is beginning to take shape, with recently hired Bryan Fisher developing the state bar's LPM program from the ground up.
With a background in both engineering and, more recently, criminal defense and business formation law, Fisher's role as the LPM coordinator will combine his expertise in process development and business workflow with his experience as a solo practitioner at Fisher Law in McCordsville. His job as LPM coordinator will require him to not only stay up-to-date on the latest developments in legal technology, but to disseminate his knowledge to bar members across the state and train them to use legal tech tools to improve the efficiency of their practices.
Though the ISBA has members from all types of firms, Fisher will focus largely on solo and small firm practitioners, said Derrick Wilson, managing partner of Mattox & Wilson LLP and member of the Futures Committee. While larger firms often have the funds to create in-house IT departments staffed with technology experts, solo and small firms usually don't have the same resources, said Wilson, who's also the chair of the 2017 Solo and Small Firm Conference.
Solo and small-firm attorneys make up a significant portion of the ISBA's membership, so creating a position to help those members navigate the ever-changing waters of legal technology was a logical step toward fulfilling the state bar's mission of serving its members, Fisher said.
With just under three months as LPM coordinator under his belt, Fisher said he is still in the planning stages of developing the law practice management program. His ideas are wide-ranging and include offering advice not just for technology issues, but also for other law firm needs such as advertising campaigns, succession planning and marketing.
From a technological perspective, Fisher plans to develop written guides that will help solo and small-firm attorneys learn about legal tech tools and how they can be used in day-to-day practice. Those guides would then be stored in one central online location, which attorneys would be able to access anytime they encounter an issue. Additionally, Fisher wants to produce video tutorials to provide a more interactive approach to resolving common technology issues, such as using a shortcut key to create the symbol for statutory "sections."
But not all of Fisher's work will be done from behind a computer screen. He also wants to work with local bar associations to implement "LPM Days," which would allow him to travel to different areas of the state and address practice management issues as a whole while also giving attorneys in those areas the opportunity to discuss their individual questions with Fisher face-to-face.
With the statewide push for e-filing and other tech trends, Wilson said he and other attorneys are having to make a conscious effort to change their established workflows. For example, while he formerly would have asked his secretary to print out a draft and give it to him so he could review it and make any changes, he now asks for drafts to be emailed to him so that he can make changes electronically and file his completed documents directly from his computer. As the legal profession continues on its electronic trend, Wilson said having Fisher available to answer questions or address concerns will make the transition to a digital workflow much smoother.
Though developing the LPM coordinator position from scratch can be overwhelming, Fisher is already involved with a network of law practice management professionals from around the country who can lend their support. Prior to last month's ABA Tech Show, Fisher was invited to a retreat of law practice management professionals from some 25 states, an annual retreat where the LPM personnel discuss the programs they've implemented in their states and share ideas about initiatives that might work in other parts of the country.
Catherine Sanders Reach, the director of law practice management and technology for the Chicago Bar Association, said LPM positions were first introduced in some state and metro bars in the 1980s, but changes in the legal field have created a renewed push for practice management services in recent years.
In her position, Sanders Reach hosts a series of how-to demonstrations for Chicago-area attorneys, such as "Marketing Bootcamp" or "Start-up Bootcamp" to educate bar members on a wide variety of practice management issues. Additionally, her office offers tutorials on practice growth and development tools such as LinkedIn.
Given the nationwide push and requirements for attorneys to be technologically competent, Sanders Reach said it is becoming increasingly important for attorneys to have resources, such as LPM coordinators, to help them understand the legal tech tools available for their work. Tech incompetence could even become a malpractice liability issue, she said, considering the large amount of personal data attorneys handle for their clients.
As Fisher continues to develop his LPM program, Sanders Reach said she would urge him and all other newly created law practice management offices to look at the specific needs of their bar members when determining the best services and programming to offer.
"Think like an entrepreneur, come up with a business plan, see what sticks, don't be afraid to change," she said.
As he moves toward putting his plans into programs, Fisher said he is operating with a goal of officially rolling out the LPM coordinator program at the Solo and Small Firm Conference in June and transitioning to day-to-day interactions with attorneys after that. However, Fisher also notes he is available and willing to consult with attorneys now.•
 
Please enable JavaScript to view this content.