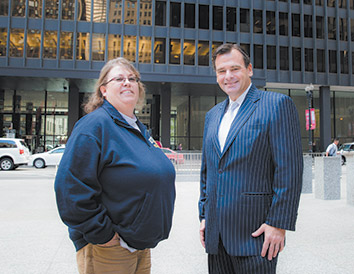 The 7th Circuit Court of Appeals made history when it ruled in early April that Title VII does prohibit discrimination based on sexual orientation. But whether that opinion becomes the inspiration for other circuits to make similar findings has yet to be seen.
In Kimberly Hively v. Ivy Tech Community College of Indiana, 15-1720, an eight-judge majority from the Chicago court detailed their reasoning for connecting bias against gays and lesbians to the prohibition of discrimination based on sex in Title VII of the 1964 Civil Rights Act. It was a monumental ruling in that it was the first time a circuit court of appeals had found Title VII extended to sexual orientation.
What happens next could come very soon.
Already the 2nd and 11th circuits appear to be waivering on their own precedents over sexual orientation. Now that the Supreme Court of the United States has a full bench of nine justices, the split among the federal appellate could provide a compelling reason to step in.
Indiana University Maurer School of Law professor Steve Sanders believes the 7th Circuit's ruling will be very influential. As he explained, the opinion was a well-crafted piece of statutory interpretation and legal analysis that was supported by a majority of judges who have differing ideologies and judicial philosophies.
Sanders
To get to its finding about Title VII, the appellate court had to overturn its own precedent. Another federal circuit hearing similar discrimination cases may have an easier time setting new precedent because it will not be the first court to do so.
"This decision provides the momentum for the law to keep moving in that direction," Sanders said.
The 7th Circuit's landmark ruling was foreshadowed by the July 2016 holding from the three-judge panel in the Hively case. Judge Ilana Rovner's 30-plus page opinion, while affirming Title VII did not extend to sexual orientation discrimination, asserted the court needed to reconsider its prior rulings on this subject.
Following a rehearing by the full circuit, Chief Judge Diane Wood wrote for the majority that the line between discrimination based on gender stereotyping and based on sexual orientation does not exist. Kimberly Hively's claim that she was denied promotions and eventually terminated from employment at Ivy Tech because she is a lesbian was no different than gender non-conformity claims brought by women who were rejected from jobs traditionally held by men.
The Supreme Court drew the connection between discrimination based on gender stereotyping and Title VII prohibitions in Price Waterhouse v. Hopkins, 490 U.S. 228 (1989).
"The (Hively) decision means that (gays and lesbians) will no longer have to be concerned about who they are and who they love for their continued employment," said Hively's attorney Gregory Nevins of Lambda Legal Defense and Education Fund. "I think it means people will be judged on their merits."
In the workplace
Even with codes of conduct in place, discrimination can still occur. Sanders noted Ivy Tech has a non-discrimination policy that expressly forbids discrimination or harassment because of sexual orientation or gender identity and yet it was the defendant in the Hively case.
After the ruling, Ivy Tech released a statement denying it discriminated against Hively based on her sex or sexual orientation. The school does not plan on appealing.
Fulgoni-Britton
Rozlyn Fulgoni-Britton, associate at Faegre Baker Daniels LLP in Indianapolis, advised employers, even those outside of the 7th Circuit's jurisdiction, to update to their employment manuals. Discrimination can eat into profits by lowering morale and reducing productivity, but it can also lead to litigation, especially since the door for Title VII sexual orientation complaints has been opened.
"People are going to keep bringing sexual orientation cases in different courts," Fulgoni-Britton said. "I don't know of any employer who wants to be the test case."
Employment discrimination cases are not easy to prove. Lori Eckert, a Chicago-based employment attorney, said workers who are subjected to inappropriate comments or harassed on the job often take no action because they need the paycheck. If they do sue, companies will typically file for a motion for summary judgment and, only if that is denied, will they be likelier to settle the complaint.
"I think it sets a good example," Eckert said of the Hively ruling. "I think the decision is well-written and I'm hoping it gives courage to other judges."
Other circuits
The first indication of how other circuits will react to the 7th Circuit's opinion could come from the 11th Circuit.
About a month before the Hively decision, a three-judge panel in that Atlanta-based court affirmed the dismissal of a lesbian worker's Title VII discrimination claims against her former employer. Jameka Evans argued she was physically battered and denied equal pay because she did not behave in a traditional womanly manner.
In Evans v. Georgia Regional Hospital, Charles Moss, et al., 15-15234, the majority stuck with its precedent from 1979 and found Title VII does not include protections for sexual orientation. But the panel was unsettled. The concurring opinion argued that discrimination against a gay individual is not automatically bias based on gender stereotyping while the dissent found a direct link between sexual orientation and gender non-conformity discrimination.
The ruling surprised Nevins, who represented Evans. "This is an even more compelling case than the 7th Circuit," he said. "The 11th Circuit precedent is so feeble and so old it really needs to be re-examined."
Lambda Legal has filed for a rehearing of this case en banc and, according to Nevins, is prepared to appeal to the Supreme Court if the request is denied.
Also in the 2nd Circuit, Chief Judge Robert Katzmann in March wrote a concurring opinion in the Title VII case, Christiansen v. Omnicom Group, Inc., 16-748, and specifically called for the court to reconsider its precedent that the Civil Rights Act does not cover sexual orientation.
The dissent in Hively, written by Judge Diane Sykes and joined by Judges William Bauer and Michael Kanne, faults the majority for judicial overreach. While it maintained that Hively was treated unjustly if she was denied a job because of her sexual orientation, the judges held Title VII should be interpreted as a "reasonable person" would have understood it in 1964. The bench should not read the statute through the lens of changed social attitudes.
Hively's case was remanded to the U.S. District Court for the Northern District of Indiana. Hively, a math teacher who initially filed her complaint pro se, will now be able to pursue her Title VII claim against Ivy Tech.
"She had courage enough to keep going forward," Nevins said. "She changed the world."•
Please enable JavaScript to view this content.