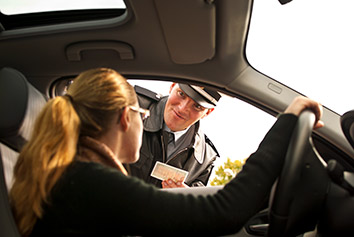 Lawyers and the public may continue to buy crash report information online after an Indiana judge ruled against plaintiffs who argued information gathered from their driver's licenses was protected from disclosure by federal law. But that won't be the last word on the matter.
"We will be appealing the district court's order," plaintiffs' attorney Andrew B. Miller of Starr Austen & Miller LLP in Logansport said of the ruling in Whitaker v. Appriss Inc., 3:13-cv-826. Judge Robert Miller in the U.S. District Court for the Northern District of Indiana granted summary judgment in July for Appriss, which collects and sells crash reports through the website BuyCrash.com. Those reports contain personal information gathered by police from driver's licenses.
Andrew Miller said Appriss should not be permitted to sell a driver's personal information, such as names and addresses for commercial solicitation purposes without the driver's express consent. "The plaintiffs feel very confident their claims are supported under the Driver's Privacy Protection Act," he said. "This issue involves the commercial solicitation of accident victims," which he said is not permitted under DPPA without the express consent of the person to whom the information pertains.
Andrew Miller
Judge Miller disagreed, holding that the DPPA was intended to narrowly apply only to protection of information disclosed to third parties directly by departments of motor vehicles. In ruling for Appriss, he wrote, "When the holder of a driver's license hands over her personal information to an entity other than a DMV, even when that information is printed onto a driver's license, the DPPA doesn't protect it."
'Use it all the time'
Mike Langford is a partner at Scopelitis Garvin Light Hanson & Feary P.C. whose practice is largely devoted to defending trucking companies in crash cases. Langford and other attorneys said a ruling for the plaintiffs in this case could have created an avalanche of claims — including retroactive ones — against anyone who accessed driver's license information from police reports.
Langford
Like many in the trial lawyer and defense bar who work on traffic crash cases, Langford uses the BuyCrash.com website to access official police reports for about $12 each. Indiana State Police and other law enforcement agencies in Indiana and many other states have contracts with Appriss to provide crash reports online.
"I use it all the time when I have a prospective client," said Carmel personal injury attorney Merry Fountain. "Before I can give them a consultation, I need to see what the police report says." These public records contain crucial information about witnesses, insurance, passengers, investigating officers, and official conclusions about causes, conditions and factors that may have contributed to a crash.
Fountain agrees with the Whitaker ruling. "Most of this information would otherwise be either difficult or impossible to obtain. Continuing to allow access to this information expedites legal help for everyone in Indiana who has been injured in an auto collision," she said.
Louisville, Kentucky-based Appriss was sued by Rachel Whitaker and Richard Dunkin. Both plaintiffs had been in crashes, and they provided their driver's licenses to investigating police who used that information in crash reports. The police reports were uploaded to BuyCrash, and about 30 days later, Whitaker and Dunkin began receiving solicitations from personal injury attorneys and chiropractors.
Fountain
Whitaker and Dunkin claim this violated the 1994 Driver's Privacy Protection Act. Their suit sought $2,500 in damages each and class certification as well as attorney fees and costs.
'Disastrous consequences'?
The Hoosier State Press Association and the Indiana Broadcasters Association took the unusual step of intervening as amici in Whitaker at the district court level. HSPA Executive Director and General Counsel Stephen Key said the stakes of this case were high for media outlets that report on crashes. He noted Wisconsin State Police had responded to another DPPA case by withholding crash reports or redacting driver's license information for fear of potential liability.
"We wanted to get involved early to head off what could have been some disastrous consequences," Key said. Had the judge ruled for plaintiffs in this case, Key said, news organizations and the public could have faced retroactive liability for each instance of accessing information in police reports, even without proof of damages. Likewise, people who access a variety of public records — from voter registrations to arrest reports to sex offender registries — could have unwittingly violated the law if the information they obtained came from someone's driver's license.
Plaintiff's attorney Miller said the concerns of media organizations were addressed during briefing on Appriss' motion to dismiss.
Bingham Greenebaum Doll LLP partner Meg Christensen is an author of the amicus brief on behalf of HSPA and IBA. She said beyond media who report on traffic accidents, a ruling for the plaintiffs would have limited the ability of organizations that analyze road safety, for example, to gather crash data.
Services like those offered by Appriss "are the most convenient, most cost-effective way to get that information to people," she said. Nevertheless, "I'm hesitant to say this is the last of the issue."
Appriss said in a statement it was pleased with the ruling but declined further comment.
'Absurd results,' practical realities
The ruling creates a split on this issue within the 7th Circuit, and Judge Miller took aim in his ruling at an Illinois decision in favor of plaintiffs in a similar case.
Judge Miller's ruling disagrees with a Northern Illinois District Court ruling for plaintiffs in a similar case, Pavone v. Law Offices of Anthony Mancini, Ltd., 205 F. Supp. 3d 961, 966 (N.D. Ill. 2016). Andrew Miller said he agreed with the Illinois court's holding that motorist Antonio Pavone could pursue a claim against a law office that solicited him after he was involved in a crash. The Mancini ruling held that personal information obtained from a driver's license is subject to DPPA protection because a driver's license is a defined motor vehicle record which contains statutorily protected personal information.
Judge Miller disagreed in strong terms. "Strange and far-reaching results follow the Mancini interpretation," he wrote. "Appriss points out … absurd results. For example, a person who uses information on her spouse's driver's license information to make an order or reservation would be liable to the spouse for a DPPA violation," unless the spouse had first given written consent.
Langford said he uses BuyCrash.com once or twice a week. When he began practicing 23 years ago, if he needed to get an accident report, he'd have to send a check to the local police department and wait, sometimes for weeks, for the report to arrive in the mail. Now, by keying in information such as a driver's name and the location or date of a crash, the report is instantly available.
Appriss might not be able to configure a system that would meet its contractual obligations to provide public records in a way that would also shield driver's license information to comport with the DPPA, Langford said. "Not only do I think it was the right decision," he said of Judge Miller's ruling, "but I think the practical implications of losing BuyCrash would be a real problem."
Langford doesn't believe the federal law was written to cover scenarios like those in the Whitaker case, in large part because they weren't on the radar. "The level of technology and the issues we're contemplating — BuyCrash certainly wasn't contemplated in 1994," he said.•
 
Please enable JavaScript to view this content.