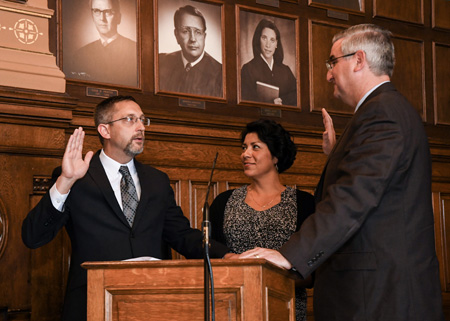 As Justice Christopher Goff sat in his spot on the Indiana Supreme Court bench Friday morning, donning his official justice robe, he told a crowd of well-wishers gathered in the courtroom and the Indiana House of Representatives that he was feeling three emotions: gratitude, responsibility and hopefulness.
His gratitude was extended to the roughly 300 guests who came to the Indiana statehouse Friday to witness his public investiture ceremony, when Gov. Eric Holcomb administered the ceremonial oath of office and Wabash Circuit Judge Robert McCallen III performed the robing ceremony. Chief Justice Loretta Rush previously performed a private swearing-in ceremony on July 24 to allow Goff to begin his work as a justice.
The 110th justice told the members of the crowd — which included his wife and children, Indiana trial, appellate and federal judges, current and former Supreme Court justices, several members of his extended family, colleagues and friends — that without their trust and support, he would not have made the transition from a small town boy in rural Wabash County to a member of the state's highest bench. As he expressed his gratitude to his guests, calling each of them out by name, he frequently told them, "This is your day, too."
The responsibility of Goff's new role also weighed heavily on his mind Friday, when he remarked that he would serve with the best interests of all Hoosiers in mind. Pointing to the example of retired Justice Robert Rucker, whom Goff succeeded and who was in the audience, the newest justice said he would strive to emulate his example of being a "voice for the voiceless."
Looking ahead, Goff said he felt hopeful about the future of justice in Indiana. Pointing to his own life story, he said he hopes his career can serve as an example of what can be accomplished through hard work and dedication.
"I feel a sense of hope about the future of justice because today we are gathered to celebrate the fact that someone born to teenage parents, married to the daughter of migrant workers, and from a remote part of the state has been selected to serve on Indiana's highest court," Goff said. "That gives me a sense of hope, because if such a thing is possible for me, why should it not be possible for any child?"
Goff's remarks closely matched the celebratory, emotional nature of his investiture ceremony, when his friends and colleagues were invited to speak about his life and career.  For example, Mark Guenin, who delivered remarks on behalf of the Wabash County Bar Association, spoke of Goff's approach to dealing with litigants who came before him in the Wabash Superior Court, saying he viewed those litigants as people, not problems.
Guenin was emotional during his remarks, as were Goff's wife, Raquel, and his children, who were frequently seen wiping tears from their eyes during the ceremony. Goff, who was described as a soft-spoken man, also seemed to be in awe during the ceremony, offering modest waves when the crowd rose to its feet for multiple standing ovations.
Chief Justice Loretta Rush and Justices Steve David, Mark Massa and Geoffrey Slaughter each offered words of advice to their newest colleague, with Slaughter encouraging Goff to revel in his role as the most-junior justice. Being in that position will require Goff to speak and vote first during court conferences, and while that task may seem daunting, Slaughter said Goff should take advantage of the opportunity to frame the issues and drive the justices' conversations.
As Goff sat on the bench surrounded by the portraits of previous justices, Rush told him that each of his predecessors had two stories to tell: one of their lives leading up to the Supreme Court, and one of their lives after their appointments. Goff's "second story" is just beginning, the chief justice said, adding that the newest version of the high court — which represents a complete turnover that began in 2010 — would write its own story together.
But at the end of the ceremony, Rush wryly reminded her high court colleagues that after the pageantry of Goff's appointment concludes, they have a good deal of work to tackle.
"By my current count, we have 32 cases on the docket," Rush said of the cases the court was considering next Thursday. "It's time to get back to work."
Please enable JavaScript to view this content.