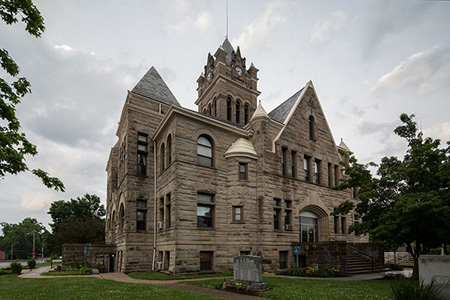 A federal judge has certified a class action in an Americans With Disabilities Act lawsuit alleging the Pulaski County courthouse in Winamac is not accessible to people with disabilities.
Lead plaintiff Emily Hizer is a longtime legal assistant for her father, Winamac attorney Alan Hizer, and a member of the northern Indiana county's ADA Board. Emily Hizer has multiple sclerosis, which requires her to use a motorized scooter for mobility, according to case records.
The suit claims that the three-story courthouse's structural characteristics cause "great difficulty in accessing the government services provided at the Courthouse and that other persons with physical disabilities experience the same issue," District Judge Jon E. DeGuilio wrote in an order granting class certification issued Monday.
Among the barriers to access alleged in the complaint is an elevator whose dimensions are about 3 feet by 4 feet. The elevator door must be manually opened and closed, and the elevator is operated by holding a button to move it up or town. Likewise, the suit alleges restroom doors and stalls are too small to provide wheelchair access and maneuverability.
The class will consist of people with mobility impairments or other physical disabilities, according to the order. DeGuilio appointed ACLU of Indiana Legal Director Ken Falk as class counsel and gave parties 30 days to draft a proposed notice of certification.
According to "The 92 Magnificent Indiana Courthouses," the Romanesque Pulaski County courthouse was completed in 1895 at a cost of $42,200.
Please enable JavaScript to view this content.