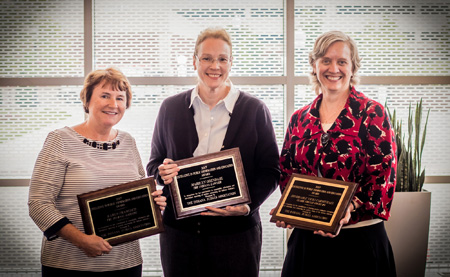 Indiana Lawyer reporter Marilyn Odendahl was honored Thursday by the Indiana Judges Association for her reporting on expungement petitions around the state.
Odendahl was one of two recipients of the IJA Media Award at the Indiana Judges Association meeting in Fort Wayne. The organization recognized Odendahl's Feb. 22, 2017, story "No slowdown in expungements," which looked at the high number of expungement petitions filed since legislation was enacted in 2013 and how clerk's offices around the state are dealing with the numerous petitions.
Karen Francisco from the Fort Wayne Journal Gazette also received a media award. The IJA Media Award recognizes members of the media for responsible reporting on the Indiana judiciary.
Clark Circuit Judge Vicki Carmichael received the IJA Judge's Award for her "Adopt a Doll" program, where children can bring in toys or pets they received for Christmas to Carmichael's court and officially "adopt" them. The Judge's Award is given to a member of the judiciary for efforts in community relations.
The IJA also recognized Rep. Dave Frizzell, R-Indianapolis, and Sens. Luke Kenley, R-Noblesville, who is retiring at the end of the month from the Legislature, and David Long. R-Fort Wayne.
Please enable JavaScript to view this content.