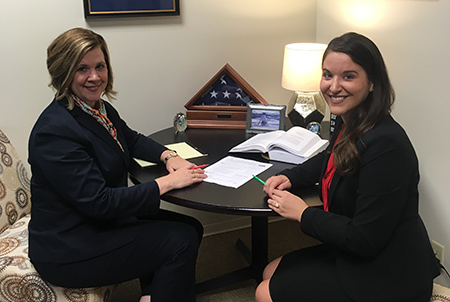 A cultural shift is happening in the practice of law. As more millennials join law firms, their way of thinking, working and learning is slowly becoming the norm as older attorneys and their customs retire from the profession.
At Ice Miller LLP, this slow shift in law firm culture prompted firm leaders to survey their employees to find out what motivates them to stay with a firm, a question that was particularly important for young associates, who represent the firm's future. The results of that survey showed a common thread among millennial attorneys, who said they didn't like the annual evaluation system and felt their professional development would be better served if they received immediate feedback when they completed a project.
From those survey results came Ice Miller's new career coaching program, an initiative designed to give attorneys instant feedback on their work. The career coaching program now pairs first-year associates with partners, but by early 2018, the initiative will provide professional development coaching for all non-partner attorneys.
A change was needed in Ice Miller's evaluation system, said Marilee J. Springer, a partner coach who is mentoring associates. She said the traditional annual evaluation format had not changed in the 21 years she has been with the firm. While such evaluations do include performance-related feedback, the attorney being evaluated is often only listening to the parts of the review that pertain to promotions or raises, she said.
Such a system is beneficial to neither the attorney being evaluated nor the firm if attorneys are not actively listening to the portions of their review that pertain directly to their job performance, Springer said. But through the new career coaching initiative, an associate who completes a task for a partner can receive instant feedback on how competently they completed that task without their reviews being tied to concerns about promotions and money. And when associates feel like they are receiving adequate professional guidance from a firm, Springer said the hope is that they may be likelier to stay with the firm throughout their career.
Early success
In the two months that Sterling Shown has been with Ice Miller as an associate, she has already had several opportunities to enhance her work through the career coaching system. Whenever she completes an assignment for a partner, she simply fills out an online form that sends a request for feedback to that partner.
When the partner responds, Shown's feedback can be varied and can include compliments on her strengths or suggestions for improving her weaknesses. She can also get more general comments, such as whether her supervising partner would feel comfortable giving her more responsibility in the future.
Springer has already seen the instant feedback system making a difference in Shown's work. For example, Shown recently drafted a legal document for Springer, who advised the associate to add more clarity and specificity when completing similar tasks in the future. Shown was then assigned to draft a similar document a short time later, and Springer said she noticed improvements in the associate's writing based on the feedback she had received.
Simple feedback like what she received from Springer is what will have the biggest impact on her career, Shown said.
"In our practice group … we have similar projects always, so I might draft board resolutions for a client," Shown said. "That's going to happen frequently, so by the time I do that the second time, I'd like to know what I did well or could fix from the first time."
Aside from requesting feedback online, Shown and other Ice Miller associates will also have the opportunity to create individualized development plans based around four categories: general law firm orientation, firm economics, business development skills, and strategic career development. Each of those categories will have 10 subtopics attorneys can choose to focus on.
Shown anticipates her individualized plan likely will focus on law firm orientation. Specifically, she wants to learn tips for effectively managing her time and emails, two tasks she knows will be more difficult now that she is in a professional rather than academic environment.
Other categories, such as business development, likely won't be a focus for any first-year attorney, Springer said. That's because their efforts should be focused on learning how to actually practice law rather than how to gain more clients. But once an associate has a few years of experience, business development will become more important, she said.
To provide proper guidance on which areas of their professional development to focus on, the partner coaches at Ice Miller have been trained in a specific curriculum that teaches them how to properly advise the associates who work for them, Springer said. In addition to teaching the practice of law, the curriculum encourages partners to help associates learn how to succeed in the firm. That means teaching them soft skills, such as how to deal with contentious clients, or how to react when there is an intra-firm dispute among attorneys.
Meeting firm needs
The curriculum-based coaching is one of the most unique facets of Ice Miller's career coaching initiative, Springer said. But many other firms have employed similar mentorship programs that are designed to fit the unique needs of their attorneys.
Lee
For example, Jason Lee leads Lewis Wagner LLP's mentorship program, which encourages associates' professional development by requiring them to periodically meet with three separate groups: their direct supervising partners, their individual mentors and all other associates.
During their monthly meetings with one another, Lewis Wagner associates are given a list of topics in advance so they know what will be discussed and can be prepared to discuss the issues raised. Meanwhile, their quarterly meetings with supervising partners focus on the substantive side of their performance at the firm, while their meetings with their assigned mentors can cover a variety of issues, from performance to professional development to interpersonal problems.
At Faegre Baker Daniels, the firm uses the term "advisor" rather than "supervisor" to connote the kind of relationship it hopes to establish between partners and new attorneys. Partner Scott Chinn serves as Brooke Dunn's advisor, and the two have developed a collaborative relationship that has helped Dunn make a successful transition from her previous career in the business world to her current career in law.
Faegre also employs a system in which newer associates such as Dunn are encouraged to ask questions of attorneys outside their own practice group. To that end, Dunn said she has had the opportunity to develop relationships with firm leaders outside of the public finance practice group, where Chinn is a leader, which has made her more well-rounded as an attorney.
While firms are creating mentorship programs tailored to their needs, the common thread running through such programs is the ability to allow associates to develop relationships with partners. The practice of law is a relationship-driven business, Springer said, so it's important for young attorneys to learn to successfully interact with their clients and colleagues in a way that will further their professional development.•
"Sterling's first client is us, is internal," Springer said. "So we're really teaching her and letting her practice client service in the way that she interacts with us because our goal is for her to have access to the client. And in our practice group, our goal is to keep Sterling and to promote her, if it's her desire, to partner."•
Please enable JavaScript to view this content.