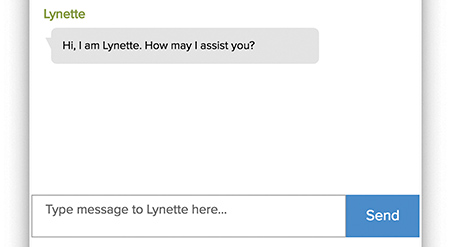 Since redesigning his law firm's website and adding a chat box, Terre Haute solo practitioner Timothy Hayes has been surprised by the number of people who search the internet for legal help in the middle of the night.
The transcript from the chat will drop into his email inbox and — because he is a little bit of a night owl — he will likely tap a response on his phone or laptop, quickly sending a message back to the potential client. About four or five times each month, he gets an inquiry from the chat box that may or may not turn into a paying client, but he rarely dismisses outright anyone who chats with his website.
"I don't consider any lead to be a bad lead," Hayes said, "because, if someone calls or emails and I give a little bit of advice, I'm following my obligation as a lawyer, and they're having a better day because they now have less anxiety."
Hayes
Chat boxes – the little square windows that pop up in the middle of an attorney's website or slide down the side and bounce along the bottom – invite people to correspond in real time. For the most part, they prompt website visitors to describe their legal issue and leave their contact information. Operators, who generally are not attorneys or connected with any law firm, type responses, offering sympathy and the promise to contact the attorney on behalf of the individuals who "chat in."
The transcripts from the chats are then forwarded to the specific law firm. Hayes will thank the individual for contacting his office and give instructions to call his assistant to make an appointment. Sometimes he will provide a little advice or help understanding the law.
Chat boxes are touted as the best way to connect with potential clients who are searching the internet to find attorneys and answers to their legal questions. A Google search about chat boxes, themselves, will bring up numerous articles highlighting their growing popularity and describing them as bringing more customer satisfaction than phone or email.
In New Albany, attorney Matthew Schad of Schad & Schad PC, redesigned his firm's website with the help of his brother, creating a clean, easy-to-navigate site that includes pictures, a video, testimonials, and summaries of successful litigation. Also, he contracted with a vendor to provide the chat box that appears shortly after visitors arrive at the site, and the tabs that link to a live chat option.
Schad
Schad estimated his firm pays less than $1,000 per year for the chat service. This includes a flat fee plus additional charges for each lead that becomes a client. Still, he said he is not getting a lot of good cases through the chat box. He expected people with personal injury claims would connect to his office via a live chat, but he has since discovered the most inquiries come from people asking about Social Security Disability benefits.
The reason, Schad believes, is the nature of the legal issue. Individuals with personal injury claims use the internet to compare the attorneys they are thinking about hiring rather than surfing the web looking for a lawyer who can help them.
"I think personal injury is so competitive that people already know who they are going to call and they're not going to chat about it," Schad said. "They don't need the internet to find you. They use the internet to see if they want to call you."
Still, Schad has no plans to drop the chat box feature. The option to chat "makes the site appear alive," he said. "That's important to people."
Websites that are not updated and have old blog posts give the impression that the firm is not addressing the topical issues of the day and may even make visitors wonder if they have arrived at a dead link, he said. Schad tried to build his website so it reflected the firm's ethos and introduced anyone poking around to the attorneys as well as their practice areas. To that end, the most popular item on the opening page is the video.
Chat boxes on lawyers' websites – such as these from the New Albany firm of Schad & Schad – connect potential clients with an operator who will record their legal issues and contact information. (Screen shot courtesy of Schad & Schad)
"They kind of have a better feel for us, personally," Schad said.
Karly Sacco, digital media coordinator at OVC Online Marketing for Lawyers, echoed Schad. OVC offers law firms an array of services for developing their websites, including search engine optimization, photography, content writing and chat boxes. The operators are available around the clock every day of the week.
"I think chat boxes should be on every lawyer's website," Sacco said. "I think it is a great way for instant gratification and makes people 'chatting in' feel important."
Also, she pointed out, people chatting in can get some answers immediately. They will know whether the attorney can possibly help with their legal issue, or, if the firm does not offer the services they need, they will know right away.
Hayes and Schad view chat boxes as one part of their larger efforts to connect with potential clients. More and more people are getting information from their computers, tablets and phones, so a presence on the internet is a must and live chats are a way to engage certain people.
But the two attorneys differ on the future of chatting in.
Schad does not expect chat boxes to be around for a long time. Technology is ever-changing and increasingly, people are accessing the internet on their phones, so he is anticipating something new will arrive and replace the box.
Hayes does not see the end being near. With their immediate offer to help, chat boxes allow the firm to stay open on the internet and continue to provide some help to clients even when the attorneys have gone home.
For the lawyers, the chat boxes give them a chance to meet some of the people who visit their websites. Without the ability to live chat, people might click and peruse through the web page then leave without the attorney ever knowing someone was there. Even though his evenings occasionally get interrupted, Hayes likes meeting those who stop by his website.•
Please enable JavaScript to view this content.