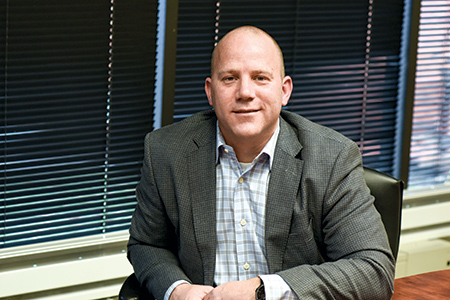 Ben Habegger's introduction to entrepreneurialism was loading and unloading delivery trucks at his family's furniture store in Fort Wayne.
In the summer and during the holidays, Habegger and his three brothers hoisted mattresses, sofas, chairs, desks and dining room tables for Habegger Furniture, Inc. They would carry the items from the trucks into the warehouse, then back from the warehouse into the trucks for delivery to customers the next day.
Watching his dad at the furniture store and his mom at her sporting goods store, Habegger learned being a boss is not having long lunches and frequent vacations. He saw his parents serving the customers, managing their employees and doing whatever job needed to be done.
"Just because you're a business owner doesn't mean life's on easy street," he said. "My parents worked incredibly hard."
As an attorney, Habegger is combining his knowledge of business with his entrepreneurial mindset. He has launched a solo practice, Outsourced General Counsel, LLC, offering his services as an in-house lawyer to small businesses that do not have a legal department, and to larger companies that may need short-term legal help with a project or to cover a leave of absence.
Habegger decided to establish his own firm after 11 years as a corporate attorney. His in-house career was divided between two companies — Carrier Corp. and Marsh Supermarkets — that both demonstrated business can be hard, and decisions made in the executive suite can have severe consequences.
For 10 years, Habegger worked for United Technologies, spending most of his days at Carrier Corp., on the west side of Indianapolis. That facility became part of the national conversation on the economy when the company announced the entire workforce was being laid off and the operation relocated to Mexico.
As a candidate, President Donald Trump criticized the decision. Incentives of $7 million were later offered to keep the factory in the U.S. Jobs are still being cut at the plant, the most recent round in January.
Habegger left United Technologies in 2016 to become vice president of legal affairs for Marsh. Although he was based in Indianapolis, his work at United supported three different operations in locations outside the Circle City. He, himself, was facing the prospect of having to move to the corporate headquarters in Florida when he decided he did not want to uproot his children and leave family and friends.
The step to Marsh allowed him to stay in Indianapolis as well as learn the legal side of the retail industry and, especially, delve into real estate and leasing matters. He was aware the regional grocery chain had financial challenges, but he was attracted to the job because it gave him the opportunity to work in a company headquarters. He liked being able to interact with executive management daily and being asked for his opinion on a variety of issues.
"When you're in-house, you deal with a lot bigger realm of the organization, which helps you understand how the sales team works, how the marketing team works, how the engineering (team) works," Habegger said. "I feel like that's a perspective you can only obtain by being in-house counsel because you never know who's going to show up at your door."
By the end of 2016, Habegger began getting more and more calls from vendors and service providers who were looking for their payments. The situation was worsening at Marsh, and by May, the grocer had filed for Chapter 11 bankruptcy. Habegger agreed to stay until November 2017 to help with the liquidation.
The extra months at Marsh gave Habegger time to consider his next step. He got the idea of developing an outside in-house legal counsel practice and approached a couple of law firms. But a stumbling block was money. His hourly rate would have to be lower to entice companies to hire him for longer periods, and that made covering the firm's overhead difficult.
Habegger then realized he would not have that overhead as a solo practitioner. With the encouragement of his wife, he hung out his shingle a few days after his tenure at Marsh ended.
He wants to be more involved with his client companies than the typical outside attorney who gets an occasional call from an executive.
His business card identifies him as "attorney and problem solver" to underscore that, as an attorney, he can spot legal and non-legal issues and help devise the remedies. Also, his billing rates include monthly fee plans and the "General Counsel for a Day" plan so businesses will feel more comfortable asking for his input because they will not be as worried about the cost.
Bill Waltz and Greg Ellis, both attorneys and vice presidents at the Indiana Chamber of Commerce, see a need among businesses for a legal service like Habegger is offering. Neither know Habegger and are not familiar with his practice model but, in general, they see value in it.
Whether a tiny retailer or global enterprise, all businesses tend to have the same legal issues — personnel, liability, contracts, regulatory compliance and intellectual property, Waltz and Ellis said. They noted Habegger would not have the knowledge and relationship with a business that comes with being in-house full-time, but he would still potentially have a day-to-day familiarity and understanding that could be beneficial.
"It's an interesting concept," Waltz said of Habegger's practice. "… It might enable small business to get the counsel they need at a reduced rate."
Habegger has picked up a couple of clients and he continues to network, knock on doors and promote his experience as an in-house attorney. From his time lifting furniture, he knows some owners put more of themselves in their businesses.
"There's more an ownership, investment and passion about it that I like, working with people who say 'This is my livelihood, and my family depends on it,'" he said. "It is very different from United Technologies, where you're really looking to increase shareholder investment."•
Please enable JavaScript to view this content.