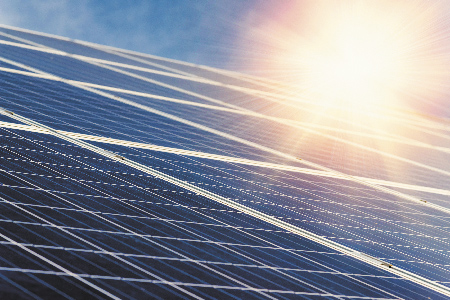 As Indianapolis resident Joey Myles was building his "forever home" on the south side, there was one feature he wanted: solar roof panels.
He hired a solar panel contractor, drew up the plans and invested the money. All that was left was getting approval from his homeowners association's architectural review committee, a step he thought would be no more than a formality.
"It was 2014, who would be against solar panels?" Myles said of this thought process at the time.
But the HOA was against the panels, or at least the look of them. Myles had to submit three sets of blueprints before the architectural review committee approved a panel placement arrangement it felt would complement the look of the neighborhood. The five-person committee had nothing against solar energy, Myles said — it was simply a matter of getting the aesthetics right.
Freeman
Myles was finally able to install 33 solar panels on his roof in 2016, but the difficult journey he took to get there left him smarting. He took the matter to Sen. Aaron Freeman, who was then a candidate, and the now-Republican senator agreed to take up the cause. Since taking office, Freeman has filed two bills to restrict homeowners associations' ability to prohibit solar panels, including Senate Bill 207 filed this year.
But like Myles, Freeman is seeing what a tough sell solar panels can be where HOAs are concerned.
SB 207 would not allow for a total ban on solar panels in any HOA covenants drafted or amended after June 30. Associations may require preapproval of solar panels, but can only require a resident to take their panels down in extreme circumstances, such as when a court determines the panels would threaten public safety or violate a law.
"The words 'always' and 'never' are not in my vocabulary — you should look at each individual situation and make a good decision," Freeman said. "When somebody says 'absolutely no' (solar panels), that's just not right."
Like a similar bill Freeman filed last year, SB 207 failed to garner support in the House of Representatives after passing the Senate. Despite that, both Myles and lawmakers say they plan to continue fighting for what they consider an important environmental issue.
"This is not an effort to curtail homeowners associations," Myles said. "It's just the rules on solar panels."
Old-school rules
Chandler
Many homeowners associations drafted their covenants — including solar panel restrictions — in the 1980s or 1990s at a time when the panels were much bigger and bulkier than they are today, said Greg Chandler, a partner at HOA law firm Eads Murray & Pugh, P.C. Similarly, Laura Arnold, president of the Indiana Distributed Energy Alliance, Inc., has researched neighborhood covenants and found that some solar panel restrictions date all the way to the 1970s, when solar panel manufacturers built models that are no longer even on the market.
But amending neighborhood covenants is a tall order, Arnold said. In some neighborhoods it takes a simple majority, while other associations require approval from 75 percent of residents. Given that high bar, Chandler said HOAs may be powerless to do anything about solar panel restrictions, even if the restrictions no longer make sense given today's solar technology.
Freeman likened the situation to satellite dishes, which many HOAs banned in the late 20th and early 21st centuries. The federal government eventually stepped in to end the total ban on satellite dishes but allowed associations to fashion rules regarding their appearance and placement.
SB 207 is a state effort to enact similar legislation regarding solar panels, Freeman said.
"I don't see it as any different," Freeman said. "… It makes a lot of sense for the environment and for homeowners while still giving homeowners associations a say over what's installed and how they're installed."
Level playing field
Buschmann
From a legal perspective, attorneys who represent HOAs say their clients have few concerns about SB 207. Stephen Buschmann, an Indianapolis HOA attorney who sits on the legislative action committee for the Indiana chapter of the Community Associations Institute, said the July 1 effective date of the bill lessened concerns about the implications of the legislation.
The bill Freeman introduced last year would have been retroactive, a provision he acknowledged was a major sticking point for HOAs. But SB 207 removed the retroactive language, so now existing neighborhood covenants would be unaffected by the legislation, Buschmann said.
Of those existing covenants, very few include total solar panel prohibitions, Buschmann said, and in the 30-plus years he's been practicing, no one has ever asked him to draft a total prohibition into neighborhood rules. Most covenants require prior approval from an architectural committee — much like the process Myles faced — and that requirement would not have been affected by SB 207, he said.
Joey Myles' Indianapolis homeowners association rejected his solar panel plans twice before allowing his rooftop installation. Myles is pushing for a law to bar HOA solar panel bans. (Photos courtesy of Joey Myles)
The bill also exempted townhomes and condos, another provision the Thrasher Buschmann & Voelkel, P.C. president said has provided reassurance to entities with concerns about the solar panel legislation. That exemption carves out an exception for communities where individual residents don't own their roofs, but rather pay joint maintenance fees with other residents to cover the cost of the property's upkeep.
"This bill only says, 'If you don't have it (a prohibition), you can't come in and do it,' and nobody's asking to do it," Buschmann said. "And it excepts the ones the association is responsible for maintaining."
Legislative hurdles
Despite a lack of concern from HOAs, Freeman's solar panel bills struggled to gain traction in both 2017 and 2018.
Both of his bills made it through the Senate — including a 36-12 vote for SB 207 in early February — but failed to get hearings in the House. Freeman speculated that this year, the issue may be the contractual nature of HOA covenants. If a person doesn't like the rules of a neighborhood, then the natural assumption is that they don't have to live there, Freeman said.
But the rules those associations enforce should be reasonable given the prevalence of HOAs, he said, especially when it comes to alternative energy options.
Chandler also pointed to lingering confusion about the implications of SB 207 on existing covenants that are amended after June 30.
When asked about the amendment provision in the Senate, Freeman said he was unsure whether an amendment after that date would subject an HOA to SB 207. Chandler similarly said he was unsure about the exact meaning of the amendment language but surmised that HOAs that amend covenants after the effective date would find themselves subject to the legislation, even if the amendment was unrelated to solar panels.
Next steps
Those concerns have kept SB 207 and its 2017 counterpart from getting a House committee hearing, so its proponents tried to amend the language of SB 207 into another 2018 property rights bill, Senate Bill 197. However, the proposed amendment was deemed not germane to SB 197 and, thus, was not brought before the House Judiciary Committee for consideration, Myles said.
The plan then shifted to finding a home for SB 207 in a conference committee bill, but on March 2, Rep. Woody Burton informed Myles the legislation was once again dead. The Whiteland Republican, who sponsored SB 207 in the House, has already agreed to carry similar legislation next year, and Myles said he is prepared to continue the fight for his legislation.•
Please enable JavaScript to view this content.