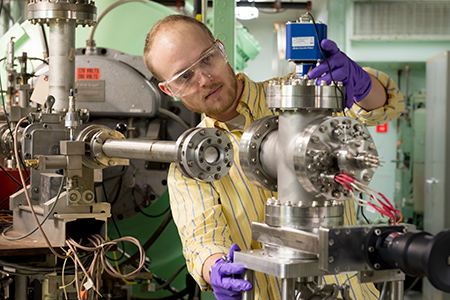 Ian Hamilton had plenty of time to speak on a recent weekday morning because even inventors can be felled by common frustrations.
The 25-year-old Fort Wayne native is a "Chain Reaction Innovator" at Argonne National Laboratory in Illinois, where he is continuing to develop his device that converts radiation from decaying material into electricity. NASA relied on a similar system to power the Mars rover, but Hamilton is working to craft a machine that has much better technology and is significantly more efficient.
Hamilton hit upon the idea in high school when his "overzealous physics teacher" pushed him to enter the Google Science Fair. "I literally started with what was the most ridiculous thing (I could do) and using radioactive waste to generate electricity was at the top of the list," he said.
The project proved too ambitious for a teenager, but while studying at Purdue University, the idea resurfaced. His inspiration has since sprouted into his own company, Atlas Energy Systems, and has applications anywhere a traditional power supply is not practical, such as space exploration or oil drilling in the ocean.
Hamilton discussed his energy converter and his company while waiting for his car to be repaired after hitting a pothole in Indianapolis. Banging into a pavement crater caused a lot of aggravation but, thanks to some law students, he has been able to avoid a major chuckhole on the entrepreneurial highway.
With the help of the Intellectual Property Law Clinic at Indiana University Maurer School of Law, Hamilton has secured a handful of provisional patents for his ideas and is in the process of applying for non-provisional patents. He credits the patents with helping him secure the Argonne fellowship because the protection assured the potential investors that his device would not be copied and marketed by a competitor.
"They've been a huge help," Hamilton said of the IU Maurer crew. "They've been awesome."
Both IU Maurer and Notre Dame Law School's Intellectual Property and Entrepreneurship Clinics assist inventors with patents and trademarks. The clinic directors — Norman Hedges at IU Maurer and Jodi Clifford at Notre Dame — oversee second- and third-year law students as they interview potential clients, search for prior art, file patent applications and respond to the examiners' questions.
For innovators, the clinics fill a gap, helping them with free legal services so they can safeguard their intellectual property. Hamilton paid for the application filing fees, which can run from a few hundred to a few thousand dollars, but not having to pay for the legal advice allowed him to funnel more funds toward research and development.
In exchange, the law students get a preview of the technology and products that are potentially coming tomorrow. Marlee Hartenstein, third-year law student at Notre Dame, has been working with innovators at the clinic since August 2017. She gets to know them and their inventions, then does the dual task of explaining complex patent law to them in lay terms and writing a patent application with detailed technical descriptions for the U.S. Patent and Trademark Office.
"I am constantly impressed by the inventions and ideas that come into the clinic," Hartenstein said. "I usually learn something new every time I meet with a client."
Healthy innovation
Sitting at the IU Maurer clinic's satellite site in Indianapolis, Hedges echoed Hartenstein. Inventors have sought patents for a surprising array of nifty prototypes.
Clifford
In addition to the sophisticated science of Atlas Energy, the products have included a wristband for infants and toddlers that tracks the immunizations they have had and still need. Others include a smartphone app that indicates whether a concussion has occurred by measuring the eye's reaction to a flash of light, and a cable rail system that can string cable around a backyard deck.
Because of limited resources, the clinics confine their work to products that have potential. At Notre Dame, Clifford does a careful analysis, largely measuring the inventor's commitment to seeing the project through.
A patent by itself is not a golden ticket. Success comes by creating a business. For inventors to become entrepreneurs, they need to have a business plan, be open to advice, and have a knowledge of the industry they will be entering.
"I admire entrepreneurs because there is an awful lot that goes into creating a company," Clifford said. "Just having a good idea is not enough."
Still, Eric Brunngraber, a third-year law student at the Notre Dame clinic, has been amazed at what the clients have created. As ideas have come in, he has determined whether products are patentable, counseled the inventors and provided information to the patent examiners. He's also been able to put into practice what he learned in the classroom, drafting a patent application.
The innovations arriving at the clinic have intrigued him. He said primarily the devices and gadgets are addressing needs in society, some of which may not have been widely known. The inventors not only saw the unmet need but also crafted something to fulfill that need.
Their work makes Brunngraber confident about the future of Indiana's innovation community. "I think, based on what I've seen, I have to say it looks positive."
Few garage tinkerers
The idea of an inventor being a guy tinkering in his garage has been taken over by the wave of entrepreneurial-minded young adults who are connected with incubators or working on capstone projects and driven by the desire to start their own companies. Hedges is surprised by the passion this new crop of innovators have for developing and launching their products.
Hedges
"I do get the sense that if it doesn't work out at the end, they'll bounce back from it and try it again," Hedges said. "Whereas, I think the garage inventor type, they're less apt to try it again because, I think, they go into it with their expectations overblown and when things don't work out, they're done."
For Enlighten Mobility, the starting point was a teenage girl who said no.
Marissa Koscielski was a 17-year-old gymnast when longtime injuries to her pelvis and spine began causing paralysis. The medical staff rolled a wheelchair into her room and told her that she likely would not regain the ability to walk. "I was frustrated because I wasn't ready to accept it," she said.
Soon she was sitting on the floor looking into the medical equipment closet, pulling out pieces and trying to concoct a contraption to help her get around by herself. After many failures, she fashioned leg braces, tape, string and gait belts into a device she could maneuver manually to mimic walking.
Koscielski credits the combination of the physicians, medications and her device with getting her to walk again. Now a graduate student in Notre Dame's ESTEEM program, she is designing more sophisticated walker prototypes, consulting the medical professionals, and launching her business. She has also been working with Notre Dame's IP clinic to file for patents.
Having the protection, she said, gives her more security in sharing her design with patients and clinics across the country. She does not have to worry about a competitor stealing her idea and marketing it.
Clifford has been excited by the inventions coming into the Notre Dame clinic. Over the last couple of years, she has seen more focus put on innovation as well as more support and resources offered to the inventors. Moreover, she has noticed the clients have a better understanding of patents and the application process.
They are invested in their ideas and excited by what may come next.
"I have really been enjoying the clinic because these are people who are extremely passionate about what they are trying to do," Clifford said of the inventors.•
Please enable JavaScript to view this content.