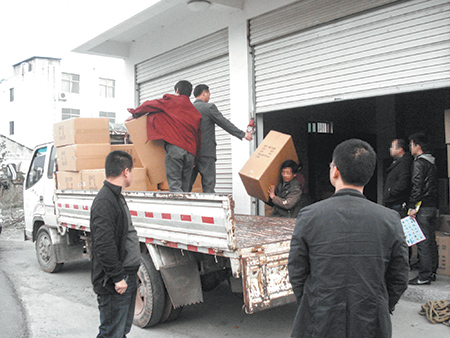 The brewing trade war between the United States and China has shone a renewed spotlight on a longstanding source of contention between the two economies: intellectual property theft.
President Donald Trump announced on March 22 the U.S. would impose tariffs on Chinese imports in response to Chinese theft of American IP, and since then the two nations have engaged in a series of retaliatory economic sanctions. While trade experts say the back-and-forth could give rise to a global trade war, IP law experts say the debate underscores the need for stronger intellectual property protections in America and abroad.
Most IP attorneys say across the country, inventors and innovators can take only a reactive, rather than proactive, approach to protecting their work. But experts also say Indiana has a unique approach to IP law that sets the state apart as a model for strong intellectual property defense.
Tecce
Defining the problem
The concept of IP theft is as broad as intellectual property itself, which means the notion of "Chinese IP theft" can cover any idea, good or brand name developed in the United States.
Some of the most well-known examples of IP theft include the sale of knockoff brand name items, such as fake Rolex watches, said Fred Tecce, an IP attorney and managing partner of Ice Miller's Philadelphia office. But less-flashy items such as dietary supplements or shampoos are also commonly imitated, exposing consumers not only to the risk of purchasing fake goods, but also to the threat of physical harm.
Meyer
Specifically looking to the patent side of IP law, it's also common for overseas markets to produce goods covered by American patents, then import them back into the states for a profit, said Charlie Meyer of the IP firm Woodard, Emhardt, Moriarty, McNett & Henry LLP. Alternatively, Chinese manufacturers of American goods often take American molds and use them to create identical, but knockoff, goods, Meyer said.
What's more, changes in United States intellectual property laws have made it more difficult to enforce a patent, trademark or copyright, which has emboldened offshore IP thieves, Tecce said. He pointed specifically to the case of eBay Inc. v. MercExchange, LLC, 547 U.S. 388 (2006), which held for the first time that IP holders must prove they are entitled to an injunction, even after patent infringement occurs.
Hoosier protections
The eBay ruling and reactive IP laws have created a system in which patent holders are largely forced to wait for theft to occur before taking steps to end the counterfeit practices. But here in Indiana, IP consultant Karl Manders said Hoosier appellate courts have made it easier to take those steps and win the case.
Two cases said set the stage for Indiana's strong IP protections, said Manders, CEO of IP consulting firm Continental Enterprises. The first is a 1994 Indiana Court of Appeals case, Jacobs v. State, 640 N.E.2d 61.
The Jacobs panel unanimously found that a T-shirt containing a legal trademark is considered a "written instrument" under Indiana Code section 35-43-5-2, which defines the elements of forgery. Thus, the sale of counterfeit T-shirts would be actionable under Indiana's forgery statute, the court ruled.
Then in 2012, the Indiana Supreme Court relied on Jacobs to hold that requiring "actual writing or markings on a replica in order to bring it within the reach of the counterfeiting statute would defeat the purpose of the statute and eliminate a very wide range of items." In the context of Yao, et al. v. State, 35S02-1112-CR-704, that meant trademarked airsoft guns could be considered written instruments, and the sale of counterfeit guns was actionable. The Yao court also held that the sale of an item only once in Indiana gave Indiana courts jurisdiction for an IP theft action.
Taken together, those rulings mean that if a counterfeiter tries to capitalize on a brand name's goodwill, they can be prosecuted if that theft is carried out in the Hoosier state, Manders said. That has allowed Hoosier IP holders to seek justice against Chinese counterfeiters who work exclusively overseas but ship their goods for sale in Indiana, he said.
Indiana's protections against domestic IP theft are also unique, Manders said, pointing to the Crime Victims Relief Act. The CVRA lets citizens recover attorney fees and treble damages if they can prove by a preponderance of the evidence that they are the victim of counterfeiting or a similar crime — a system that has yet to be replicated elsewhere, Manders said.
What to do?
Though Manders said Indiana's IP system should be a national model, that model remains unique to the Hoosier state. Thus, attorneys say it's challenging to know how to advise clients to protect their intellectual property in other jurisdictions.
There are a few steps all inventors and innovators can take to protect their work, Meyer said. At the most basic level, those people should apply for the protection that is available to them through U.S. law, as well as protection available in any foreign markets they work in, he said.
William Mansfield views Meyer's latter advice as just good business sense for companies that want to enter the Chinese market. As the director of intellectual property for ABRO Industries, Inc., which sells non-electronic consumer goods overseas, Mansfield has learned that it's naïve to assume IP laws operate the same way in China and the United States.
Aside from the legal differences between the two systems, Mansfield said the Chinese value face-to-face communication with foreign companies that want to prevent and end the counterfeit sale of their goods. Personal meetings show respect for the Chinese and a commitment to working through a problem collaboratively, he said. As a result, Mansfield has taken some 40 trips to China on behalf of ABRO, journeys he said have enabled his company to dramatically cut down on the unauthorized sale of its protected goods.
Education is another key component of protecting American intellectual property, Meyer said. It's up to IP owners to inform their distributors, retailers and consumers of the value of protected products to encourage the exclusive sale and purchase of genuine goods, he said.
Resolution unknown
Despite that practical advice, Chinese theft of American IP has been a problem for decades, and one Meyer hopes will be reduced in light of the American tariffs. But Russell Menyhart — a former Chinese diplomat now practicing at Taft Stettinius & Hollister LLP — said he is concerned the bold decision to impose broad tariffs may not have the intended effect.
The goal of the tariffs is to encourage the Chinese government to take a harder line on IP theft, but Menyhart said the tariffs could unintentionally harm U.S. manufacturers and farmers. He said taking a more tailored, diplomatic approach to the theft issue could be more effective than a wide-ranging economic sanction. Meyer, however, remains optimistic that the tariffs will serve their purpose of prodding the Chinese government to crack down on theft.
Though the brewing trade war will likely test the resilience of the American-Chinese relationship, Menyhart said he's not concerned about the standoff causing a total breakdown in diplomatic relations.
"There's not going to be a really long-term deterioration," he said.•
Please enable JavaScript to view this content.