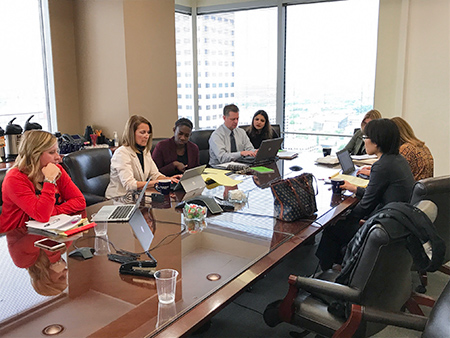 With the caseload in the Marion Circuit Paternity Court, getting six or seven cases mediated to settlement during a pro bono mediation day hardly alleviates the overcrowded docket, but Magistrate Judge Marie Kern said the real benefit comes in what frequently does not happen next.
Two times a year, the Alternative Dispute Resolution section of the Indianapolis Bar Association organizes a Paternity Court Mediation Day where volunteer attorneys try to help fighting parents reach an agreement about the care of their children. The cases are selected by the court and deal with issues that arise after paternity has been established — custody, parenting time and child support.
Ten cases are mediated during a single-day session, and typically, 70 percent will reach a resolution. That's not much compared to the caseload of the Marion Circuit Paternity Court, which in 2017 recorded 2,394 new filings, according to provisional data from the Indiana Supreme Court.
Still, Kern said, the parents who craft a settlement at mediation day learn they can communicate with each other and work out their differences themselves. As a result, many do not go running back to court whenever a dispute erupts.
"So much of what we see, especially in paternity court, tends to be kind of sad," Kern said. "…Mediation day is an opportunity for people to walk away feeling really good about what happened and what they participated in."
Families chosen for mediation day do not have extremely complex cases, such as a custody fight involving domestic violence, and they are not indigent. They fall into the group that makes too much money to qualify for legal aid but do not have enough left over after paying the monthly expenses to cover the hourly rate of a private mediator.
Even so, they are required to pay a nominal fee for the mediation day service. The money, Kern said, is then donated to the Indianapolis Bar Foundation. Last fall, she estimated, the amount collected was $360.
Since its inception more than eight years ago, mediation day has grown from an annual to a biannual event, held in the spring and fall. Faegre Baker Daniels LLP and Barnes & Thornburg LLP alternate offering space in their Indianapolis offices for the organizers, volunteer mediators and parents to work. Also, some students from Indiana University Robert H. McKinney School of Law shadow the mediators to learn more about the process.
The next Mediation Day will be May 11 at Faegre. Conference rooms will be turned over for the event and administrative assistants at the firm will be available to help with any tasks that the volunteers or court officials need.
Monica Fennell, pro bono coordinator at Faegre, remembered receiving a thank you note from one of the firm's receptionists after a mediation day. The staff member saw some of the families were in crisis, and she also saw the volunteer attorneys provide a much-needed resolution.
"It is a privilege to be involved," Fennell said, "because you see the impact."
Elodie Meuser, attorney at The Mediation Option LLC, has volunteered at mediation day for the past six or seven years. She keeps returning because she likes that the event, as any mediation, allows parents to hammer out their own agreements with all the nuances and details that fit their particular situation. Courts, she said, have limited resources and full dockets, so they often have to take a one-size-fits-all approach.
"One of the worst places for a parent to be is in court with a person in a black robe deciding what's going to happen to their family," Meuser said.
The day is divided into two sessions with five cases handled in the morning and five in the afternoon. Typically the parties, many of whom are represented by attorneys, and the mediator are all put in the same room to discuss the issues and find common ground.
Kern is the judge on site at each mediation day. She arrives in the morning, toting a box of case files and a laptop. For any questions that pop up, she can pull the paperwork or log on to Odyssey, and for any impasses, she can try to get the discussion moving again by telling the parties about what might happen if they do litigate.
Also, she can sign any agreement, freeing the parents from having to return to court at another time.
"It's a very productive day," Kern said. "I enjoy it because I really feel like I am accomplishing something."
Phyllis Armstrong, director of mediation at Child Advocates, has been helping administer mediation day for about eight years. She described the pro bono effort as a "well-oiled machine" with the end product being families that can move forward.
Armstrong and Meuser said a key part of mediation day is that parents have the chance to be heard. They can tell their stories and give their views, and the volunteer attorneys will listen. The goal is to find a solution that works for everybody, which commonly requires the parents to each give up something.
Even for those families who only get a partial agreement, Armstrong and Meuser said the day is not a waste. The individuals will have at least reached a settlement on some issues and have a better understanding of where they still disagree.
Solo practitioner Robert Schembs has represented clients at mediation day. Through his experience in family law, he has learned that most people are willing to flex, and they usually realize they can get what they really want when they make concessions.
Schembs has seen that happen at mediation day. The atmosphere in the law firms is comfortable, making them easy places to reach an agreement, and the cost for the service is manageable to the families – far below the hundreds of dollars that some private mediators charge.
To Schembs, mediation day is providing an efficient and economical way for families to find a resolution.
"I think it's a great project," he said, adding it does facilitate a settlement in a lot of cases. "I think it's one of the better pro bono activities around."•
Please enable JavaScript to view this content.