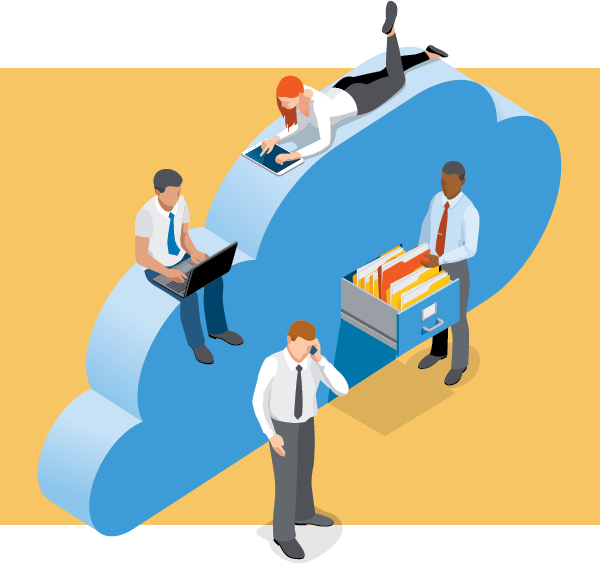 The thought of sifting through dozens of files of client paperwork makes Indianapolis attorney Bryan Stoffel shudder.
In the two years since opening Stoffel Law, LLC, the family law practitioner has never used a paper folder. His work is kept in a location usually associated with a rainy day: the cloud.
Simply put, the cloud is internet-based storage. Photos, documents and other data usually stored on a computer are externally located and contained inside giant server warehouses across the world known as "server farms."
These data centers can hold hundreds of blinking servers that store several terabytes worth of information typically kept on a physical computer in your home or office. Server farms act as gateways that enable access to content from your computer anywhere and anytime.
Advances in technology have led the world into an era of easy accessibility, something that Stoffel is grateful for. His solo practice is one of many that rely heavily on the cloud for everyday functions, such as billing, law practice management and filing client paperwork.
"I remember my undergraduate days of utilizing thumb drive storage to save and upload files," Stoffel said. "I sincerely hope I never have to return to those dark ages."
For Stoffel, the most beneficial feature of storing data in the cloud is the flexibility and mobility it offers him.
Stoffel
"The ease of access that I get with cloud-based technology is simply unmatched," Stoffel said. "I absolutely love being able to work on client matters from Calvin Fletcher's (Coffee Company) or from my co-working space at Switchboard. I could literally work from anywhere."
Stoffel isn't alone. Cloud usage among law practitioners jumped 40 percent last year, according to the 2017 ABA Legal Technology Survey Report. Solo and small firms led that charge, with low entry costs and predictable monthly expenses seen as a benefit to using the cloud.
Pros and cons
Using the cloud, Stoffel can connect his law practice management software, Practice Panther, with DropBox Business Premium, enabling clients to complete and upload documents directly to a secured, encrypted client folder. When clients submit their documents to Practice Panther, the cloud automatically syncs that same folder to Stoffel's DropBox account for instant access. He also uses LawPay for billing services and RingCentral for secure phone communications.
"All in all, I pay the equivalent of one client retainer per year for technology without which I would truly be upstream without a paddle," Stoffel said.
Looking toward the future, Stoffel said he hopes his colleagues will embrace new technologies evolving in the cloud that continue to become more efficient.
Fisher
"It cuts down on your time because you don't have to go digging through files, and it's a whole lot easier to go through electronic files to find something. You save time," said Bryan Fisher, Indiana State Bar Association law practice management coordinator.
Fisher, who trains bar members across the state on the latest legal tech tools, said although cloud-based storage is cheaper and more efficient, concerns about confidentiality always linger.
"Convincing them it's safe and secure is what's difficult in most cases," Fisher said. "But in a lot of cases, it's a lot more secure than having files in your office. Unless you are carefully controlling access to your office, your digital information in the cloud tends to be safer."
However, an increase in cybersecurity attacks on major law firms such as DLA Piper and New York-based firms Cravath, Swaine & Moore and Weil Gotshal & Manges have left many questioning the reliability of cloud-based storage. The ABA report found 69 percent of attorneys were unsure about confidentiality and security, while 49 percent worried about losing control of their data.
Stoffel said he thinks many misunderstand what cloud services actually are, which leads them to feel hesitant about adopting the technology.
"I think that, so long as folks maintain proper insurance coverage and policies, with protections against things like cyber-hacking, then the cloud should be heavily relied upon to streamline practices," he said.
For those already relying on cloud services, Fisher said it's crucial to understand security and best practices for encrypting client data to ensure it is unusable if compromised. And, of course, it's a good idea to read the terms and conditions first.
"Make sure you understand where the servers are located," Fisher added, "because different laws are going to apply if, for example, your information is going to be stored on a server in Europe versus a server farm in Kansas."
Biederman
Ray Biederman of MBCB Attorneys LLC and Proteus said he agrees people worry about not knowing exactly where their data is. But Biederman's experience in using the cloud in coordination with other attorneys has been positive.
"I like having one place to go to for all of my files related to a case, instead of having a paper file, my email and some Word document somewhere else," Biederman said. "With all the courts moving to electronic filing, it's pretty much a seamless transition to get an opinion or brief from an opposing party and put it into the file system."
Evolving to the cloud
Older attorneys who are accustomed to hard copy files seem warier about relying on less concrete storage, which doesn't surprise either Biederman or Fisher.
"It's really a question of how long it's taking attorneys to get used to the idea," Fisher said.
Fisher noted many older attorneys close to retirement just don't see the point in making a switch to the cloud, leaving younger attorneys in a tough spot when transitioning into the future.
"I encourage them to support and cooperate with the younger attorneys as they come in and give them the flexibility to start incorporating that now," he said, "because when you're not around anymore, that's what they're going to do."
As fast as this technology evolves, Fisher said he thinks the cloud will become a standard model for law practices in the future.
"I think at least a solid majority will eventually be using the cloud," he said. "That's pretty much the direction that everything is going."•
Please enable JavaScript to view this content.