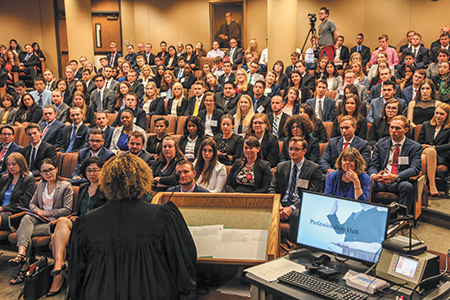 Kaelyne Yumul Wietelman remembers being a bundle of nerves during orientation at Indiana University Maurer School of Law.
Just arrived from Texas in 2016, Wietelman was following in the footsteps of her grandfather, who had been an attorney in the Philippines, realizing her dream and her father's dream of studying the law. The final day of orientation, Wietelman put on her professional clothes and joined the other first-year students for the Oath of Professionalism Ceremony.
She was still nervous, having to correct herself as to which was her right hand, but at that event in Baier Hall, she learned the responsibility and honor that comes with being a lawyer.
Everyone in the "whole room felt very excited and proud to be there," Wietelman said.
As another academic year begins at Indiana's law schools, 1L students are brought on the campuses a few days before classes begin to learn the practical things they'll need to know. Setting their schedules, getting their student IDs, finding the library and meeting their classmates are among the tasks they accomplish.
1L students at IU McKinney sort donated food items. (Photo courtesy IU McKinney school of Law)
In addition to providing the nuts and bolts of legal studies, the schools also program something extra in the orientation to, as Wietelman found out, emphasize to the students that they are entering a unique profession. IU Maurer has the oath ceremony, while Notre Dame Law School provides an opportunity for the incoming students to volunteer for part of a day at a local charity. Indiana University Robert H. McKinney School of Law engages in both a professional oath ceremony and a service activity.
IU McKinney dean Andrew Klein said the extra functions tell the students, even though they are just beginning, that as lawyers, they will be expected to meet a heightened standard of responsibility, ethics and public service.
"It sounds like I'm making a cliché, but really, lawyers uphold the system of law that forms the fabric of society," Klein said. "It's important to tell (the students) that on their first day."
New students at Notre Dame also take time to volunteer before classes begin. (Photo courtesy Notre Dame Law School)
Austen Parrish started the professionalism oath ceremony when he arrived as dean of IU Maurer in 2014. The idea, he said, is to get students thinking about what being part of a profession means long before they sit for the bar exam and are admitted to the practice of law.
In Bloomington, the multi-day orientation is capped with the students taking the oath. Before the incoming class sinks into black-letter law, reading cases from the 1800s and discussing legal doctrine, Parrish wants to impress upon students that being lawyers comes with special obligations and expectations.
Building on that, the 1Ls are required to take the legal profession course that introduces them to the different ways they could practice, whether in a law firm, government agency or as in-house counsel. The students are encouraged to think about their legal careers long-term and what their professional identity will be.
A well-rounded legal education, Parrish said, includes knowledge of the law and lawyering skills, as well as an understanding of ethics and responsibilities. The first step in that journey is the oath of professionalism.
"It does set the tone," Parrish said, explaining the students are already focused on their careers, but the oath opens them to start thinking beyond their first job and more about their life in the law.
'Profession of service'
At Notre Dame, the law school orientation culminates with a day of service projects. Students are sent to various nonprofits in South Bend where they help with a variety of tasks. This year, 130 members of the incoming class signed up to donate their time and talents to 15 local organizations.
"Participating in service projects gives incoming students a chance to get to know their classmates in an informal, relaxed setting while introducing them to the greater South Bend-Mishawaka community," said Christine Holst, acting student services program manager at the law school. "More importantly, it illustrates a fundamental characteristic of being 'a different kind of lawyer' — one who views the practice of law as a profession of service to those who are in need of assistance."
A 1L in 2016, Luke Franz remembers being excited and awestruck during orientation. Notre Dame was the only law school outside Texas to which the Dallas native had applied. The welcoming atmosphere and reputation, along with his first sight of the Golden Dome, convinced Franz to join the Fighting Irish.
His first days at orientation, Franz was surrounded by people who had interesting backgrounds and was able to quickly make friends. At the end of the week, he found himself helping at the Center for the Homeless.
Franz remembers a resident of the shelter asking him a question about bankruptcy law. Although, as a former middle school math teacher, he wanted to give the man an answer, Franz explained he was a student and could not provide legal advice.
Still, he saw the service project echoing the mission of Notre Dame. Lawyers who graduate from that school, he said, are called to use their legal careers to serve others.
The YWCA of North Central Indiana and the Food Bank of Northern Indiana, two South Bend-based agencies that had help from the law students last week, are grateful. Like many Rust Belt cities, South Bend has more than its share of struggling families. The women's shelter at the YWCA is home to 130 women and children, while the food bank prepares 2,030 bags of food to send home every weekend with local school children.
Marijo Martinec, associate director of the food bank, was planning to have some of the law students write some short notes of encouragement to be tucked into the food bags. At the YWCA, Amanda Ceravolo, director of communications and special projects, said the students were going to work outside, weeding, watering and tending to the flowers.
"I think it's nice that one of their first experiences at Notre Dame is a volunteer experience," Ceravolo said.
Planting seeds of service
IU McKinney conducts dual orientations for its first-year day and night students but brings them all together on the Saturday before classes begin for the Oath to the Profession Ceremony. The 1Ls wear professional attire, invite their families and raise their right hands to take the oath from Chief Judge Jane Magnus-Stinson of the U.S. District Court for the Southern District of Indiana.
Klein believes the ceremony has an impact on the students. As he has looked out over the incoming classes and seen them paying attention, the dean believes they are realizing more than going to school, they are entering a profession.
A few days before the formal event, the 1Ls are offered a chance to volunteer at Gleaners Food Bank of Indiana. The idea for a service project originated with former students who wanted a way to get new classes engaged in the law school at the start of their studies.
First-year students and interested faculty members meet for lunch, then carpool to the agency in Indianapolis. The goal, said Johnny Pryor, assistant dean for student affairs, is to help develop an early sense of community and belonging. Students meet each other at the service day, then have a stronger bond when they see one another again in class or study groups.
"Lots of the students are kind of excited and stressed (at orientation). I think this is something fun," Pryor said. He also noted it can also be a very personal experience for the students where the seeds of public service are planted.
At IU Maurer, Aviva Orenstein, associate dean of students and academic affairs, organizes the orientation. Monroe Circuit Judge Valeri Haughton gave the keynote address at this year's event and administered the oath.
Wietelman returned for the 2018 ceremony to receive the student leadership award from her peers. She is entering the final year of preparing for a career in the public sector, but while in Bloomington, she has devoted some of her energy to leading the Asian Pacific American Law Student Association and helping teach fifth-graders about the law.
Asked how she found the time for studies and extracurricular activities, Wietelman gave a light-hearted answer that's good advice for all 1L students.
"I think it's important to have a really great planner, writing everything down," she said, "so you know where you have to be and when."•
Please enable JavaScript to view this content.