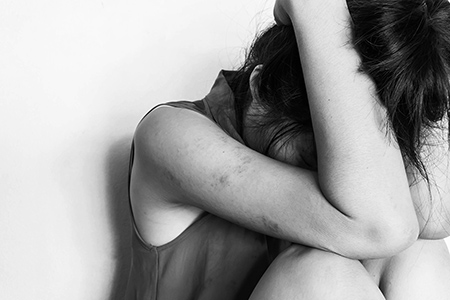 After overcoming addiction, abuse and sexual harm, Sarah Hurley sought to aid women dealing with the same struggles she faced as a child. By the time she was 20, Hurley had experienced complex trauma, repeated victimization and adverse childhood experiences.
So, in an effort to help others, Hurley created the White Stone Project, an organization devoted to providing survivor-led, professional training and coaching to people and organizations engaging survivors of sexual harm and trauma. Its goal: to equip people to more effectively communicate, understand and avoid revictimizing the trauma survivors they work with.
"If you work in criminal law, family law or personal injury, certainly in those three fields you're going to come across people who have experienced complex trauma," Hurley said.
When Greg Laker of Cohen & Malad, LLP's personal injury practice group asked Hurley to train his staff earlier this year, he was in for a surprise.
"We thought that if we're going to do this, we're going to do it right," Laker said. "It was very eye-opening, and it showed us some of the things we were doing wrong as we learned along the way."
Avoiding revictimization
Laker said that since receiving the training, he is more attuned to the behaviors of his clients and can better understand them. For example, Laker and his team met with a potential child client who later revealed he had no interest in pursuing litigation because he was uncomfortable with the exposure to the legal process. The team had the child recount his full story at the first meeting, which Laker now admits was too much, too soon.
"I'll just be honest, we just pushed too hard on that case," Laker said. "We brought him in and kicked out mom and dad and we had him tell the story. It became very, very clear that he was just vehemently opposed to a lawsuit that involved his name, where he would have to relive what he had been through."
Instead, Laker suggested that police or a child advocate conduct an interview that can be recorded. Then, counsel can watch it afterward and still have all the details they need without requiring the victim to recount his or her experience several times.
"Depending on the age of the victim, you may think about doing these cases without ever actually interviewing the actual person that was victimized," he added. "You just have to know with these appointments when to push and when to back off."
Kerry Hyatt Bennett of the Indiana Coalition Against Domestic Violence agrees, noting how traumatizing it can be for victims to recount their experiences to a lawyer.
"If you're going to work with survivors of any kind of violence you've got to be patient. And you've got to keep your expectations in check," Bennett said. "And it's not the most expedient representation."
Bennett, chief legal counsel for the coalition, has offered her own training on best practices for using expert witness testimony while representing survivors of violence. She said helping judges understand that victims have different methods of coping also helps explain why many survivors self-medicate and disassociate from their experiences in unhealthy ways.
"I try to explain that the Indiana Rules of Evidence allow you to use expert witness testimony to explain this kind of behavior," she said. "It helps the trier of fact, especially in smaller communities where everybody knows everybody, understand why victims of violent crime process things differently and why subsequently they recall things differently."
Fractured memories
Hurley and Bennett agree that survivors of complex trauma may have broken memories surrounding their experiences, primarily from an attempt at self-preservation. Often this comes in the form of disassociation, which may appear to others as emotionless or unaffected.
However, Bennett said that couldn't be further from reality. When happy memories are stored in the brain, she said, they are absorbed in a manner resembling a glass bubble that can be remembered vividly, no matter how much time has passed.
"I can't tell you what I had for lunch yesterday, but I can tell you when my dad taught me how to tie my shoes," Bennett said. "But when a memory is absorbed during a traumatic experience, it's like taking that glass bubble and smashing it to the ground. So then you're picking up pieces one at a time and sometimes they fit together and sometimes they don't fit together."
Trauma survivors may be able to recall what happened, but because of the highly emotional and stressful strain, the memories become void of time, sequence and context. That can be problematic for lawyers like Laker, who must be able to defend their client's testimony in court if things start to jump out of order.
"It's not as effective to ask somebody a linear or chronological account of what happened. A traumatized brain doesn't remember things in that way," Hurley explained. "So in the line of questioning, you can get to the end result, but the way you ask the questions and how you engage needs to take these things into account and you'll get there much quicker."
Bennett said in her experience, many judges who hear testimony from such individuals are not well-enough informed on how their brains are impacted by complex trauma.
"As practitioners, we do a lousy job of explaining that to the court. We do a poor job identifying memories that are absorbed in trauma and making sure that the trier of fact understands that maybe that's why they aren't consistent," she said.
"Which explains the victim blaming, which explains a lot of the attitude that people have, because we expect them to be consistent. We expect them to have the same story every time and we expect them to kind of get over themselves and get on with it."
Bennett said she believes training such as Hurley's should be mandatory for anyone who deals with or sees victims of complex trauma and violence on a regular basis.
Clearer vision
At the end of the day, Hurley said she hopes her training opens the eyes of lawyers on how to better establish client rapport while being careful not to victimize or re-traumatize.
On the flip side, she said she hopes the training will enable lawyers to win cases, achieve justice and understand how to interview clients more effectively and how to best engage a client or victim advocate.
Laker said the training has helped his team do just that.
"I can certainly think of interviews that I would have done dramatically differently had I been trauma-trained," he said. "I certainly am more ready to share some personal experiences with these clients to hopefully get them to be a little more open with me."•
Please enable JavaScript to view this content.