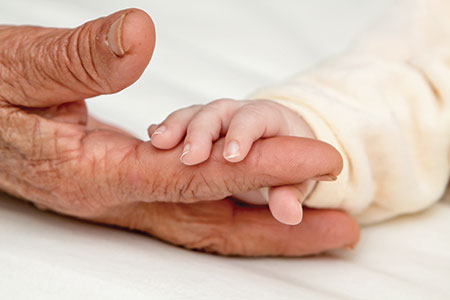 It's a sad reality that occurs all too often in the family law world — children involved in custody and visitation proceedings are used as pawns to force one adult to acquiesce to the demands of another adult controlling the child.
While such visitation disputes are often associated with warring parents, children are also exploited when grandparents are seeking to maintain contact with their grandchildren, attorneys say. According to family law attorneys, it's not uncommon for ill-intended parents to threaten to withhold children from their grandparents if the grandparents don't meet the parents' demands for money, assets, etc.
Current federal and state law generally defers to a parent's judgment when it comes to grandparent visitation, with the United States Supreme Court ruling that the right to rear a child as desired is among the most fundamental rights of parents. But a bill filed this year in the Indiana Legislature would give both grandparents and great-grandparents another avenue to obtain standing to petition for visitation.
Randolph
Through Senate Bill 106, Sen. Lonnie Randolph, D-East Chicago, said he hopes to change Indiana law in such a way that will require courts to give weight to the strong bonds that can form between grandparents and their grandchildren when the relatives have regular contact with each other.
Current laws
The U.S. Supreme Court ruled on the issue of grandparent visitation rights in the 2000 case of 530 U.S. 57, which involved a dispute between a Washington-state mother and her ex-boyfriend's parents.
When Brad Troxel, the children's father, died in 1993, his parents informed the mother, Tommie Granville, that they wanted to maintain a relationship with the couple's two daughters. Washington law at the time allowed "any person" to petition for visitation "at any time" and gave state courts discretion to grant that visitation when it was in the child's best interests.
But the majority of the Troxel court struck down the state statute as unconstitutional, finding it interfered with parents' rights to raise their children as they pleased. Writing for the majority, Justice Sandra Day O'Connor said, "The liberty interest at issue in this case — the interest of parents in the care, custody, and control of their children — is perhaps the oldest of the fundamental liberty interests recognized by this Court."
Andrews
Julie Andrews, a family law attorney with Cohen and Malad PC, said Indiana's grandparent visitation statute follows the Troxel precedent — that is, it allows Hoosier grandparents to petition for visitation with their grandchildren under limited circumstances: if a parent is dead, the parents are divorced, or if the child was born out of wedlock. However, if paternity was never established, paternal grandparents may not petition for visitation.
"Courts are reluctant to tell parents, 'Let them (grandparents) seem them (grandkids),'" Andrews said. "… There have to be really egregious circumstances for the court to say, 'Let these kids see their grandparents more."
But Randolph said in today's world, it's not uncommon for grandparents or great-grandparents to take an active role in caring for their grandchildren. That can form a strong bond between the children and their grandparents, he said, but if the parents become unreasonably angry with the grandparents, then parents essentially have discretion to use their child as a pawn in the name of parents' rights.
SB 106 would end that practice by inserting language into Indiana Code section 31-17-5-1(a) that would allow grandparents and great-grandparents to petition for visitation if there was "meaningful contact" between the children and grandparents, but an "estrangement" between the parents and grandparents ended that contact. Additionally, the bill would extend existing grandparent visitation rights to great-grandparents.
Keefer
Court considerations
SB 106 would also insert language into I.C. 31-17-5-2(a) that would include factors courts should consider when determining whether to grant grandparent visitation. Such language would mark the first time the Indiana Legislature explicitly enumerated factors that can govern grandparents' visitation rights, Bingham Greenebaum Doll LLP partner Jan Keefer said.
Those factors closely track the factors courts consider in custody battles, Andrews said. For example, the legislation includes considerations such as the age and sex of the child, the wishes of the parents and grandparents, the wishes of the child, and the mental and physical health of the parties, among others. Further, the language also would allow courts to consider evidence that the child has been cared for by the grandparents or great-grandparents.
"I think that's something that's really critical," Keefer said. "… It tells the courts that someone has been caring for these kids, and that is a factor for the court to consider."
Some of these proposed factors, such as the mental health of the parties, could open a "huge can of worms" within the family, Andrews said. Parents might argue that grandparents have a history of mental illness, while grandparents might argue their grandchildren will be negatively emotionally impacted if their relationship is cut off.
Though it's difficult to navigate such arguments, Andrews said it would be beneficial for the court to consider a wide range of factors because the best interests of the children at issue should always be the main focus.
Trying again
The idea for SB 106 originated with former Senate Judiciary Committee Chairman Brent Steele, a Bedford Republican who filed similar legislation after a mother restricted his client's grandparent visitation with her child as a way of forcing the grandparent to give the mother money. Randolph said Steele's bill received pushback from parents who didn't want their parents to have rights to their children, and it never gained traction in the Legislature.
"The key thing in the bill dealt with 'meaningful contact,'" Randolph said. "… The courts have discretion, and it was hard and difficult to get people to see that when you have an issue like that and the courts take over, judges in their good judgment will utilize their discretion to see what's in the best interests of the child."
As an attorney himself, Randolph said he has also encountered situations where parents wrongfully declined to allow grandparents to see their grandchildren. He told the story of a mother who moved to Kentucky and left her children with grandparents in Indiana, but returned home and tried to take the child back because she wanted to claim the child as a tax deduction.
In those situations, Randolph said courts should consider the fact that it was the grandparents, not the mother, who was caring for the children until the mother decided the children could be used to her benefit. What's more, as the opioid epidemic continues to ravage families across the country, more grandparents are being asked to care for their grandchildren while parents fight addictions. Bearing that kind of responsibility should carry legal weight, Randolph said.
Looking to the issue of the rights of great-grandparents, Keefer noted that some people have children very young, which turns them into great-grandparents when they're only in their mid-60s. At that age, many people are still able to properly care for a child, Keefer said, so it would make sense for their rights to be considered.
SB 106 was assigned to the Senate Judiciary Committee, which is being chaired this year by Republican Sen. Randy Head. A committee hearing on the bill was scheduled for 8:30 a.m. Jan. 9.•
Please enable JavaScript to view this content.