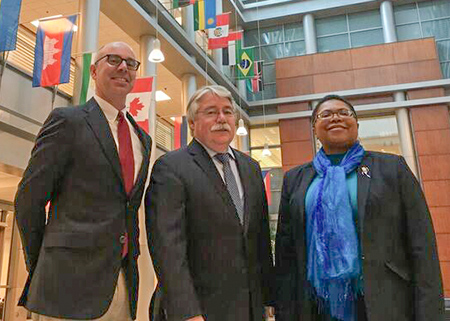 When the opportunity arose for Indiana University Robert H. McKinney School of Law master of laws students to partner with Indiana's sole global trade organization, the immediate response from both parties was, "When can we start?"
The foreign-born students had already provided pro bono services to the World Trade Center Indianapolis, a global trade organization that connects small to mid-sized Hoosier businesses with an international market of more than 320 world trade centers across the globe. The LL.M. students — a majority of whom are already lawyers in their home countries — wanted real-world experience during their time in the United States.
Under the direction of Jennifer Thuma, former IU McKinney associate director of professional development and pro bono, the students easily found opportunities to conduct real-time trade research and other preparatory work with WTC Indianapolis that would be challenging to find elsewhere in the state. Thuma, who is now program manager for IU Global Health at the IU School of Medicine, said one student served as a liaison and translator and helped lead a trade mission to China, ultimately leading to a job offer at WTC Shanghai.
That's when Thuma had the realization that the work her LL.M. students were doing qualified as something they could receive academic credit for. Working alongside WTC Indianapolis chairman Greg Zoeller and IU McKinney vice dean Karen Bravo, Thuma's idea of creating a new partnership came to fruition.
Thuma
"We realized this was a great opportunity for students to get real-world experience while they are here studying with us," Bravo said. "So we explored having a partnership that would institutionalize that relationship to the benefit of both the WTC and the law school."
Thus, the partnership was born and the creation of IU McKinney's first LL.M. international trade law track was announced. The parties signed a memorandum of understanding Dec. 20, sealing the deal for a future that Zoeller says looks very bright for all involved.
Zoeller
"I'm very excited about what this will mean for the future of the World Trade Center and the students, as well as a benefit to our state and our community, and to have the value of these ambassadors from our city spread out across the world," Zoeller said.
The international trade law track will serve as the seventh track available in McKinney's LL.M program, opening the door for more opportunities focusing primarily on international matters. IU McKinney professor Frank Emmert said the need for legal expertise in international trade is high.
"The World Trade Center itself has a very small staff," Emmert said. "They cannot keep dozens of experts permanently on staff — that would be inefficient for them and difficult for these people to stay in touch with developments in their home countries or in these different markets."
But with a partnership like the one between IU McKinney and WTC Indianapolis, those gaps could easily be bridged.
"There's always this mutual fruitful exchange, so our students are very eager to get hands-on experience, to work on real clients' cases, to see what kind of problems and questions the clients have," Emmert said. "And that's exactly what the World Trade Center needs."
Finding jobs
According to Emmert and Thuma, students are already hoping to participate in the new LL.M. educational program.
"There's a lot of students interested in pursuing more education and experience in the international trade track," Thuma said. "There's definitely a lot of demand, I think. And I think that will continue and grow, which is exciting."
Emmert said some of that interest might stem from the example of LL.M. 2017 graduate Lin Zhu, who was offered her dream position at WTC Shanghai after participating in pro bono work at WTC Indianapolis.
"For the students, that is one of the critical points — 'How do I actually get a job?'" Emmert said. "So here, we have jobs that are potentially very interesting, they may offer travel working with people from around the world."
If opportunities continue to arise for employment, Emmert said he thinks student interest will be sustained.
"I'm not saying that everyone can do that, but our goal is for every student to have those kind of opportunities," he said. "And then if they can make something of them with their personality or communication skills and so on, then they will really see this as a launch pad for their career."
Thuma agreed, explaining that the main goal is for the students to benefit from new employment opportunities they might not find elsewhere upon graduation.
"By working with the WTC and developing those connections, she developed a really good reputation because of her work," Thuma said of Zhu. "The connections through WTC Indianapolis made that happen for her. I was so excited and thrilled."
High demand
Because the demand to participate in the international trade law track is so high, Emmert said the law school may have to find a way to open it up to more students in the future. He noted students will only be admitted if there is an available placement to work with WTC or a member firm.
Although currently in the works, Bravo said the new track does not yet have an official launch date. Its application will first need to receive approval from the law school and the internal curriculum committee. But Bravo was confident that process won't prevent students from being able to participate in the experience, even before the track is officially launched.
"At this point they have been participating in a pro bono capacity, and other things we are exploring is to have it institutionalized as an externship opportunity as well," the vice dean said. "So while we are proceeding with launching the track, we want to make sure those students that were here before the approval takes place will still be able to participate."
Bravo said that because global trade is so important worldwide, offering the new LL.M. track to students could prove beneficial to their careers in the long run.
"We're really looking forward to this being a positive opportunity for students who come to McKinney to be able to translate their interest in international law and international trade to a practical experience, which will then allow them to have a great start in their profession once they leave McKinney," she said.•
Please enable JavaScript to view this content.