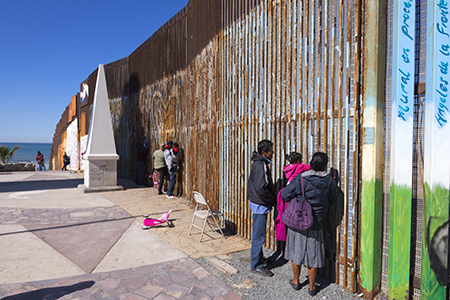 The impact of the recent partial government shutdown — the longest in United States History — was wide and varied. Federal workers missed paychecks, progress in Congress all but stopped as lawmakers debated funding for President Trump's border wall, and even the constitutionally-mandated State of the Union address was put on hold.
Those were the obvious, widely publicized effects of the shutdown. But behind the scenes, federal lawyers found themselves scrambling as the government agencies they work with were shuttered, leaving cases unresolved, hearings missed and clients uncertain.
Ironically, immigration law was among the hardest-hit practice areas in a shutdown fueled by disagreements over immigration and border security. Already-backlogged immigration courts were forced to put cases on hold, impacting hundreds of thousands of immigrants seeking U.S. asylum or citizenship. Employers also felt the strain as funding for employment verification systems was stopped.
Immigration attorneys, like most Americans, had no way of predicting when the shutdown might end, leaving them with little information to share with clients as the weeks-long standoff continued. And now that the government is reopened, at least temporarily, lawyers say they feel pressure to make up for lost time while also planning for the possibility that ongoing immigration talks might stall, once again leaving them and their clients in a shroud of uncertainty.
"I'm not sure there's enough consensus in Congress right now to get anything done more comprehensively than just keeping the government open," said immigration attorney Rachel Van Tyle.
Impacted agencies
There are four federal agencies whose funding can impact U.S. immigration: The Department of State, Department of Labor, Department of Justice and Department of Homeland Security. The State Department is often the first face foreign nationals will see in America via embassies and consulates, Ice Miller immigration partner Jenifer Brown said, but the immigration portion of the agency's operations is fee-funded and, thus, was not affected by the lapse in government funding.
But it would be "catastrophic" if the Department of Labor lost funding, Brown said, because that department is often the first stop for immigrants seeking permanent and temporary visas. However, the agency was spared by a "minibus" spending bill passed in September that funds DOL from September 2018 to 2019.
The issue, then, is DHS, which is home to U.S. Customs and Border Patrol, Immigration and Customs Enforcement and U.S. Citizenship and Immigration Services. CBP agents are the ones working on the front lines of the border, while ICE handles immigration enforcement and USCIS handles the benefits side of immigration.
Like the State Department, USCIS is fee-funded, meaning many of its operations could continue throughout the shutdown, Brown said. But CBP and ICE each experienced a lapse in funding, which forced many employees deemed essential to work without pay.
For CBP, that led to call-offs from employees, causing longer lines for entry and re-entry into the country, Brown said. ICE is also understaffed, Brown said, though she noted that issue existed before funding stopped.
Backlogging the backlog
That leaves the Department of Justice, which is likely feeling the strain of the immigration court backlog, Brown said. Van Tyle, director of immigrant services for the Neighborhood Christian Legal Clinic, confirmed, noting many of her clients missed previously scheduled court hearings because of the shutdown.
 
Van Tyle
Media reports show the immigration court system was already bogged down with some 800,000 cases before the funding lapse, and the shutdown brought progress on those cases largely to a halt. Some of Van Tyle's clients missed hearings they had been waiting years for and were forced to reschedule years into the future.
Some of those hearings were initial master hearings, which Van Tyle likened to criminal arraignments, while others were final hearings years in the making. For one of her clients, whose hearing was scheduled for shortly after the shutdown ended, the court was forced to cancel and reschedule into 2021.
Missing a court hearing seems antithetical to many of Van Tyle's clients, she said, because she strongly reinforces the importance of going to court and the potential consequences of missing an appearance. The sudden change of plans can cause immigrants to distrust the court system and the federal government in the same way they distrusted leaders in their home countries, she said.
"In some cases that works to their benefit because they have more time to build their case and collect information," Van Tyle said. "But a lot of times it's not beneficial because they're waiting to reunify with family or waiting for resolution on their case."
Employer impact
 
Brown
Employers have also felt the effects of the immigration slowdown, Brown said. She represents employers on immigration matters and says the biggest impact they've felt has been the suspension of the E-Verify system, which allows employers to confirm their hires' eligibility to work in the United States.
Additionally, employees whose work status was tentatively nonconfirmed were not able to secure their employment eligibility with the Social Security Administration or DHS, Brown said. Normally a tentatively nonconfirmed status must be resolved within eight federal government business days, she said, but due to the shutdown, affected employees have been given 10 extra days.
Likewise, E-Verify has given employers until Feb. 11 to input all new hires who could not be verified because of the funding lapse. Though those extensions are helpful, Brown said she is warning her clients of the possibility of technical glitches as hundreds of employers across the country try to make up for lost time.
Lingering effects
 
Nye
Though immigration law was dealt a significant blow during the shutdown, it was not the only practice area negatively impacted. Ron Nye, managing partner of Major Lindsey & Africa's Chicago office, said he has heard reports of capital market transactions, mergers and firms with work with federal agencies finding themselves stalled.
The result, Nye said, has been missed federal reviews and a dip in billable hours, a situation that could hurt first-quarter profits. But given that the shutdown only lasted into the first few weeks of 2019, Nye said it's not likely firms will see a significant impact on their yearly bottom line.
The question now is how fast federal agencies can get caught up and work through their backlog, Nye said, an issue that will directly impact how much work lawyers can make up. Reports from previous shutdowns indicate that sometimes, federal agencies and their lawyers can feel the effects of a lapse in government funding for long periods of time.
Brown and Van Tyle say they and their clients already feel pressure to get as much done as possible on the immigration front right now, considering the government has only temporarily reopened for three weeks. As of IL deadline, a long-term funding package had not been approved, and the effective short-term spending bill will expire Feb. 15.
What's more, the immigration attorneys say it's a bit unreasonable to believe that three weeks will be enough time to resolve deeply political immigration issues that haven't significantly changed since the 1980s.
"If we touch on the issue of our immigration system as a whole being complex, then our solution at the border and how we define border security is equally complex," Brown said.•
Please enable JavaScript to view this content.