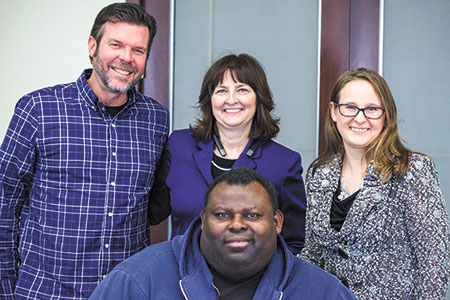 Looking down at a page filled with words he couldn't comprehend, Paul Mason was urged to sign on the dotted line. He had no idea he was signing away life as he knew it.
Mason, who reads at a fourth-grade level due to a learning disability, had asked his uncle, Walter Lewis Reid, to help pay off overdue property taxes on the home Mason inherited from his family. After years of living in the home alone after his father's death, Mason began to fall behind on payments.
"Lewis took me to an attorney and told me that he was going to help me out, and he helped me with the gas, so I said 'Okay.' After all, he was family," Mason said of his uncle. But what happened next would uproot and alter Mason's life forever.
Jesse Coleman, a now-deceased Indianapolis bankruptcy attorney, presented Mason with an affidavit of survivorship, and Reid informed him that signing the papers would help pay off the taxes. Neither man read the document to Mason beforehand, knowing full well he didn't understand what it said. Once Mason signed the affidavit, Coleman then deceptively asked him to sign a second document — a quitclaim deed to Paul's home.
"He printed something, and it was lawyer words, and I didn't know what I was doing. I didn't know I was signing the house to Lewis," Mason said. "Our 'goal' was for him to pay the property tax and have me stay there until I get on my feet to get a better job to pay him back. But he had other ideas."
Mason holds his last remaining photo of his father. All of Mason's personal belongings were destroyed after his uncle left Mason at a shelter.
Exploited
Two months later, a man from Reid's church knocked on Mason's door and ordered him to pack up his stuff. The man told Mason he would be relocated to a group home temporarily while they "fixed the house up."
But Reid had arranged for Mason to be dropped off at Wheeler Mission Lighthouse, a homeless shelter in downtown Indianapolis.
In an instant, Mason's life was in upheaval. The fraudulently induced actions against him at the hands of his uncle and Coleman left Mason homeless and broke. In a few short days, Mason's home was stripped of his personal belongings, including sentimental family photo albums and a collection of action figures he treasured with his father. Soon thereafter, Mason was forced to part with his beloved dog for fear he would starve to death.
Reid then abandoned Mason at the shelter a second time, where he remained for several months while everything he had ever known wasted away. A failed "renovation" left the structure gutted and stripped to the studs, significantly diminishing its value. Mason had no chance of ever living in the only place he called home again.
Indiana Lawyer was unable to locate Reid for comment.
Bittersweet victory
While at the shelter, Mason's case worker introduced him to Faegre Baker Daniels partners Kathy Osborn and Sarah Jenkins. The two attorneys had worked on a similar case involving an attorney's breach of fiduciary duty in David L. Stalker v. Mary C. Pierce and frequently work in support of the firm's Persons With Disabilities Pro Bono Project. Teaming up to bring Mason justice against his abusers, Osborn and Jenkins ultimately secured a judgment of more than an $84,500 in Mason's favor. But the victory turned bittersweet when both Reid and Coleman filed for bankruptcy.
"I only got $7,000, which was a spit in the face," Mason said. "I didn't have to go to that court, but I wanted him to see me. I wanted him to know that he didn't break me. You bended me, yes, but you didn't break me. I'm still here."
Osborn said she was disappointed when Mason was unable to obtain meaningful relief from either Reid or Coleman, but she was honored to fight for Mason's rights regardless. His case touches on a large-scale legal issue: what happens when attorneys fail in their duty to stand up for the best interests of the vulnerable?
The inside of Paul Mason's home in January 2013. Gutted and uninhabitable, the home was boarded up after months of abandonment. (Photo courtesy of Faegre Baker Daniels)
"It's a classic example of a person with a disability and someone who had power over him who used that power to steal from him and turn his life upside-down," Osborn said.
Jenkins agreed, saying she is astounded at how often she sees the continued abuse of the most vulnerable Hoosiers at the hands of attorneys.
"I see it all the time and it's very frustrating," Jenkins said. "Some of these involve attorneys who are not thinking about their obligations as officers of the court or to people who are unrepresented, or people that might have some sort of capacity issues."
Wolves and sheep
Jenkins said attorneys also have an obligation to society at large and to principles of justice to ensure they are not helping perpetrate fraud or abuse. But when abuses such as Mason's occur, she said it's unfortunately common for victims to not receive full compensation for their losses.
"More than anything, I've realized that society discounts people if they have a disability," Jenkins said. "They are still deserving of your respect and protection. They're deserving of humane treatment, which is not what Paul received in this case whatsoever."
Osborn and Jenkins later discovered Mason was a prime candidate for the Indiana State Bar Association's Clients' Financial Assistance Fund. Designed to uphold the integrity of the legal profession, the Fund provides compensation to selected applicants who have suffered losses caused by the dishonest conduct of Hoosier attorneys.
ISBA program outreach coordinator Shanae Gay said the Fund's committee receives between one and six applications every year, each alleging a variety of abuses. Like Mason's case, Gay said the most commonly reported abuses are trust- and estate-related.
The committee approved Mason's claim for $10,000, and an additional $5,000 if approved by the board. Those funds will be placed in a special needs trust with The Arc of Indiana to ensure Mason is not taken advantage of again.
"From a personal perspective, this is part of why it's great to be a lawyer," Osborn said. "You can step in and help people who otherwise don't have access to justice and the ability to fight those who mistreat them."
But while the team was relieved Mason received the additional money, they know it will never completely fill the void that's in his heart.
"With a tragedy like that, you won't forget, even if you try," he said. "And believe me, I tried to forget. It won't leave you alone."
Looking back, Mason knows he was taken advantage of due to his vulnerability as a person with a disability. He's moved on with his life, but will be forever marked by the ill-intended actions of Reid and Coleman. Through his trouble, Mason hopes to send a warning message to others like them, and encouragement to those who find themselves in a situation like his.
"I wasn't the first person that Jesse Coleman screwed up. I wasn't the first, but I was the last," Mason said. "There's a lot more Jesse Colemans out there, and a lot more Lewises out there, and lot more of me out there. … I wish I could say the world's not a bad place, but every night you'll see wolves, and you have to protect the sheep. We can't fight for ourselves."•
Please enable JavaScript to view this content.