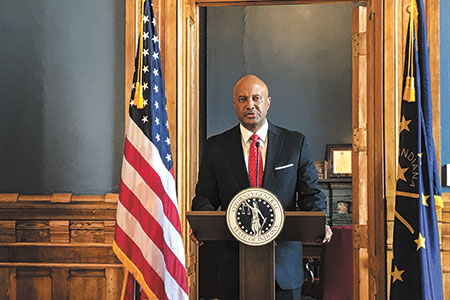 The controversy surrounding the sexual misconduct allegations against Indiana Attorney General Curtis Hill has largely been confined to the court of public opinion. But last month's filing of an attorney disciplinary complaint against the state's top lawyer moves the controversy into the state's highest court.
Though the Indiana Supreme Court Disciplinary Commission has not recommended the discipline it believes should be imposed on Hill, it is urging the Indiana Supreme Court to review allegations that Hill drunkenly groped four women at a party more than a year ago. That conduct, the commission says, reflects negatively on the public perception of the practice of law.
For his part, Hill continues to defend himself against the allegations and, now, the disciplinary charges, writing in court filings that the consequences of his alleged conduct should be decided by voters in a political forum. Hill is also urging the high court to take steps that seemingly could bring his disciplinary action to an end before it begins.
The disciplinary complaint against Hill raises new questions about the disciplinary process, including who can preside over the proceedings and what would happen if the state's chief legal officer loses his law license, even temporarily. But those questions aside, ethics attorneys say Hill's status as a prominent elected official shouldn't have any bearing on the nuts and bolts of the discipline process.
'Incalculable harm'
The disciplinary charges against Hill trace back to the early morning hours of March 15, 2018, when Hill allegedly groped Democratic Rep. Mara Candelaria Reardon, her legislative aide Samantha Lozano, Senate Democratic communications director Gabrielle McLemore and Senate Republican legislative aide Niki DaSilva. Hill has vehemently denied the allegations since they were made public last July and used his office to question his accusers' credibility.
That response indicates Hill is not remorseful for his conduct, the commission wrote in its March 19 complaint, adding that the AG has denied responsibility for his actions.
"The respondent's ethical violations reflect poorly on the legal profession and does incalculable harm to the public perception of the Attorney General's office and all the state agencies it represents." the commission wrote under the leadership of acting executive director Charles M. Kidd. Executive director G. Mike Witte has recused himself from the case.
But in a subsequent motion, Hill noted special prosecutor Daniel Sigler declined to press criminal charges against him related to the groping allegations. Inspector General Lori Torres likewise found no violations of state ethics rules, though both Torres and Sigler publicly said they believed the four women.
Further, Hill noted his accusers have filed a tort claim notice indicating their intent to file a civil suit against him, his office and the state. It would be "imprudent" for the commission to "seek an adjudication of factual and legal issues that may benefit the private interests of putative litigants against the state of Indiana," attorney Donald Lundberg wrote on Hill's behalf.
The 'trial court'
Lundberg's argument challenging the disciplinary allegations against Hill came in a motion to decline the appointment of a hearing officer or panel to preside over the disciplinary proceeding. The commission has sought the appointment of a three-person hearing panel, which is generally done in judicial discipline cases.
Hill cited to Matter of Haith, 49S00-9707-DI-422, in which the Supreme Court declined to appoint a hearing officer, leading to the case's dismissal. But the commission responded by likening Hill's motion to a motion to dismiss, which is prohibited under Admission and Discipline Rule 23(14)(a)(3).
While the Indiana Supreme Court issues orders in attorney disciplinary proceedings, hearing officers/panels are appointed to essentially serve as the trial judges in the justices' place. The officers manage pretrial discovery, oversee the disciplinary hearing, which is public, and issue findings of fact and conclusions of law that are referred to the court. Hearing officers also can recommend sanctions, but the Supreme Court imposes discipline at its own discretion.
Greenwood ethics attorney Patrick Olmstead has never seen a case in which a hearing officer was not appointed. From his perspective, the motion to decline an officer or panel is akin to a motion not to prosecute the charges.
If the justices were to agree not to appoint an officer or a panel, the case would seemingly go directly before them. Given the Surpeme Court's discretion over lawyer discipline, Olmstead said it's possible the court could hold the disciplinary action in abeyance until the civil case is resolved, then use the discovery that was produced in the civil case in the disciplinary proceeding.
'Circular reasoning'
In support of his motion, Hill and Lundberg, a former disciplinary commission executive director, questioned the propriety of the disciplinary proceeding. They make much of the fact that Sigler declined to bring charges, and Olmstead also expressed concern about whether the commission might be infringing on Hill's rights by seeking sanctions based on conduct that was not charged.
Specifically, Olmstead said Hill has the constitutional right to be presumed innocent until proven guilty, and charging him with misconduct based on actions that did not result in a criminal conviction is seemingly a violation of that right. But Olmstead also opined that because Hill wasn't formally charged, that right can't apply.
"But that's the circular reasoning," Olmstead said. "If he wasn't charged there, how can they charge him with that conduct here?"
But Indianapolis ethics attorney Jon Pactor said the fact that the AG was not criminally charged is essentially "irrelevant" to the disciplinary proceeding.
"The Indiana Supreme Court has the exclusive jurisdiction to determine who can have a license to practice law in our state," Pactor wrote in an email to IL. He said the court has previously imposed discipline for misconduct on an attorney who was acquitted of a felony.
Pactor also said that whether Hill wasn't "on the job" at the time of the alleged misconduct is not a defense to the disciplinary charges. He pointed to cases where lawyers have been disciplined for off-the-job drunken driving.
Differing interpretations
Further, Indiana Rules of Professional Conduct 8.4(b) and (d), which Hill is charged under, do not limit misconduct to lawyers' official duties. The drunken driving claims against lawyers are often brought under 8.4(b), and rules 8.4(b) and (d) are generally viewed as catchall disciplinary provisions.
In a similar vein, Hill argues the charges against him are vague and don't explain how he committed misconduct — specifically, how his conduct reflected adversely on his honesty, trustworthiness or fitness under 8.4(b), or how it prejudiced the administration of justice under 8.4(d). He also argues the "offensive personality" charge against him under Admission and Discipline Rule 22 is void for vagueness.
EXTRA
Click here
to look back at how the allegations against Hill have unfolded.
Different jurisdictions interpret similar rules in different ways, Olmstead said. Some jurisdictions would not view Hill's alleged conduct as an adverse reflection of his fitness as a lawyer, Olmstead said, while other jurisdictions might sanction him just for the appearance of impropriety.
The interpretation of lawyer discipline rules often depends on the standards of appropriate behavior in a community. Some ethics attorneys have opined that 20 years ago, the conduct Hill is now accused of would not have given rise to an ethical complaint at all, let alone sanctions.
What happens next?
Assuming the disciplinary action against Hill proceeds, Pactor said the commission would have to prove by clear and convincing evidence that Hill engaged in misconduct, a burden that is lower than the traditional "beyond a reasonable doubt" burden of proof in a criminal case.
Pactor said he had no opinion on what possible discipline, if any, might be imposed on the AG, but Olmstead said he did not think the court would go so far as to suspend or disbar him. Other options include a public or private reprimand, or no discipline at all.
It's unclear whether any discipline would make Hill ineligible to continue serving as attorney general. Lawyers who are suspended or disbarred are not allowed to perform any legal duties, and they also cannot supervise other lawyers. Thus, the legal aspects of Hill's work would seemingly be jeopardized by a sanction. By statute, the attorney general must be licensed and in good standing to practice law in Indiana.
In a March 21 order, the Supreme Court gave the disciplinary commission 10 days to fully respond to Hill's motion to decline a hearing officer or panel. That response was filed March 29.
Assuming the case goes forward, attorneys say the high-profile nature of Hill's discipline case should not change the way the case plays out, because all disciplinary proceedings are governed by Admission and Discipline Rule 23(13).•
Please enable JavaScript to view this content.