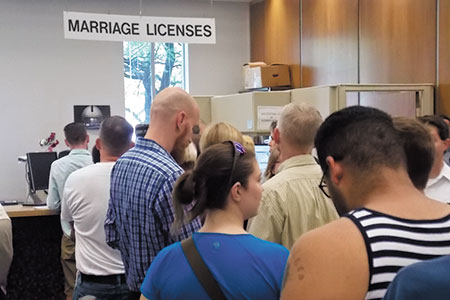 Even as attorney Amber Bollman openly referred to her spouse as "my wife," she remembered her life before she had the legal right to say, "I do."
Phone messages to friends and new acquaintances had to leave out where specifically they were meeting so as not to reveal they were going to a gay bar, and an invitation to a holiday party at her first job out of college incited a lot of agony over how broadly "spouses welcome" could be interpreted.
Although acceptance grew, Bollman still had to couch her language, and the legal status of her relationship to the woman she has married changed just by driving across state lines.
The U.S. Supreme Court's decision in Obergefell gave Bollman and other members of the LGBTQ community access to the rite of passage that had long been unavailable. The wave that led to same-sex marriage legalization started in the states. It swept through Hoosier state on June 25, 2014, when Judge Richard Young of the U.S. District Court for the Southern District of Indiana overturned Indiana's ban on same-sex marriage.
Bollman
Being able to marry allowed Bollman and her spouse, as well as every other same-sex couple, to enjoy the rights and benefits available to heterosexual married couples. They can file their taxes jointly, make medical decisions for each other, get covered under their spouse's employer-provided insurance, and receive Social Security benefits for spouses.
Yet beyond those advantages, Bollman, now director of client service initiatives at Barnes & Thornburg LLP in Indianapolis, pointed out the ruling from the courts was an "affirming and joyous thing" that normalized same-sex marriage to society.
"I refer to my wife and nobody bats an eyelash," she said.
The push to upend the prohibition against same-sex marriage in Indiana was ignited when the Legislature attempted in 2014 to enshrine the traditional definition of marriage into the state's constitution. Little more than a year later, Obergefell v. Hodges, 576 U.S.____(2015), found same-sex marriage bans were unconstitutional.
Castillo
Paul Castillo, a Lambda Legal attorney who led the nonprofit's team in representing some of the Indiana couples, was surprised at how quickly the marriage cases moved through the courts. Also, while he anticipated a backlash, Castillo has been astounded at the opposition's efforts, particularly in the Trump administration, to, in his view, erode the victory and stop the expansion of other civil rights protections to the LGBTQ community.
"It has continued at a level that we have not seen," Castillo said. "It's an attack on all fronts on every facet of life."
In the five years since Young issued his opinion, Indiana has posted a record of pushback and progress.
The General Assembly returned in 2015 and sparked a national firestorm when it passed the Religious Freedom Restoration Act. Seen as permitting discrimination against LGBTQ individuals, the new law had to be immediately amended. During the 2019 session, the Legislature passed a hate crimes bill, but that, too, has drawn criticism because it did not extend protections to cover gender identity.
Conversely, LGBTQ employees in Indiana have protections against discrimination in the workplace after the 7th Circuit found in Hively v. Ivy Tech Community College, 853 F.3d 339 (7th Cir. 2017), that Title VII covers sexual orientation. Also, even though the case remains pending at the Chicago appellate court, an injunction is enabling married lesbian couples to put the non-birth mother's name on their children's birth certificates.
The push for equality did not start and does not end with marriage. "There will always be work to fight for and defend the LGBTQ community," Castillo said.
Acceptance
McCann
To Ryan McCann, executive director of the Indiana Family Institute, the legalization of same-sex marriage has led to more aggression against those who favor traditional marriage. Business owners, therapists, teachers and others who put their religious beliefs into practice, he said, get destroyed personally and professionally.
McCann sees marriage equality as making attacks on individuals who exercise their religious beliefs more likely. Consequently, RFRA was needed to protect the First Amendment right to religious freedom. But in the intervening years, several municipalities around Indiana have adopted human rights ordinances that include protections for gender identify and sexual orientation and "created a legal sword" that can be used against anyone with firmly held religious views.
"The major concern when you have the force of law and the state promoting same-sex relationships is that it puts the religious liberty of folks that have a different opinion in peril," McCann said. "And that's what's happened unfortunately."
Paulsen
However, Chris Paulsen, CEO of Indiana Youth Group, sees discrimination as growing against lesbian, gay, bisexual, transgender and queer individuals. They are being denied service at businesses, getting fired from their jobs and often told the house is no longer available when they arrive with their same-sex partners to sign the lease.
"I thought things were starting to get better, but in our current political climate, I believe we've made a U-turn and things are a little worse," Paulsen said.
She and Katie Blair, director of advocacy and public policy at the American Civil Liberties Union of Indiana, said transgender people are experiencing the most discrimination. This group has become the new target, they said, with the state excluding gender identity from the hate crimes law and some schools not permitting transgender students to use the bathroom of their choice.
In the 1980s and 1990s when an LGBTQ issue arose for public debate, Wally Paynter, president of the Tri-State Alliance in Evansville, remembered thousands of people attending the meetings in opposition. These days, the opposition is there, but the numbers have dwindled to dozens.
Paynter was born two years before the Stonewall riots that took place June 28, 1969, and as a teenager, he feared getting beaten or killed. Now he said drag queens are being welcomed to read to children at the local library and same-sex couples are comfortable going into bars that primarily serve heterosexuals.
Still, Paynter pointed out the harassment does continue. In 2017, an Evansville teenager killed himself outside of his school because, his mother told the Evansville Courier-Press, he was bullied for being bisexual.
"Just because things have gotten better does not mean they will stay better," Paynter said. "Sometimes I think progressives sit on their laurels because the courts always side with us. I don't think people can be passive. I don't think the rights we have won are rights that we will keep."
Courts and statehouses
Despite the obstacles the LGBTQ community has encountered in the Statehouse, Paulsen believes that is where the fight for equality must continue.
The key to changing legislators' votes and generating more support among Indiana residents is education. A boost to equality came during the 2018 election when Sen. J.D. Ford became the first openly gay person elected to the Indiana Statehouse, advocates said. But they also noted that helping the public gain an understanding of the issues and get to know more LGBTQ individuals will advance the push for fairness in Indiana, as well.
Paulsen also acknowledged the younger generation is already more accepting and will likely be strong supporters of their LGBTQ family, friends and neighbors.
"I think youth are more supportive of each other, but I also think we can't wait 30 years until they get elected to the Legislature," Paulsen said.
The Indiana Family Institute and The American Family Association of Indiana are turning to the courts to regain what they believe is a loss of their First Amendment freedoms to speech and religion. They have joined a lawsuit filed in Hamilton Superior Court against Carmel, Indianapolis, Bloomington and Columbus, claiming their religious liberties are being violated by the cities' non-discrimination ordinances.
In May, the court canceled the bench trial scheduled for Indiana Family Institute, Inc., et al. v. The City of Carmel, Indiana, et al., 29D01-1512-MI-10207, and ordered the parties to appear for the pretrial conference in July.
Micah Clark, executive director of the American Family Association of Indiana, echoed McCann in saying people are now fearful they will be punished for their religious convictions. Both men called for a "live and let live" approach. If a baker declines to create a cake for a same-sex wedding, they said, then the couple should allow the free market to work and take their business elsewhere.
Giving half-protections to the LGBTQ community will likely not solve the conflict, but Clark may have found something both sides can agree on. In the clash between religious freedom and LGBTQ equality, he said, the issue may never be settled.•
Please enable JavaScript to view this content.