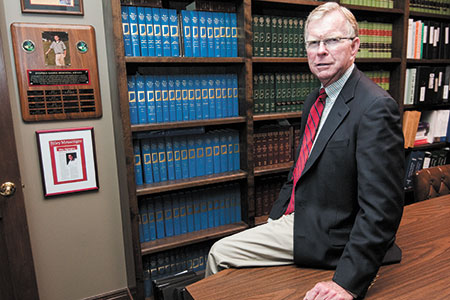 Forty-year attorney Tom Hamer, newly installed president of the Indiana Trial Lawyers Association, shared a confession.
"I had no intention — never even thought about going into private practice," said Hamer, a solo practitioner from Anderson. Starting out, he had asked then-State Sen. Tom Teague for a recommendation, because Hamer's real intent was to work in the Attorney General's Office.
But Teague had a counteroffer for Hamer: "He said, 'Why don't you come join my firm?'"
"Law firms weren't exactly knocking on my door asking for me to apply for positions," Hamer said, so he took the job at what then was largely a criminal law firm in Anderson, his adopted hometown. "We had personal injury cases in the firm, but nobody wanted to touch them," he remembered. "I basically got them by default."
Hamer enjoyed the work, but before long, his partners departed for new careers, leaving him as a solo. That's mostly what he's been since, save one notable co-worker.
"I did hire John Pistole," Hamer said. His former partner would go on to become deputy director of the FBI, then administrator of the Transportation Security Administration. Now, Pistole is president of Hamer's undergrad alma mater, Anderson University.
While Pistole was working at Hamer's firm, "He came in one day and announced he had been accepted to the FBI, and he was excited, and I was excited.
"I tease anyone who talks about John and say, 'Yeah, I'm responsible for his success,'" Hamer cracked. "We were two young, starving attorneys. … It's interesting to think, what would have happened if we had been more successful?"
Hamer shared these thoughts with Indiana Lawyer about leading an organization he's been involved with for decades.
Q. What are the most important things you hope to accomplish during your year as president?
A. The Indiana Trial Lawyers Association runs like a well-oiled machine. I think we do three things very well — work with the Legislature, work before the courts in the way of amicus curiae briefs, and continuing legal education programs for our members. I hope to continue our reputation for excellence in these three areas and to improve upon them where possible.
Q. What's been the biggest change for trial lawyers since you began practicing 40 years ago?
A. I think the biggest change has been in the area of technology. It has revolutionized the way cases are tried in the courtroom. It has dramatically improved our ability to research the law and the facts in each case. It has greatly enhanced our ability to communicate with other attorneys. The willingness of ITLA members to help one another is something of which I am very proud, and it helps level the playing field when we go up against defendants like insurance companies that are much better funded.
Q. You've served on the ITLA board for 25 years. Why is this organization so important to you?
A. The Indiana Trial Lawyers Association is dedicated to preserving open courts and to justice for all, which should be important principles not just for trial lawyers, but for all Hoosiers. ITLA is particularly important to me because, as a young attorney, I did not really have a mentor. Everything I know about trial work has come from other members of ITLA who have been willing to share their ideas and their time to help me along the way.
Q. What's something you feel like you get from your association with ITLA that you can't get elsewhere?
A. It might not be accurate to say that I get something from ITLA that I can't get elsewhere, because I am also a member of the American Association for Justice and have benefited from their CLE programs. However, the relationships I have developed over the years with fellow Hoosier trial lawyers have been invaluable to me. I have no hesitation calling up any number of great trial lawyers across the state to ask them for advice. I don't have that same relationship with lawyers outside of Indiana.
Q. What's the most important part of ITLA's work?
A. I don't know that it is possible to single out a most important part of ITLA's work. I continue to think of our mission as involving legislative work to keep courthouse doors open to all Hoosiers, our advocacy before the courts in the way of amicus curiae briefs, and our continuing legal education programs, which hopefully make us all better lawyers and, in turn, help our clients.
Q. If you could change one law with the snap of your fingers, what would it be?
A. I would change the law that says, in general, we are not allowed to tell the jury that the defendant has insurance. We swear witnesses to tell the truth, the whole truth and nothing but the truth, but we start off each trial with a ruling that we are not allowed to tell the jury that the defendant, no matter how sweet, innocent or broke she might look, is invariably backed up by an insurance company who will be paying any verdict rendered by the jury. This legal fiction serves to depress verdicts and is unfair to injured persons we represent. Every plaintiff's lawyer has had the experience of being told by a juror, after having received a disappointing verdict, that the jury was concerned about bankrupting a defendant.
Q. If you weren't an attorney, what would you be doing?
A. I have been a sole practitioner for almost my entire career, and I have two legal assistants who have both been with me for about a quarter of a century. In essence, they tell me what to do, which means I have developed no marketable skills outside the practice of law. Had I not gone into law, I might have looked at becoming a doctor, because I have great respect for what doctors do. But I was terrible at high school chemistry, and I can't stand the sight of blood.
Q. What's been the proudest moment in your career?
A. Although I take my job seriously, I try not to take myself too seriously. I know that whatever victories I have had along the way, there are many other attorneys who could and would have done better. And whatever successes I have had I can point directly to others who have helped me, because today's lawyers stand on the shoulders of giants who preceded us. As I look back on my career, I don't think in terms of "proud" moments, but in relationships I have developed with my clients and from what I have learned from some of them as they have faced some of life's most difficult circumstances. I have had clients who, because of their resilience, determination and grace, have taught me how to be a better person. I have had clients who have displayed inner qualities and whose stories could have made a great Hollywood movie or an inspirational book. I don't have to watch that movie or read that book to learn those lessons, because I have had the privilege of living those cases with those clients.•
Please enable JavaScript to view this content.