Standing at a podium in the South Atrium of the Indiana Statehouse, GenderNexus executive director Emma Vosicky promised the crowd that the fight against House Enrolled Act 1041 wasn't ending on Tuesday.
"This is a litigator's dream and taxpayers' nightmare," Vosicky said. "… We will fight this bill to the bitter end."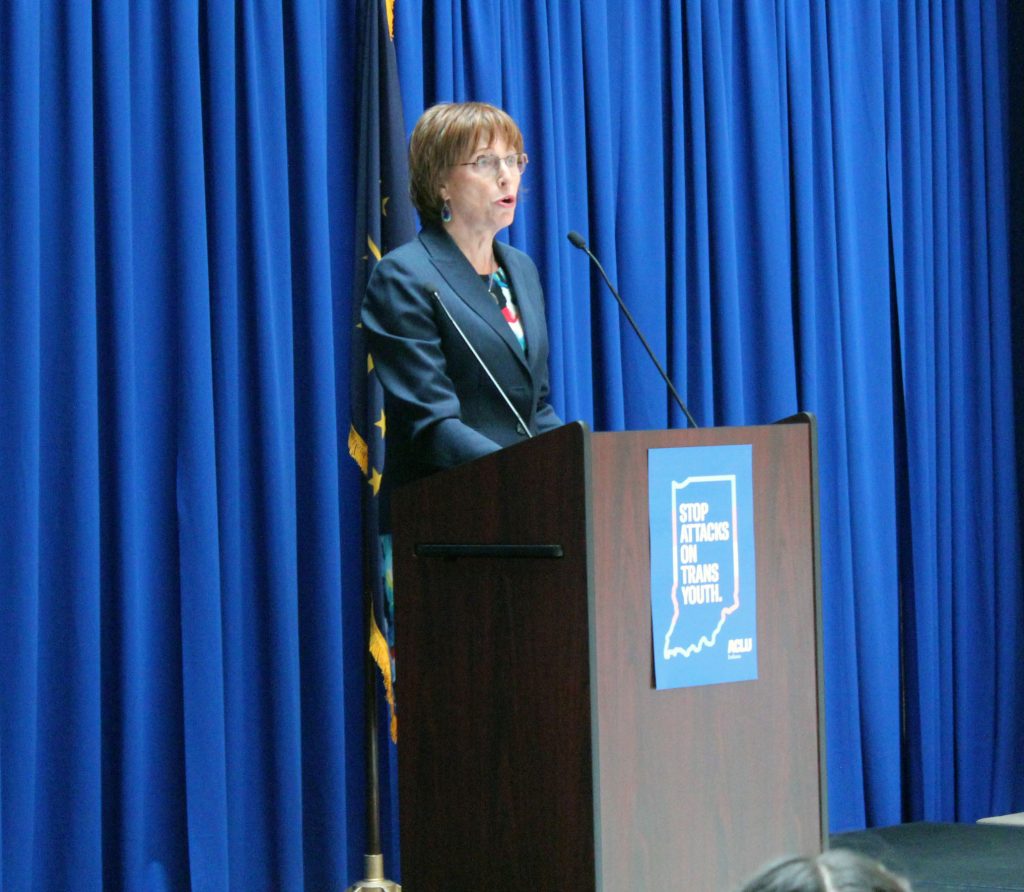 Vosicky wasn't kidding — civil rights groups wasted no time in taking legal action.
Minutes after the Indiana Republican supermajority Legislature overrode Gov. Eric Holcomb's veto of the bill restricting transgender girls from participating in girls' youth sports, the American Civil Liberties Union of Indiana filed a lawsuit in federal court challenging HEA 1041.
The complaint A.M., by her mother and next friend, E.M., v. Indianapolis Public Schools; Superintendent, Indianapolis Public Schools, in her official capacity, 1:22-cv-1075, was filed by the ACLU of Indiana in the Southern Indiana District Court on behalf of a 10-year-old transgender girl in Marion County who plays on her school's all-girls softball team.
In the suit, the plaintiff alleges the new law, which goes into effect July 1, violates A.M. and other transgender girls' rights under Title IX of the Education Amendments of 1972.
"It also represents discrimination on the basis of transgender status, as well as sex, in violation of the Equal Protection Clause of the United States Constitution," the complaint states. "A.M. is entitled to appropriate declaratory and injunctive relief so she can participate in school sports with other girls."
The suit asks the Southern Indiana District Court to enter a preliminary injunction, later to be made permanent, enjoining HEA 1041 and allowing A.M. to participate in school-sponsored girls' sports teams.
"When misinformation about biology and gender is used to bar transgender girls from school sports it amounts to the same form of sex discrimination that has long been prohibited under Title IX, a law that protects all students — including trans people — on the basis of sex and it denies the promise of the Constitution of equal protection under the law," Ken Falk, legal director of the ACLU of Indiana, said in a news release. "Girls like A.M. simply want to access the same opportunities as their peers and denying them that right jeopardizes their mental health and physical well-being."
The Indiana House voted 67-28 and the Senate voted 32-15 to override Holcomb's veto during "technical corrections" day. A simple majority vote was needed in each chamber override the veto.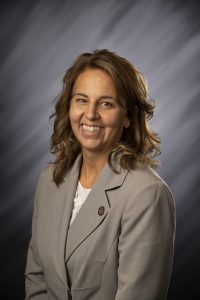 Rep. Michelle Davis, R-Whiteland, author of the controversial bill, maintained the law aims to achieve competitive fairness prior to the vote.
"Your vote will send a clear message that Indiana will protect the integrity of female sports," Davis told her fellow House members.
More than a dozen other conservative states have enacted similar laws to restrict trans youth from competing in youth sports this year.
"Today's action only strengthens the promise of Title IX, which has had the most profound impact on ensuring women have equal opportunity in sports for nearly 50 years," House Speaker Todd Huston, R-Fishers, said in a statement. "It's important for Indiana to not only recognize the contributions and achievements made by female athletes, but to also ensure those opportunities are secured now and in the future."
After passing the House, where only Davis was permitted to speak, a handful of Democrats went to the podium in the Senate, including Sen. J.D. Ford, D-Indianapolis, who used all 30 minutes of his allotted time to try to persuade his fellow senators to uphold the veto.
Sen. Fady Qaddoura, D-Indianapolis, was also among those stepping to the podium.
"Today's bill is not about religion or morality," Qaddoura said. "We took an oath to uphold the Constitution of the United States in a democracy that we treat all citizens equal. And the legal question before us today is whether or not the government of the state of Indiana can discriminate against any kind or type of students in any school that is publicly funded by taxpayer dollars."
Ford, along with Senate Minority Leader Greg Taylor, D-Indianapolis, criticized Indiana Republicans following the vote, saying they are not solving any issues. The senators further lamented that Indiana Republicans refuse to address the gas tax but are asking for a special session should the U.S. Supreme Court overturn Roe v. Wade.
"We had a supermajority come back today and cost the taxpayers a lot of money," Taylor said. "Not only to pay our per diem, but also to pay for a lawsuit that they know — this very same language has been challenged in other states and has been found unconstitutional.
"The people I feel most sorry for are those transgender children who believe this country is a place where they can live and strive and do what they want to do," Taylor continued. "We just showed them Indiana is not a place for (them). Shame on us for allowing us to yet again talk about what women can't do."
During the morning session, Indiana Senate President Pro Tem Rod Bray was asked if he was worried about lawsuits following the veto override.
"You know, I don't know, this is a policy that we feel appropriate," he said. "… We don't like to get sued, but it happens from time to time."
During the session, Indiana Attorney General Todd Rokita vocally supported the bill — even sending a representative from his office to testify in favor of it — saying he will defend it in court.
The ACLU hosted events outside of the Statehouse before holding a rally indoors.
The bill originally passed the House 66-30 and the Senate 32-18 before Holcomb vetoed it on March 21.
Holcomb told legislative leaders in a letter following the veto that he believed the bill "falls short" of maintaining consistency for fairness in school sports.
The Indiana High School Athletic Association, which has more than 65,000 girls compete in high school athletics each year, commended Holcomb's veto at the time. Since the IHSAA's policy was amended in 2017, there have been two transgender waivers submitted to the IHSAA, both in 2021.
Please enable JavaScript to view this content.