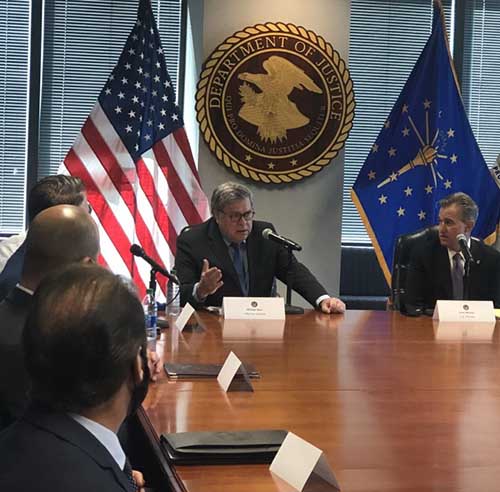 The last time William Barr was attorney general of the United States, violent crime in the nation was at an all-time high. And now, after years of decline, the year of COVID has created another surge.
The response to the surge has been Operation Legend, a federal law enforcement initiative aimed at reducing violent crime across the United States through the intentional devotion of federal resources. The program is active in nine cities, including Indianapolis.
Barr traveled to Indianapolis on Thursday to meet with local law enforcement officials, including Southern Indiana U.S. Attorney Josh Minkler and Indianapolis Police Chief Randal Taylor, among other local law enforcement stakeholders. The group was scheduled for a working lunch to discuss crime in Indianapolis, and the AG held a brief press conference prior to discuss how Operation Legend has been used in the Circle City.  
After hitting record highs in 1991 and 1992 — when Barr served as attorney general under President George H.W. Bush — violent crime across the United States began to see a decline, he said. During those two years, about 70 in every 1,000 Americans were victimized annually, with about 12,000 African Americans killed each year.
Eventually, the number of victims fell to about 30 in 1,000 people, Barr said, while Black homicide victims fell to 7,000. Those numbers were still too high, he said, but they were an improvement.
Violent crime began to rise again during the last two years of the Obama administration, according to Barr, then began another decline during the first three years of the Trump administration.
"But 2020 has been different," the AG said during the Thursday press conference.
The attorney general attributed this year's rise in crime both to the COVID-19 pandemic and to what he described as the "demonization" of law enforcement. This year's crime rate is not as bad as it was in the early 1990s, Barr added — back then, the number of violent crimes was about twice today's numbers — but even so, there's been a breakdown in local criminal justice systems that has allowed violence to continue.
State and local law enforcement officials are the first line of defense for communities, Barr said, and they do their job well — that is, they get the "bad guys" off the streets. The problem, though, is that the local system allows defendants to get back onto the streets.
The federal system, however, can keep those serious offenders off the street, Barr said, pointing specifically to federal pretrial detention. Through Operation Legend, money and manpower has been dedicated to Indianapolis and eight other cities to help them take advantage of federal resources.
In Indianapolis, those resources have resulted in 216 crime guns being taken off the street since Aug. 14, when Operation Legend began, Minkler said. Additionally, federal marshals have arrested 88 fugitives, 15 of whom were wanted for homicide, 14 for robbery and eight for sexual assault.
Also, Minkler said 1,731 grams of heroin have been confiscated since Aug. 14. A typical "hit" of the opioid is about one-tenth of a gram, he said.
Similarly, 27,644 grams of meth have been confiscated, along with 1,211 grams of fentanyl. The latter is known to be particularly dangerous — Minkler said just 3 milligrams of the drug can prove lethal.
Chief Taylor of the Indianapolis Metropolitan Police Department offered limited comments, thanking Barr for his interest in the crime problem in Indianapolis. The Circle City's current homicide numbers are higher than they were this time last year, Taylor said, but he expressed optimism about the impact of Operation Legend.
Barr ended his public comments by discussing how real-time crime centers could be used to support the mission of Operation Legend. The centers are described by the DOJ's Office of Justice Programs as tools meant to "provide a law enforcement agency with the ability to capitalize on a wide and expanding range of technologies for efficient and effective policing."
Both Barr and Minkler acknowledged the streets of Indianapolis are not as safe as they could or should be. But with the resources of Operation Legend, Minkler insisted, "our streets are safer."
Please enable JavaScript to view this content.