The attorney discipline action against Indiana Attorney General Curtis Hill has reached a critical juncture, with public testimony concluded and the case now in the hands of hearing officer and former Justice Myra Selby.
Selby presided over an evidentiary hearing Oct. 21-24, when more than two dozen witnesses took the stand. Hill has been accused of groping four women after a night of drinking, and the four accusers — Democratic State Rep. Mara Candelaria Reardon, legislative staffers Gabrielle McLemore Brock and Samantha Lozano, and former legislative aid Niki DaSilva — were the first to testify against him.
Hill also took the stand, and the evidentiary hearing marked the first time he has publicly discussed his actions on March 14 and 15, 2018. It was also the first time other critical witnesses — including House Speaker Brian Bosma and then-Senate President Pro Tempore David Long — have publicly detailed how they learned of the sexual misconduct allegations and responded to them.
Selby is now tasked with issuing a report that will include her recommendation for the appropriate sanction, if any. The justices of the Indiana Supreme Court will have the final say on the result of the disciplinary case, In the Matter Of: Curtis T. Hill, Jr., 19S-DI-156, and may choose to impose a sanction as light as a private admonition, as severe as disbarment, or no sanction at all.
In opening statements, the Indiana Supreme Court Disciplinary Commission cast Hill as a "powerful officeholder" who had too much to drink and ultimately committed battery and sexual battery, all in violation of Indiana Rules of Professional Conduct 8.4(b) and (d) and Admission and Discipline Rule 22.
His defense team, however — which included former disciplinary commission head Donald Lundberg and Indianapolis attorneys Jim Voyles and Jennifer Lukemeyer — said the case involves differing perceptions.
The night before
The day before the now-infamous "sine die party," March 14, 2018, was the end of the regular session of the 2018 General Assembly.
As lawmakers conducted business late into the night, some staffers began to celebrate in their offices. Lozano, a legislative aide to House Democrats, including Reardon, recalled there being wine and cocktails in the House Democrats' office. Brock, now the communications director for the Senate Democrats, also said she had champagne in her office, though DaSilva said she did not drink while still at the Statehouse.
Meanwhile, Hill testified that he was across the street in the Indiana Government Center, waiting on word about legislation that would have a direct impact on his office. He decided to have dinner around 8:30 p.m., and that's when he went to The Capital Grille restaurant on Washington Street and ran into Tony Samuel, a lobbyist and friend.
Hill joined Samuel and others for appetizers and a glass of wine before part of the group, including the AG, moved on to the 1933 Lounge above St. Elmo Steak House, where Hill had another glass of wine. It was while he was at the 1933 Lounge that Hill learned his office had been defeated in the legislation he was watching, but he also learned Sen. Greg Taylor, an unlikely ally, had been his advocate on the floor.
Around the same time, Hill testified that Samuel got a call about the sine die party happening at AJ's Lounge. The party was an end-of-session celebration for lawmakers and lobbyists — though there was conflicting testimony as to whether it was an "official" legislative event — so Hill said he decided to go so he could thank Taylor.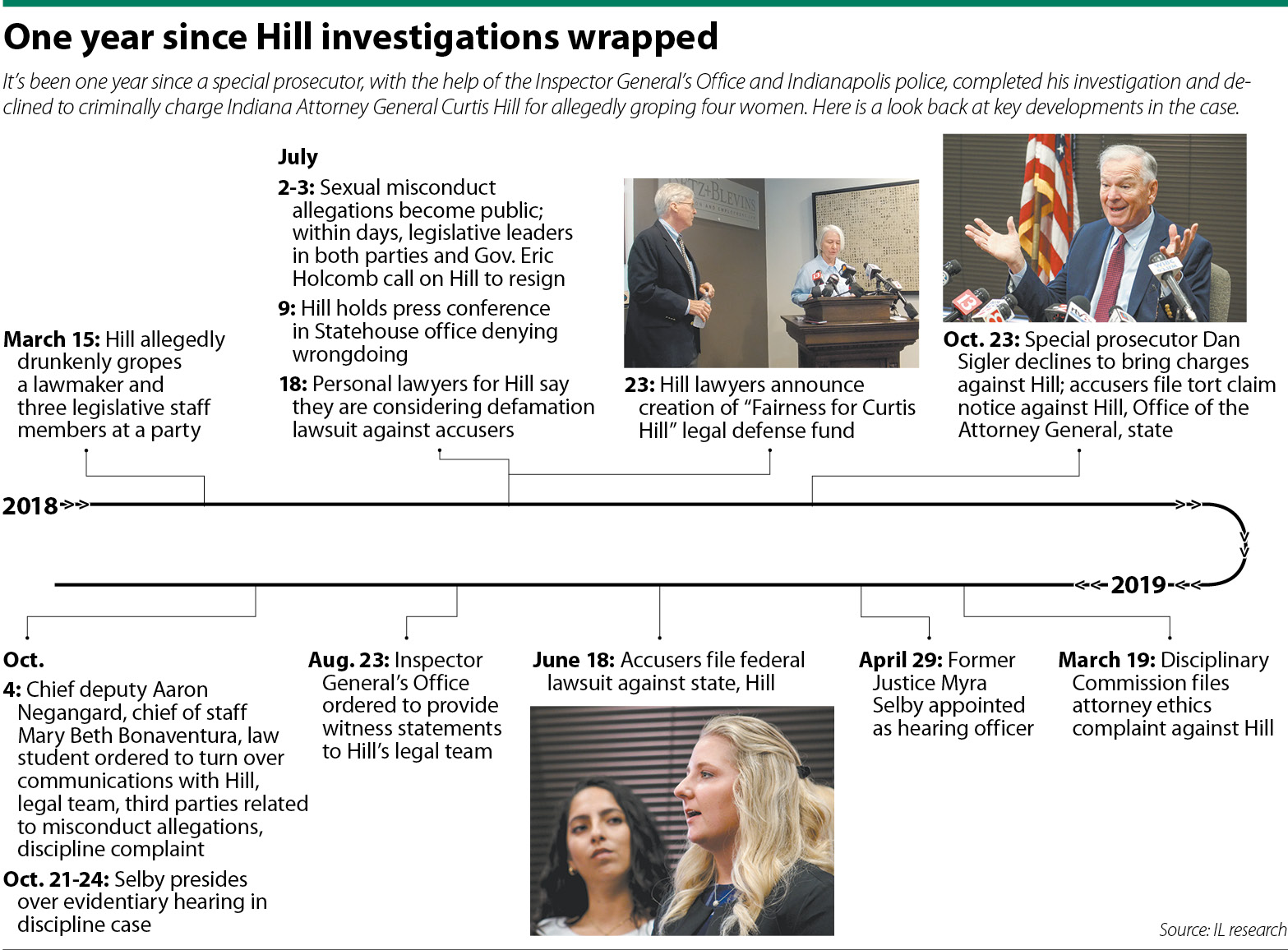 The party
The festivities began in the early-morning hours of March 15. Hill and Samuel's group arrived around 12:30 a.m., and within half an hour the AG said the bar became and remained "very packed."
The four women arrived after Hill, and all four testified that while AJ's was crowded, it was not shoulder-to-shoulder.
Testimony differed throughout the hearing as to how many people were at AJ's that night. Most estimates put the number of attendees at around 100 people, while some were as high as 200. But Gwen Robinson, the bar's owner, said her building has a maximum capacity of 60 people, and she would not violate that limit.
Hill and the women were all drinking at the party, with Hill saying he nursed a vodka martini and sipped a shot of Fireball. Reardon said she had two Grey Gooses with club soda, though she said she didn't finish the second drink. Likewise, DaSilva said she was drinking vodka tonic, and though she had two drinks in hand, she didn't finish a full drink all night. Lozano said she had three to four drinks, and Brock admitted to being "buzzed."
However, all four women said they were not "impaired" and did not misperceive the actions they say Hill took.
The AG also testified that he was not drunk or out of control, though he admitted he had more to drink that night than he normally does. Several witnesses, however, testified to Hill being intoxicated and unable to control his movements, though a handful of witnesses said he did not draw their attention as having had too much to drink.
The allegations
Reardon testified first, saying she encountered Hill while they were standing in an open area at AJ's. Hill leaned in as if he could not hear Reardon, though the representative said she was not speaking. It was then, Reardon said, that Hill placed his hand on her back — which was exposed in a backless dress — slid it down, put his thumb beneath the fabric of her dress and squeezed her buttocks.
Reardon said she told Hill, "Back off, what the f—?" before moving away. She also testified that she told another partygoer the AG was a "creeper," a statement later supported by testimony from attorney Logan Harrison.
Later that night, Reardon said Hill approached her again, said "that skin, that back," and once again tried to grope her before she moved away.
Lozano testified to seeing the backrub, though she said she looked away before the alleged groping. Other partygoers, including legislative staffers Julian Winborn, Adam Jones and Donna Smith, testified to seeing the backrub, with Jones saying he saw Hill's hand on Reardon's buttocks.
Lozano testified to having two subsequent interactions with Hill. The first was in passing, when she said the AG asked her, "Do you know who I am?" Lozano said she responded affirmatively, adding that she went to school with Hill's daughter so that he would understand her age.
Later, while at the bar, Lozano said she remarked about the room being hot, to which Hill said, "Yes you're really hot." He then grabbed her waist and pulled her close to him, she testified.
When DaSilva stepped between Lozano and Hill to assist the Democratic staffer, she said the AG rubbed his hand down her back. Then, when she tried to stop him with her own hand, she said he grabbed her wrist and placed both of their hands on her buttocks.
Earlier, DaSilva said she'd heard Hill tell a group of women to "show a little skin" in order to get their drinks.
Laura McCaffrey, a lobbyist who attended the party, testified that she saw DaSilva looking "uncomfortable" while Hill was at the bar. Later as they drove home together, McCaffrey said DaSilva told her Hill had touched her buttocks.
Brock's alleged encounter also occurred at the bar, where she said she was sitting on a barstool when Hill approached and asked if she knew who he was. Brock then recalled Hill giving her a "sexual," "sensual" or "intimate" backrub for two or more minutes.
Brock said she left the bar top with the help of her intern, Allison Lucas, who recalled Brock "bawling" in the bathroom. The two then left the bar with Brock still in tears, a statement supported by the testimony of Brent Stinson, Brock's former colleague.
The defense
On the stand, Hill did not deny having physical contact with people at AJ's that night, though he adamantly denied touching anyone in a sexual nature.
Taking Reardon's allegations first, Hill confirmed he did touch her back, but said he did so only so he could steady himself and lean in to hear her better. He said the bar was noisy, and the noise was compounded by a "hearing deficiency" in his left ear.
The AG said he was "startled" when he touched Reardon's skin, and he removed his hand when he realized she was wearing a backless dress. He said he did not recall a second interaction with the representative, nor did he hear her express any anger toward him.
While at the bar top, Hill said he was trying to "usher" people through the crowd so they could get closer to the bar. Thus, if he touched Lozano or DaSilva, he said he did so in an attempt to "guide" them.
Though he did not specifically remember meeting Brock, the AG said he did recall sitting on a barstool and putting his arm on people's shoulders, an account he said "mirrored" Brock's recollection.
As to the "show a little skin" comment, Hill said he made the statement generally to all who were in his vicinity, not just a group of women. He also said the comment was a reference to the 1934 movie "It Happened One Night" and was a joke aimed specifically at Sen. Taylor, who was working as a "celebrity bartender."
Hill said no one approached him while at AJ's to tell him he'd had too much to drink or suggested that he go home. Samuel also said no one complained to him about Hill behaving inappropriately.
The response
The attorney general said he first heard of complaints against him — specifically complaints about the "show a little skin" comment and about inappropriate touching — the next day from his then-chief of staff Joan Blackwell, but he dismissed the reports as coming from the "Statehouse rumor mill."
It wasn't until June 29, 2018, that he said the party was brought to his attention again. On that day, Hill had a conference call with Bosma and Long, who told him they had been made aware of sexual misconduct allegations against him and had begun an internal investigation. According to testimony, legislative leaders were informed of the allegations when a special legislative session was held on May 14, 2018.
Bosma and Long also told Hill The Indianapolis Star was working on an article about the investigation, and Hill recalled being "shocked" and "troubled." He said he was told not to come to legislative receptions or contact the women, though he said he was not given the names of his accusers.
Then, at a subsequent meeting July 2, 2018, Hill said he was informed that a confidential memorandum related to the legislative investigation had been leaked. It was then that the AG began to fear a "political attack" — especially in light of the fact that he was not given a copy of the memo — so he decided to "fight."
The sanction
Though the decision on a sanction rests with the Supreme Court, the disciplinary commission tried to bolster its case with testimony from a former employee of Hill's in the Elkhart County Prosecutor's Office.
Kathleen Bowers testified that Hill came into her office on Dec. 23, 2016, and told her, "We should f—, it would be hot." Bowers said on the stand that Hill would make a similar suggestion three times total, but she declined every time.
The defense objected to Bowers' testimony at the outset, calling it irrelevant and prejudicial. But the commission said Bowers' account could show a pattern of misconduct — a relevant aggravating factor — and Selby ultimately overruled the objection.
On the stand later, Hill said he did use crude language when speaking with Bowers, but not in the manner she presented. Instead, he said he was discussing a local dance competition and told her they should've been partners because "we could've been f—ing hot."
For more details and day-by-day coverage from the evidentiary hearing, visit theindianalawyer.com.•
Please enable JavaScript to view this content.