Editor's note: This article has been updated to report Twitter removed its warning from Attorney General Todd Rokita's tweet.
After Twitter flagged his Valentine's Day tweet alleging election fraud, Indiana Attorney General Todd Rokita is doubling down, repeating his claims while offering no proof, asserting the tech giant is censoring his freedom of speech and voicing his support for legislation that would give the Statehouse more power in changing the state's election laws.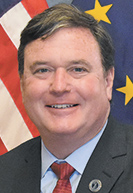 "It is perfectly reasonable that many citizens in Indiana, and across the nation, have valid concerns regarding the conduct of the 2020 Presidential election," Rokita wrote on what appears to be his personal Twitter account.
However, the attorney general provided no evidence to support his claims of election tampering.
Indiana Democrats countered that Rokita is destroying the trust of Hoosiers who just want their elected officials to focus on working for Indiana families.
"The Indiana Republican Party – either led by Todd Rokita or others – will begin turning this (or other circumstances similar to this) into some fictitious debate about so-called 'cancel culture' or 'censorship,'" the Indiana Democrats stated. "However, the Indiana Democratic Party would like to remind the INGOP that they are being 'canceled' simply for being jerks and discarding their Hoosier values, not because of any hidden political agenda from independently owned social media companies."
First reported by The Indianapolis Star, Rokita's Feb. 14 tweet included a drawing of former President Donald Trump and stated, "You stole my heart like a 2020 election."
Twitter flagged the message, noting the claim of election fraud was disputed and prohibiting others from replying to, retweeting or liking Rokita's tweet because of "a risk of violence."
In response, Rokita tweeted "… several left-leaning states conducted their elections without regard for the U.S. Constitution." He did not identify the states or offer any links to materials that support his allegations.
Twitter has since removed the warning from Rokita's tweet.
The replies to the attorney general's assertions were mostly critical. Some called Rokita's claims a lie, others pointed to the more than 60 election lawsuits that Trump lost, one told him to resign and another offered, "Mr. Rokita, whatever you're smoking, please share."
Rokita also tweeted his support for Senate Bill 353, authored by Sen. Erin Houchin, R-Salem. Approved by the Senate Elections Committee this week, the measure would shift the power to change the date, time and place of an election from the governor to the Indiana General Assembly.
The attorney general tweeted he would fight to promote the concepts in Houchin's bill, which protects the Constitution's requirement that state legislatures have the power to change election law and not, as Rokita said, "unelected bureaucrats, biased judges, or executive branch officials."
Rokita also swiped at Twitter, describing his Valentine's Day post as "tongue in cheek" and asserting that Twitter's response "illustrates a very real & harmful new reality – Big Tech's frequent censorship of speech."
Before he took the oath of office, Rokita raised unfounded allegations about the presidential election. He pushed the U.S. Supreme Court to accept the lawsuit filed by the state of Texas that challenged the election results in Georgia, Wisconsin and Michigan and questioned the integrity of the 2020 vote count.
"Millions of citizens in Indiana have deep concerns regarding the conduct of the 2020 Presidential election," Rokita stated in a press release from last December. "Deeply rooted in these concerns is the fact that some states appear to have conducted their elections with disregard to the U.S. Constitution."
The U.S. Supreme Court declined to hear the case, claiming Texas did not have a legal interest in how other states conducted their elections.
Please enable JavaScript to view this content.