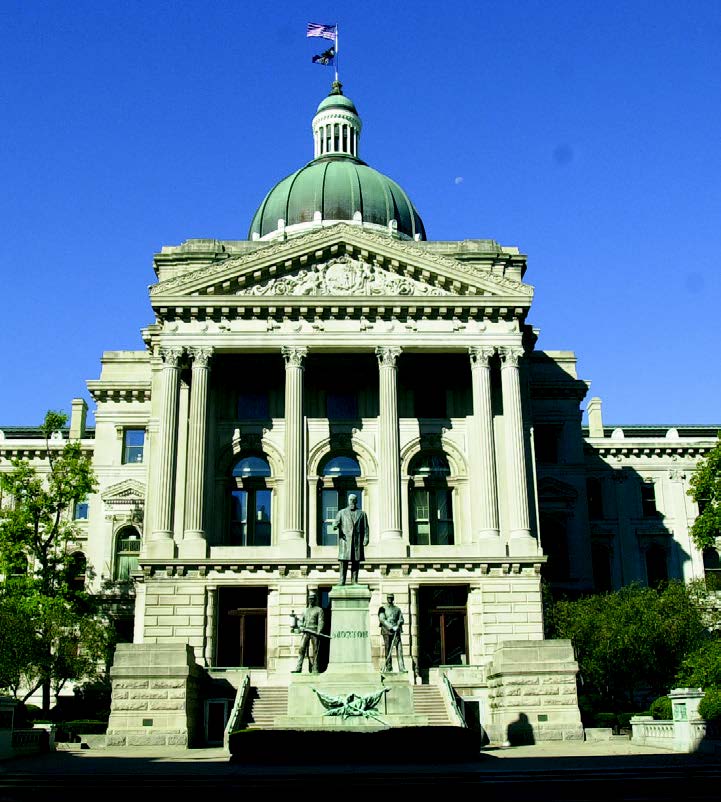 The Indiana State Police told Indianapolis Business Journal Tuesday the agency is not aware of any planned protests at the Statehouse in the coming week, amid a warning from the FBI to law enforcement about plans for armed protests at all 50 state capitols leading up to President-elect Joe Biden's inauguration Jan. 20.
An internal FBI bulletin said this weekend that nationwide protests could start as early as later this week, according to two law enforcement officials who read details of the memo to The Associated Press. Investigators believe some of the people are members of extremist groups, the officials said.
"Armed protests are being planned at all 50 state capitols from 16 January through at least 20 January, and at the U.S. Capitol from 17 January through 20 January," the bulletin said, according to one official. The officials were not authorized to speak publicly and spoke to the AP on condition of anonymity.
Indiana State Police Capt. Ron Galaviz told IBJ the agency is not aware of any planned activities on the Statehouse grounds. Galaviz, the department's chief public information officer, said state police will continue to monitor activity while also communicating with our local and federal law enforcement partners.
"While we do not speak to specifics as they pertain to operational and security measures, we are prepared to provide the necessary security for the Statehouse and its adjacent campus," he said in an email.
Indianapolis Metropolitan Police Department spokeswoman Aliya Wishner said the city department's leaders have "been in constant contact with our local, state, and federal law enforcement partners and will continue this coordination through Inauguration Day and the weeks that follow."
Currently, the Statehouse is a busy place. Indiana lawmakers and their staffs have been convening daily since last week for this year's session of the General Assembly. On Wednesday, IndyStar reported that about 100 people gathered at the Statehouse for a "Stop the Steal" rally that remained peaceful.
In other states, officials are gearing up for anticipated violence.
The AP reported that on Monday, Washington state Gov. Jay Inslee activated hundreds of National Guard troops to help state police keep order at the state's Capitol in Olympia. At least two people were arrested, including a man who tried to walk past authorities as lawmakers were to begin their session and shouted: "I have every right to witness this."
At the Georgia Capitol in Atlanta, a state patrol SWAT team walked the perimeter wearing fatigues and carrying rifles while lawmakers gathered inside for the start of a two-year term. State troopers were stationed throughout the Iowa Capitol in Des Moines for opening day as more than 200 people opposing coronavirus mask mandates chanted "freedom" during a peaceful rally.
In Indiana, Gov. Eric Holcomb's office declined to be specific about any security preparations that might be under way. Press secretary Rachel Hoffmeyer would not say whether Holcomb has taken steps to activate the Indiana National Guard, but said "the state is prepared."
The FBI's warning comes after riots overtook the U.S. Capitol last Wednesday, when Congress met jointly to certify results from the Electoral College. At least five people died either at the event or at hospitals after, including a U.S. Capitol Police officer. The U.S. Capitol Police has been criticized for not being prepared for the protests.
The warning also comes after a summer of civil unrest in major American cities, including Indianapolis. Peaceful protests turned destructive in May after the death of George Floyd in Minneapolis police custody. Businesses that were looted and destroyed here have been critical of the preparedness and response by Indianapolis Metropolitan Police Department and Mayor Joe Hogestt.
Only after two nights of violence did Hogsett impose a curfew to try to end the nighttime riots.
The Mayor's Office directed questions about city preparations for possible protests this week to IMPD.
The Indianapolis office of the FBI told IBJ its standard practice is to not comment on specific intelligence products but that the FBI is supporting state, local and federal law enforcement partners in maintaining public safety in the communities it serves.
"Our efforts are focused on identifying, investigating and disrupting individuals that are inciting violence and engaging in criminal activity," the office said. "As we do in the normal course of business, we are gathering information to identify any potential threats and are sharing that information with our partners."
The focus will not be on peaceful protesters "but on those threatening their safety and the safety of other citizens with violence and destruction of property," the office added.
Please enable JavaScript to view this content.