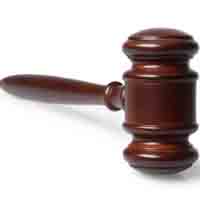 The newest member of the U.S. District Court for the Southern District of Indiana was officially sworn into office this week.
Kellie M. Barr, a former federal law clerk and recent in-house attorney, was selected earlier this year as the newest magistrate judge of the Indiana Southern District Court.
Barr was sworn in as a federal magistrate judge on Monday during a private ceremony and assumed her duties on Tuesday, according to Indiana Southern District Court Chief Judge Tanya Walton Pratt.
Barr succeeds Magistrate Judge Debra McVicker Lynch, who retired on Oct. 31.
"Throughout her legal career, Judge Barr has treated every client, colleague, and opposing counsel with dignity and respect; and we know that she will bring those same qualities to the bench," Pratt said in a statement. "Her strong work ethic, diligence and passion for upholding the law and ensuring access to justice will serve her well as she embarks on her judicial career."
Previously, Barr was a career clerk for Indiana Southern District Court Judge Jane Magnus-Stinson, working in her chambers from 2010-2017. In 2017, Barr moved to the legal department at Indiana University Health, where she rose to her most recent positions as assistant general counsel for IU Health and lead attorney for IU Health Physicians.
"I am honored that the District Judges selected me to be the next U.S. Magistrate Judge in our District," Barr said regarding her appointment. "From my almost seven years of prior service at the Court, I know firsthand how busy our District is and how diligently our Judges and staff work to timely administer justice in each case.  I am excited to rejoin them and will do my very best to meet the high standards this role requires."
Barr also formerly clerked for then-Chief Judge John Baker of the Court of Appeals of Indiana and worked for two years as an associate in the Litigation & Appellate Services Group at Bose McKinney & Evans LLP in Indianapolis.
The magistrate judge received her law degree from Indiana University Maurer School of Law in 2006, where she served as an articles editor for the Indiana Law Journal.
Barr has participated in the Indiana Southern District's Recruited Counsel Program, volunteered as a Big Sister for Big Brothers Big Sisters of Central Indiana and has been an active member on various leadership committees of the Indianapolis Bar Association. She was recognized as a 2021 distinguished fellow of the Indianapolis Bar Foundation and is a master member of the Indianapolis American Inn of Court.
Barr was selected for the magistrate judge position by a 13-member Magistrate Judge Merit Selection Committee chaired by Sara J. Varner of Indiana Federal Community Defenders Inc. The committee reviewed applications and recommended finalists, who were interviewed by the district court judges.
District judges appoint magistrate judges to eight-year terms and can reappoint them to successive terms. Magistrate judges preside over many civil and criminal pretrial proceedings and, critically, conduct mediation and settlement proceedings in civil cases.
A formal investiture ceremony for Barr will occur at a later date.
Please enable JavaScript to view this content.