A bill that would roll back a major provision of Indiana criminal justice reform legislation is headed for the full Indiana Senate, but concerns still linger over whether the state is doing its part to provide treatment to criminal offenders with mental illnesses and addictions.
The Senate Appropriations Committee unanimously advanced House Bill 1004 on Thursday. The bill has two main provisions: updating statutory language regarding community corrections and, critically, allowing Level 6 felony offenders to be housed in the Indiana Department of Correction, rather than a local jail.
Sending Level 6 felony offenders to a county jail was a key provision of House Bill 1006, widespread criminal justice reform legislation that was passed nearly a decade ago. The idea of HB 1006 was that low-level offenders with mental illnesses should be allowed to remain in their communities to receive treatment and support.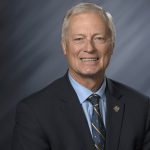 While HB 1004 does not require that courts now send Level 6 felony offenders to the DOC, it does give judges the discretion to do so, according to bill author Rep. Randy Frye, R-Greensburg.
The issue, Frye said, is that many Indiana counties, particularly those in rural areas, do not have local resources to provide mental health treatment. But in the Department of Correction, those resources are available immediately, he said.
Rob Carter, commissioner of the Indiana Department of Correction, joined Frye before the Appropriations Committee to support the bill. He said the DOC has the capacity for 29,000 inmates but currently only houses 22,000, leaving room for additional Level 6 felony offenders.
The bill previously passed through the Indiana House and the Senate Corrections and Criminal Law Committee, then moved to Appropriations due to its fiscal impact on the DOC. The latest fiscal analysis prepared by the Legislative Services Agency notes that "(a)ny net change in state expenditures will depend on the number of Level 6 felons who might be committed to DOC instead of being house in a county jail."
According to the fiscal note, the cost of housing an inmate in the Department of Correction, with no additional staff, is about $4,333 annually, or $11.67 per day per inmate.
There is also the cost of holding an offender in a county jail before they are transferred to the Reception Diagnostic Center, where all inmates are assessed before they are committed to DOC — $40 per day for each day beyond five days that a committed offender is held in county jail before there is room for them at the diagnostic center. The center can evaluate up to 1,000 people per month, and increasing the number of Level 6 felony offenders sentenced to DOC could result in longer wait times to get into the center, according to the fiscal note.
The analysis further noted that "(c)ounties committing more Level 6 felons to DOC would receive less in reimbursements from this funding source, but they would save an indeterminable amount if the Level 6 felons are committed to DOC. The average cost per day is approximately $54 based on the per diem payments reported by the U.S. Marshals to house federal prisoners in 16 county jails across Indiana during federal FY 2017."
There was no pushback against the fiscal impact from committee members, and chair Ryan Mishler, R-Bremen, noted Frye was able to avoid an amendment in Appropriations.
The bill also had the support of the Indiana Sheriffs' Association and the Association of Indiana Counties. But not all of the public testimony was favorable.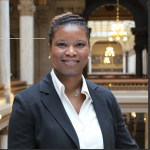 Bernice Corley, executive director of the Indiana Public Defender Council, opposed the bill on policy, fiscal and capacity grounds.
From a policy perspective, Corley noted state law already allows certain Level 6 felony offenders — those who have proven to be "the worst of the worst" among low-level offenders — to be committed to the DOC. If those offenders are already being routed to a state facility, she asked, "Who's left?"
Referencing repeated testimony about local communities not having mental health and addiction treatment resources, Corley said it's an "awful testimony" against the state to say that the only place for such treatment is in the DOC or a jail.
"I do believe we can do better," she said.
Corley's comments echoed those made in earlier testimony in the House. Rep. Matt Pierce, D-Bloomington, said passing HB 1004 was a sign that the state had "failed" in its obligation to fund local treatment programs as HB 1006 intended. But Pierce ultimately supported Frye's bill.
Corley also pushed back on the notion that DOC has the capacity to take additional Level 6 felony offenders. While the physical beds might be available, she questioned whether there was sufficient staffing at state facilities to keep both inmates and staff safe.
Sen. Fady Quaddoura, D-Indianapolis, told Corley he agreed with her policy concerns. However, he also told her he would support the bill for practical reasons.
Quaddoura harkened back to his time as Indianapolis city controller from 2016-2020. During that time, he said Marion County Jail had to send inmates as far away as Kentucky because the local jail did not have capacity for all inmates, creating additional costs for the county.
Corley, however, said Level 6 felony offenders are not the only reason for jail overcrowding across Indiana. She maintained that the overcrowding issue can be resolved through policy changes.
Other than Quaddoura's comments to Corley, no senators expressed any policy or other concerns about HB 1004. The bill so far has received bipartisan support, with just three Democrats opposing it in the House and one Democrat opposing it in the Senate Corrections and Criminal Law Committee.
HB 1004 now heads to the full Senate, where it is sponsored by GOP Sens. Eric Koch and Aaron Freeman.
Please enable JavaScript to view this content.