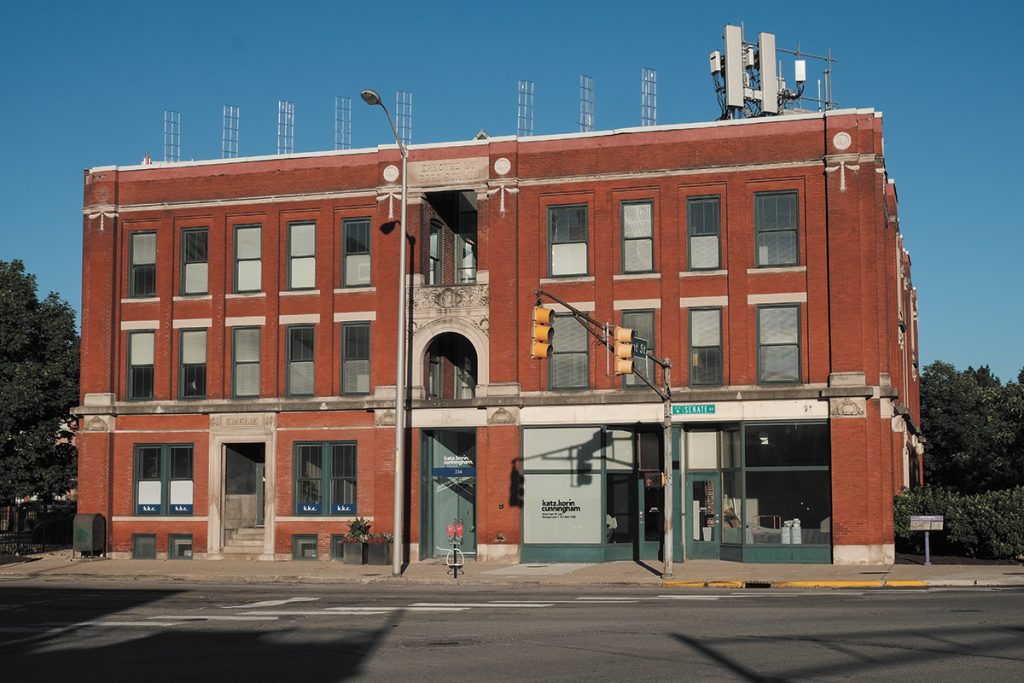 Although the pandemic has thrown ice water on the red-hot law firm merger market, combinations are still happening and Indiana, a state often absent from the list of merger activity, recorded two separate combinations just as the COVID-19 crisis was taking hold.
Katz Korin Cunningham in Indianapolis officially joined with Cantrell & Mehringer LLP April 1 and Clendening Johnson & Bohrer P.C., based in Bloomington, merged with Hehner & Associates LLP, located in the Circle City, March 11. The three attorneys and their staff at Cantrell & Mehringer have moved into the Katz Korin offices, while the two attorneys and staff at Hehner are changing their firm's name but remaining in their current downtown location, giving Clendening Johnson an office in Indianapolis.
Partners at the firms said they needed to combine to handle clients' business, which has continued to grow even as the coronavirus has devastated the national economy. In fact, since the combinations, both Katz Korin and Clendening Johnson each also have made lateral hires.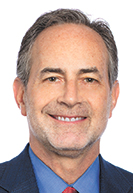 Michael Gabovitch, managing partner of Katz Korin, sees the growing workload as evidence that people are adapting to a new way of life. "People realize they can't hibernate forever," he said. They are learning they "can get things done."
Prior to the COVID-19 shutdown in mid-March, law firms were still combining. The year started with 17 law firm announcing in the opening quarter of 2020 their plans to combine, according to Altman Weil, the legal consulting company that tracks such legal merger activity. However, only seven firms announced merger plans in the second quarter, the lowest total deal number since the third quarter of 2010.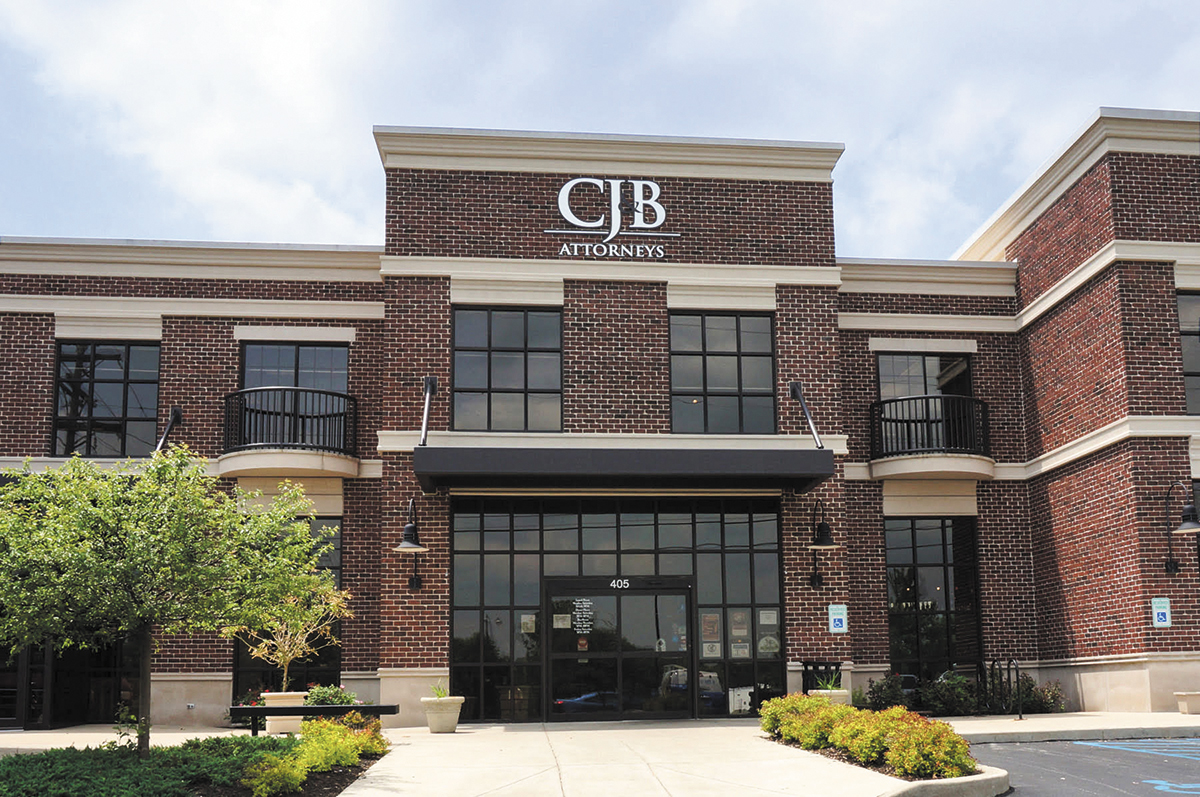 Neither of the Indiana mergers were included in the 2020 list. But even counting the Hoosier activity, 2020's mid-year total of 26 combinations was below the first quarter tallies of 27 and 31 in 2019 and 2018, respectively.
The Altman Weil team blamed the drop in combinations on the coronavirus and the uncertainty it is creating in the market.
"All big deals have been put on hold until management bandwidth improves and leadership teams are able to travel to meet in person," Tom Clay, Altman Weil principal, said in a press release. "Plus, some firms that might otherwise be thinking about merger do not want to enter negotiations in a weakened position and are waiting for the market to turn positive."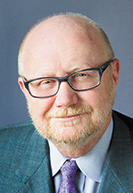 The most recently combined Indiana law firms all started their conversations in 2019, well before the pandemic and subsequent economic recession. Each of the firms in the separate mergers had talked in previous years about joining their practices together, but only within the past year did combining make sense.
Lonnie Johnson, partner at Clendening Johnson & Bohrer, said he had been considering bringing another partner into the firm to help handle the bigger claims and try the bigger cases. He had become friends with James Hehner, in part, through their work together in the Defense Trial Counsel of Indiana, and finally, in a phone conversation last summer, he "blurted out" the possibility of merging.
"I wanted to get Jim onboard to help with the more complicated business litigation cases," Johnson said.
Hehner likewise saw an advantage. The combined firm would have a deep bench of experience, particularly in trial work, and have two offices the attorneys could use. Plus, Hehner knew and worked well with Johnson's other partner, Belinda Johnson-Hurtado.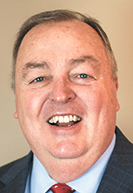 Gabovitch, Johnson and Hehner are optimistic. They believe the amount of business that drove them to combine their individual firms and has sustained them through the coronavirus shutdown will continue, if not pick up, in the third and fourth quarters.
"Our clients remain very active so we're remaining busy," Gabovitch said.
Time to think
Since 2017, the number of law firm combinations had been skyrocketing and consistently topping the prior year's total. Firms with strong Indiana ties had not been part of the flurry until last year when Hoosiers led the deal-making.
Faegre Baker Daniels, which had its largest office in Indianapolis, created the largest combination by joining Drinker Biddle & Reath, based in Philadelphia, and Bingham Greenebaum Doll launched a new law firm model that allows for more local autonomy when it combined with the global giant of Dentons. Also, Taft Stettinius & Hollister notched one of the largest combinations of the year with the acquisition of Briggs and Morgan in Minneapolis.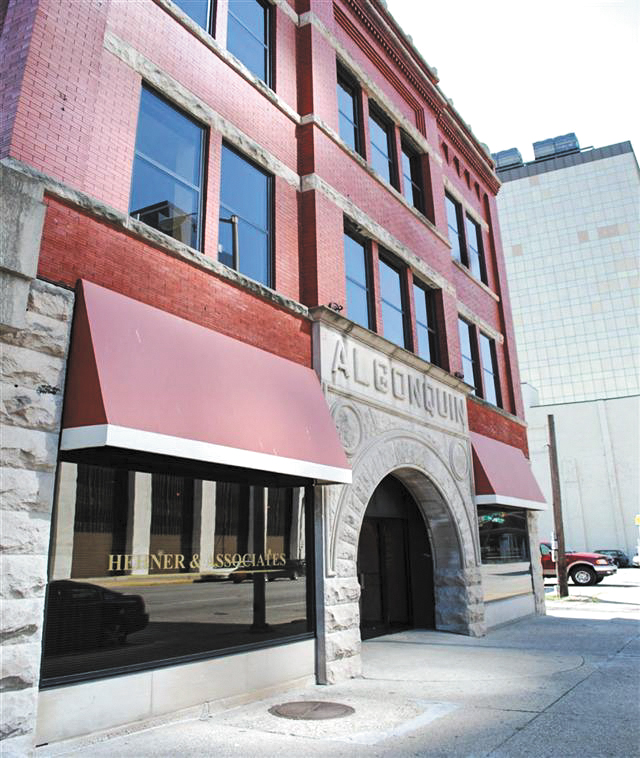 The recent Indiana combinations did not involve large firms. Katz Korin Cunningham expanded to 34 attorneys with the acquisition of Cantrell & Mehringer, and Clendening Johnson has grown to 12 including those from Hehner & Associates.
In early March, Altman Weil launched its annual Law Firms in Transition survey and found in those pre-coronavirus days, most law firm leaders were planning for healthy bottom lines and improved firm performance. Yet, by April, lawyers were reassessing their projections and some firms were already contracting through furloughs, layoffs and reduced draws.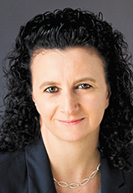 The consulting firm is advising that more disruption is coming as the "virus evolves and society responds." Consequently, Altman Weil said, "law firms should expect greater volatility and plan accordingly."
Johnson believes the retreat caused by the pandemic actually fueled the increase in work he and his firm have been recording. The stalled economy gave business owners time to think, he said, and they have decided to make changes. Whether they are dissatisfied with a shareholder or have been contemplating a purchase of property, a merger or opening a new operation, they have spent their time at home working through the different possibilities and are now ready to move forward.
On top of this, the Paycheck Protection Program has provided an infusion of money that has given some businesses options, he said.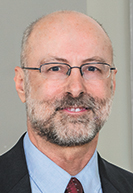 These circumstances have created work even while Indiana and other states are slowing their plans for fully reopening. Johnson-Hurtado, who is bilingual, said even more work is available by serving the needs of Hispanic business owners. With the Indianapolis team, Clendening Johnson is better positioned to help Spanish-speaking clients with business, employee and real estate matters, she said.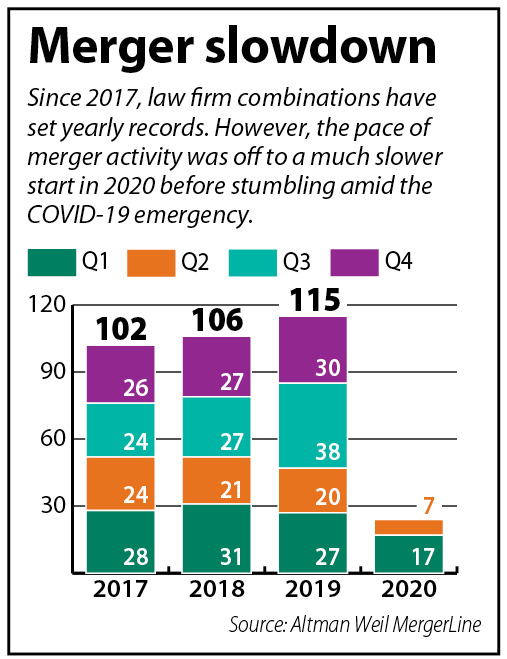 Improving profitability
The 2020 Law Firms in Transition report noted that hiring laterals or merging with another firm have proven to be fairly reliable ways for law firms to improve their bottom line. Of the law firm leaders surveyed, 78.4% said they had used the tactic and 66.2% said growing the size of their firm did improve their profitability.
Gabovitch said the groundwork for Katz Korin's successful merger with Cantrell & Mehringer was laid in 2017 when now-KKC shareholder Norris Cunningham arrived with his team of seven attorneys from Hall Render Killian Heath & Lyman.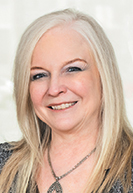 The group brought with them the knowledge of how to run a financially viable insurance defense practice, which is the kind of legal work Dennis Cantrell and Susan Mehringer do. More than adding to the firm's expertise, the two new attorneys are bringing their portfolio of asbestos litigation.
Also, Kathryn Watson came with Cantrell & Mehringer and added a much-needed environmental practice to Katz Korin, Gabovitch said. The firm will no longer have to refer clients who need representation in environmental matters to outside lawyers.
Katz Korin saw three of its litigators — Kimberly Jeselskis, B.J. Brinkerhoff and Hannah Kaufman Joseph — depart in September 2019 to start their own firm. Gabovitch said the combination with Cantrell & Mehringer was not done to fill any holes created by the departure and would have happened even if the three attorneys had remained.
Looking ahead, Gabovitch is excited about bringing the Cantrell & Mehringer team onboard. He said Katz Korin "added a roster of very good, talented lawyers."•
Please enable JavaScript to view this content.