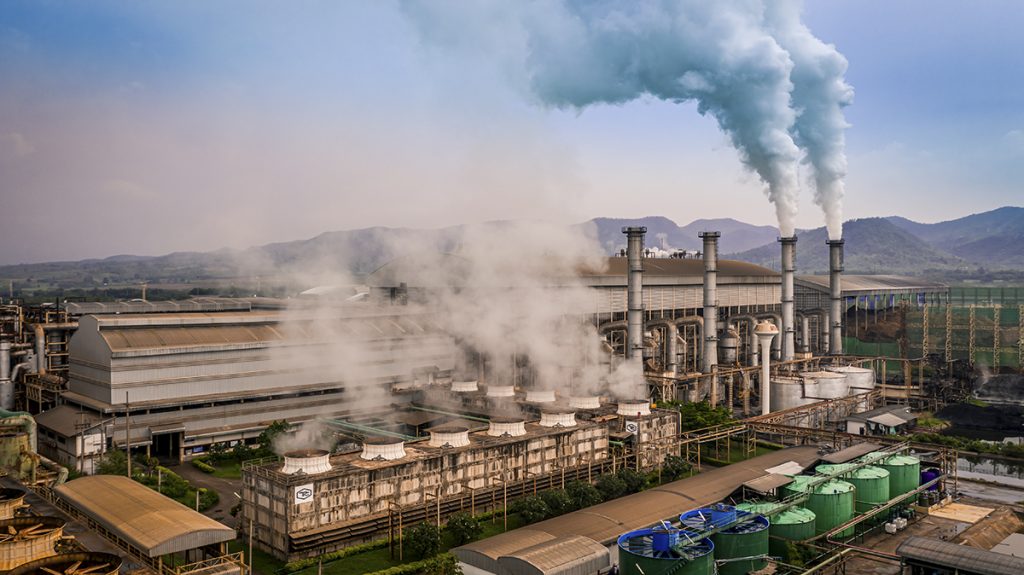 The national and international conversations about the impacts of climate change have focused largely on initiatives designed to curb greenhouse gas and other potentially harmful emissions. But there's also an increasingly popular business aspect to the conversation.
Specifically, there's a growing movement for businesses, at least those that are publicly traded, to disclose their climate-related risks. Democratic presidential candidate and Sen. Elizabeth Warren has led the disclosure charge, filing legislation, albeit unsuccessfully, in 2018 and 2019.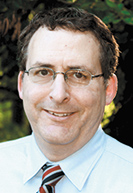 The Securities and Exchange Commission does require disclosure of climate-related risks, but only if those risks are "material." The G20 is among the organizations supporting broader disclosure requirements.
Even without a legislative mandate, attorneys say companies are facing increasing pressure to keep investors abreast of how climate change is affecting operations, and vice versa. Given that reality, lawyers say businesses are trying to be proactive in preventing climate-related risks, while counsel are trying to help corporate clients understand what those risks might be.
"More and more pressure is falling on businesses to do this anyway, especially businesses in relatively climate-sensitive industries, because they're going to be under pressure from their insurers increasingly," said Dan Cole, professor of law and public and environmental affairs at Indiana University Maurer School of Law.
What's the risk?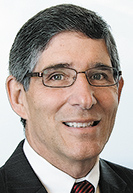 Businesses can face climate-related risks in two principal ways. The first is how their operations are affecting the climate and playing a role in climate change.
Frank Deveau, chair of Taft Law's environmental practice, gave the example of the oil industry, which is often cited as a major contributor to climate change given its emissions. But "any industry that has emissions can have the same issues related to climate change," Deveau said.
On the flip side, climate change can potentially impact how a business functions.
Cole – who also teaches in IU's O'Neill School of Public and Environmental Affairs – gave the example of a business in Florida. If that business operates with a freshwater system that suffers from saltwater intrusion, its operations could be negatively impacted.
Cole also pointed to the agriculture industry, which is necessarily at the mercy of nature. Additionally, a lack of water availability could impact businesses such as pulp and paper mills, he said.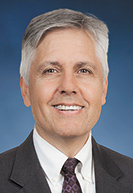 Even a noncoastal state such as Indiana can face climate-related business risks, said Peter Racher, a partner at the environmental law firm Plews Shadley Racher & Braun. He gave the example of the 2008 floods that devastated several parts of the state, particularly Columbus.
In a 2016 paper discussing litigation after disaster, Racher noted the 2008 flood cut off major transportation routes, including Interstate 65, thus limiting the availability of disaster services. Speaking recently with Indiana Lawyer, Racher also noted the flooding in Columbus led to overflows of pollutant-containment structures.
Even the vacation industry can be affected by climate change, Cole said. Development companies opening beachfront resorts, for example, are struggling to find insurance coverage for properties on low-lying islands.
What to disclose?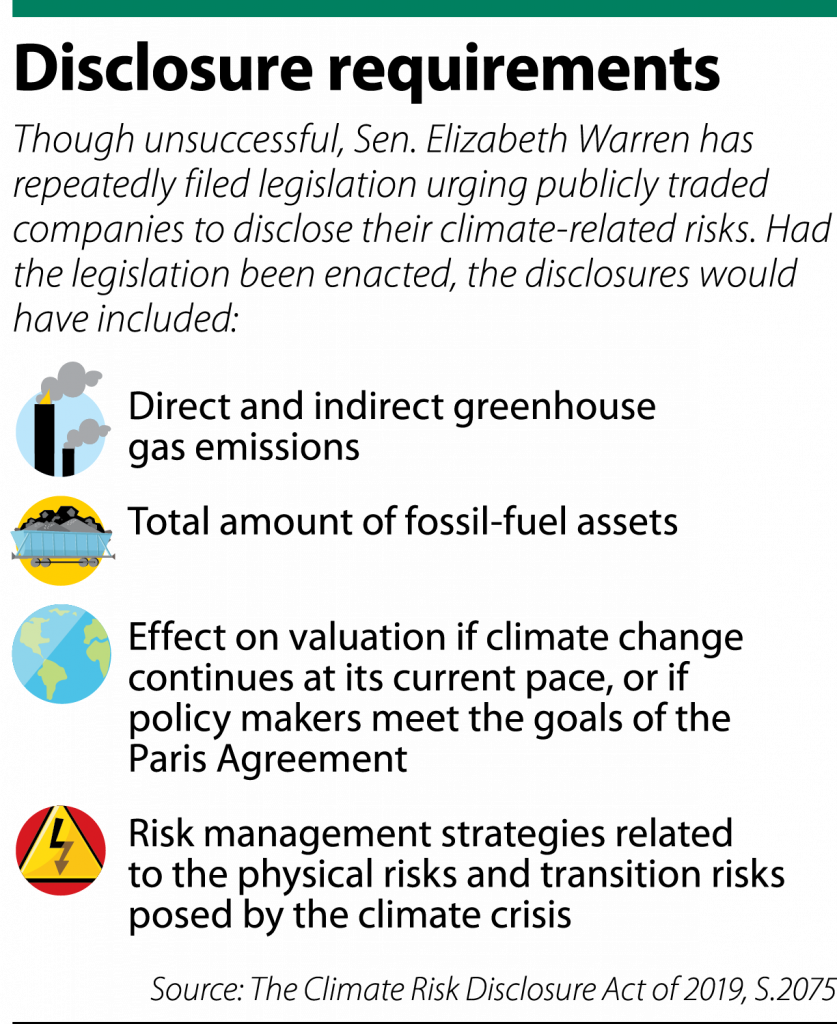 Given this, Warren's legislation — known as the Climate Risk Disclosure Act of 2019 — would require public companies to disclose critical information about their exposure to climate-related risks. The disclosures requirements would include a business's:
• Direct and indirect greenhouse gas emissions
• Total amount of fossil-fuel related assets
• Valuation impact if climate change continues at its current pace, or if policyholders meet the goals of the Paris Agreement; and
• Risk management strategies related to the physical risks posed by climate change.
Warren's legislation has not gained traction, and the attorneys don't expect it to given the nation's current divided government.
But that doesn't mean disclosure isn't happening. In a July 2019 letter to Warren and Rep. Sean Casten, an Illinois Democrat who filed companion legislation, 33 organizations voiced their support for the Climate Risk Disclosure Act of 2019.
The organizations — which included Greenpeace USA and the Sierra Club — pointed to high-profile businesses already taking steps to be more cognizant of their effect on climate change.
"The bill tasks the Securities and Exchange Commission with developing the standards that would allow systematic evaluation of climate-related risks, matching mainstream investor expectation as reflected in the 2017 vote by a strong majority of ExxonMobil shareholders demanding that the company report on its business plans for a world in which global temperature increase is kept well below 2 degrees Celsius, as well as this year's vote by 99% of BP shareholders calling for the company to report on how its business plans align with the goals of the Paris Agreement and in the recommendations of the Task Force on Climate-related Financial Disclosures," the letter reads.
In its 2019 Status Report, that task force determined, among other findings, that "more clarity is needed on the potential financial impact of climate-related issues on companies."
Warren's bill is based on the premise that "investors, lenders, and insurers are increasingly demanding climate risk information that is consistent, comparable, reliable, and clear … ."
"The bill will help the market appropriately assess the risk of climate change, which will help push private actors and government actors to more decisively to address the climate crisis," Warren's office wrote in a white paper.
Why disclose?
The reason for disclosure of climate risks is two-fold, attorneys say.
First is that the SEC requires businesses to report their material risks, Deveau said.
"It's also a matter of not even just disclosure itself, but just having companies gather their information about their own risks, which they have to do in order to disclose," Cole added. "… It'll provide them with valuable information that they can then use to say, as a matter of business practice, let's change some things in light of the forthcoming risks."
There also are liability risks. Racher gave the example of increased snowfall necessitating a business regularly have its parking lot plowed to avoid injury.
Already, businesses are trying to be proactive when it comes to climate risks, Deveau said. And on the flip side, Racher said, smart lawyers are helping their clients mitigate those risks.•
Please enable JavaScript to view this content.