For his work in founding and developing C-SPAN, the cable network that gives Americans a front row seat to their government, Indiana native and Purdue University alumnus Brian Lamb was honored Monday by the Benjamin Harrison President Site with the 2019 Advancing American Democracy Award.
"At every turn, he and the network have advanced American democracy, making it available, accessible and free," Charles Hyde, president and CEO of the Benjamin Harrison Presidential Site, said of Lamb.
The award was presented at the 14th Annual Mary Tucker Jasper Speaker Series, the Benjamin Harrison Presidential Site's largest yearly fundraiser. Held at the Columbia Club, the evening included a dinner, viewing of the new patriotic light and sound show on Monument Circle, and a conversation between Hyde and Lamb.
C-SPAN, which stands for Cable Satellite Public Affairs Network, was launched in March 1979 and continues to be funded solely by cable television companies. It has since grown to three television networks, a spot on the radio dial and a website that includes live streaming as well as an estimated 250,000 hours of archived programs.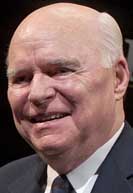 Lamb told Indiana Lawyer the goal for C-SPAN was to do something that no one else was doing. TV news in the late 1970s was still dominated by ABC, CBS and NBC, so he wanted to "give people the opportunity to see how the whole process of spending their money worked without a lot of commentary and analysis."
When C-SPAN first went on the air, it broadcast the proceedings in the U.S. House of Representatives. Now the offerings have expanded to include speeches and votes in both the House and U.S. Senate, committee hearings, audio recordings of oral arguments at the U.S. Supreme Court, lectures and panel discussions, in-depth interviews with authors, and video of the British Prime Minister taking questions in the British House of Commons.
Andrea Neal, board chair of the Harrison Presidential Site, noted the Advancing American Democracy Award honors citizens who have promoted the understanding of the American system of government.
"Who better to honor than the man who invented C-SPAN, the cable network that provides gavel-to-gavel coverage of Congress without editing, commentary or analysis," Neal asked. "This is the place to go for unvarnished democracy in action — the antidote to what aids us in the age of 'fake news,' biased programming and 280-character tweets."
Lamb had an interest in television but was looking to build a career more in entertainment rather than news. Asked if he originally enrolled in Purdue to study engineering, he replied, "Are you kidding?" Rather, he went to Purdue even though it did not have a journalism or broadcasting degree program because he is a lifelong Boilermakers fan.
He graduated with a degree in speech then served four years in the U.S. Navy, which included a stint in the public affairs office at the Pentagon. Lamb also served as a military social aide for the White House under President Lyndon B. Johnson and as the media and congressional relations director for the Office of Telecommunications Policy during the Richard Nixon administration. He also worked as a freelance reporter for United Press International Audio, the Washington bureau chief for CableVision magazine and publisher of The Media Report.
Lamb credits his military career with changing his outlook from entertainment to government. "It educated me about the possibilities," he said.
The Boilermaker hesitates to describe C-SPAN as his vision, saying it was a business that started evolving. Today, the network is "exactly what I expected we could do if we were allowed to," Lamb said.
Comparatively, C-SPAN claims only a small share of the viewing audience. Still, as Lamb pointed out, it is an influential share. Government officials, editors, reporters, professors, teachers and even young people who are thinking about running for office all tune in.
Lamb noted many think watching the government work is boring but, he said, the country is "$23 trillion in debt, so people might want to pay attention."
Please enable JavaScript to view this content.