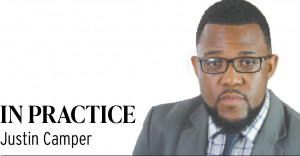 How to choose the right clients as a solo practice or small firm? This is the million-dollar question. If every law firm owner could answer this question perfectly, every attorney would be a million-dollar partner at a law firm. Not choosing the right clients could be No. 1 at destroying your practice or firm. Surprisingly, the topic, "How to choose the right clients" is a discussion that is uncommon among lawyers. We will take a quick look at the subject in this article.
When I started a law firm as a solo practitioner, I felt like I was at a disadvantage because I did not have as much experience practicing law as some of my peers. I was convinced that I had an ardent desire to serve the community and that being a lawyer was the best way for me to do it. I was tired of working at law firms and government agencies that put the client after their needs, so I decided to run my law firm using a "client-first" mentality.
Before I started my own law firm, I had no clue that representing a client requires a two-way commitment. The client chose us, so we must choose the client. After some thought, I made an announcement on social media that I was starting my own law firm. I did not know what to expect. Groups of individuals from all over the country gave me leads about many types of legal issues, and there were also those who forwarded my announcement on social media.
The public saw that I was a lawyer, and many decided to give me a call regardless of what their legal needs were or where they lived. One day someone asked me the million-dollar question, "How do I choose the right clients?" After several years of law practice, I produced a criterion to help figure that out.
The clients must meet these three criteria for me to choose them:
1. Be consistent with my law firm's purpose.
2. Understand my role as an attorney.
3. Can pay for the services, excluding pro bono or discounts.
Meeting the first criteria, if you are a solo practitioner, how you treat your clients, and each winning case, develops your brand and the identity of your firm. I am a small business attorney, although I do practice in other areas. Every law firm has an identity and a purpose. When I am struggling to figure out if I want to take a certain client, the first question I ask myself is, "Does this fit within my law firm's purpose?"
Many solo practitioners and small firms have a general practice because they want to take on as many cases as possible. Even in your general practice, you must decide about the present and future representation of the firm. While representing a personal injury case, do you want to be known as the firm who represents the plaintiff "little guy," or represent corporations from "greedy people"? You could also be a firm that represents both sides of personal injury, but you must remember the message you are sending to future clients about the brand. You will not be able to take on every case that walks through the door. Especially if your client really wants you to fight hard for them.
The second criteria is clients must understand your role as an attorney. A great client will understand your role as an attorney. They will trust you to represent them in their prospective matters and give them the best advocacy and advice under the law. This may be hard to determine when you are trying to decide whether to collaborate with a client. There are potential clients who immediately make it obvious that they only want you to appear in court and sign where needed.
Once I had a client who had to hire an attorney for a dispute because the business was a corporation. This client only wanted me to be the face of his complaint — to appear and make arguments in court for the corporation, even when the case was against the law and weak. We talked several times about the strategy for the case, but because the client was so convinced that their own strategy would work, the individual did not want to listen to any of my recommendations. My advice would be to not work with these types of clients because they will only frustrate you throughout the time that you represent them.
The third and last criteria, but certainly not the least to choosing clients, is those who can pay for the services that you provide, unless you are willing to do pro bono work or provide a discount. I know this sounds like the simplest one, but for solo and small firms it is the most important one.
When in solo and small firms, our time is our money. It is so easy to find yourself "looking into something" for a client at no cost. Eventually you will realize that you are working for free. If you know a client does not have the money to pay you, it is best to make a mental note in your head that you will take on this case for free or at a discounted rate. If you are not prepared for that, do yourself a favor and deny the case. Do not do work for a client on an "IOU" basis. If you do magnificent work as an attorney, you deserve the compensation for it. Great clients know this!
The truth about these three criteria is that they are more like guidelines than strict rules. There may be times when you take a client who does not necessarily fit your business model or purpose because you care about the client's story. You may have a client who does not understand your role as an attorney, but the money they provide will pay for assistance by the person who has that defined role. Lastly, there may be a client whom you accidentally take on pro bono, but they tell the world about how great your law firm is.
You may deviate from time to time from your guidelines, but it is better to have some guidelines versus none. As lawyers know, there are no bright-line rules in life, just guidelines by which you can live by.•
Justin Camper is an attorney and owner of Justin Camper Law LLC, based in Hammond. Opinions expressed are those of the author.
Please enable JavaScript to view this content.