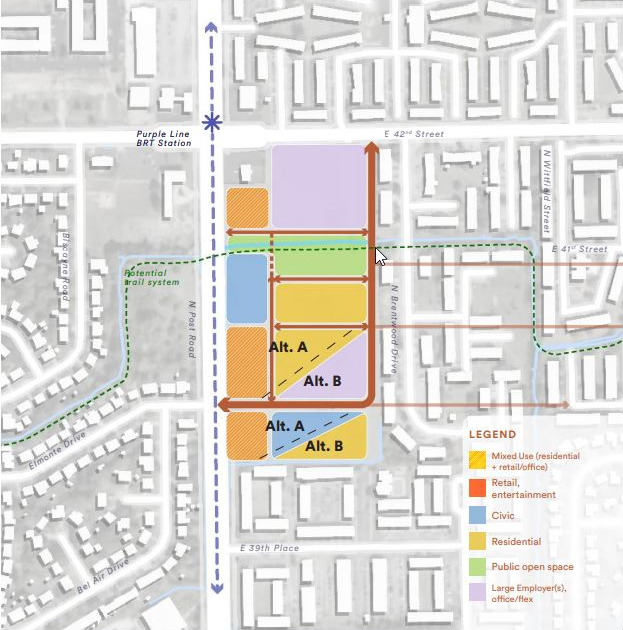 Developers have until Jan. 31 to respond to the request for information on the 19-acre former Oaktree Apartments site at the corner of 42nd Street and Post Road in Indianapolis.
In 2019, the city acquired the 300-unit Oaktree apartment complex through eminent domain and razed the buildings. Before its demolition, the complex endured a long list of problems. It was struck by a tornado in 2008, saw multiple fires, and was the subject of a 2013 city public nuisance lawsuit against the property owner citing "hundreds of police runs, incident reports, and housing and building code violations."
The complex was condemned by the Marion County Department of Public Health in 2014 when the last remaining residents were forced to leave due to unreliable water service caused by broken pipes.
The city's plan for the site, released in early 2022, prioritizes market-rate and affordable housing, mixed-use projects, retail and entertainment, office space, civic projects, and public park space along a creek that bisects the property. As it will be along the future route of the IndyGo Purple Line, transit-oriented development lining Post Road.
The plan was created over the span of eight months with input from the Community Alliance of the Far Eastside, La Plaza, the Far Eastside Community Council, and other residents and stakeholders. The process was led by consultants Meticulous Design + Architecture and David Rubin Land Collective.
"The city is actively working to reverse decades of under investment," Mayor Joe Hogsett said Wednesday. "So we are now sending out the call to the development community to take action on the vision that was set by the neighbors and trusted community partners."
The plan should guide RFI responses, said Deputy Mayor of Economic Development Scarlett Andrews. In the review process, the Department of Metropolitan Development will work closely with a community advisory committee.
Because of the emphasis on community involvement, the next steps may have a longer timeline. Andrews said it's possible that the department will choose a proposal from the RFI in the second quarter of 2023, but it's also possible that the department will pick different aspects of the developer responses and issue a specific request for proposals.
Please enable JavaScript to view this content.