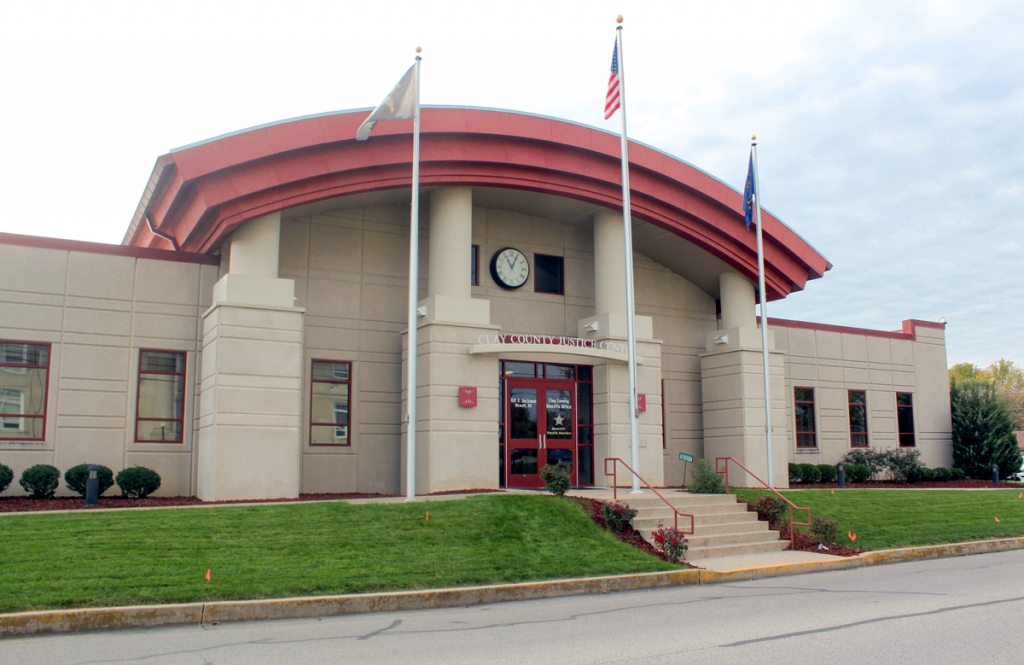 On a chilly November morning, in a small, crowded office on the first floor of the county's limestone courthouse, Clay County Commissioners President Paul Sinders bows his head after reciting the Pledge of Allegiance.
Standing in front of a banner displaying a yellow ribbon stretched across an American flag, with the words "Support our Troops" written across the top, Sinders leads a prayer. He faces south while speaking, in the direction of the Clay County Justice Center — a red and tan facility that houses the sheriff's department and county jail across the street.
Agenda items take up half of the two hours allotted for the commissioners meeting before the floor is opened for public comment.
The public sits like a jury in front of Sinders and his fellow commissioners, Marty Heffner and Bryan Allender. Sheriff Paul Harden and one of his deputies sit in the corner while a Terre Haute TV station films the 9 a.m. gathering.
Like the previous month's meeting, many of those in attendance, a mix of locals and out-of-town activists, have no interest in what was discussed during the scheduled minutes. They want to know the plans for the facility on the other side of the road — and only plan to address that issue until they're dismissed.
Dollars for detainees
Since 2013, the Clay County Jail, located in the 8,000-plus-person town of Brazil, has maintained a contract with the U.S. Marshals Service to hold U.S. Immigration and Customs Enforcement detainees.
The county is paid $55 per ICE detainee per day by the Department of Homeland Security in addition to $20 per hour and 57 cents per mile for guards/transportation. On average, the jail holds between 50 and 60 detainees per day, with the average stay for the detainees hovering around 21 days, according to ICE records.
In 2020, auditor Jennifer Flater said the Clay County Jail brought in $1.4 million in revenue for housing the detainees. The budget for the jail overall was $1,958,925 that year, she said.
The most recent ICE data show around 22,000 immigrants are being detained across more than 200 facilities in the agency's network — many of which are in small, rural communities.
While immigrant-rights groups have opposed ICE for years, activists are now raising additional flags as the commissioners have shown intent to move forward with a $20 to $25 million project to expand the jail to house more ICE detainees.
The existing jail, constructed in 2006, is 46,212 square feet. New improvements would include a proposed square footage of 45,420, according to a signed Sept. 16 agreement for services obtained by the National Immigrant Justice Center. The project would add at least 265 new beds to the existing jail, which currently houses up to 176, and cost upwards of $25 million.
While the most recent signed agreement had a deadline of Nov. 15, attorney Eric Somheil announced to the public on Nov. 1 that the contract between Clay County commissioners and Clay County Jail Partners LLC was null. The LLC is a group organized to work with BW Development, Garmong Construction Services, RQAW and GM Development to create the proposal, according to the Brazil Times.
Following the meeting, Somheil told Indiana Lawyer the developer's attorney met with bond counsel and found the agreement "premature."
"There was an issue pertaining to the status of the case as far as the factual basis on what had been done at that point in time," Somheil said.
"They were concerned about the procedures that had been followed," he continued. "They needed to verify everything, and I think that has been done and approved. I figured we would sign a new one. Whether we go back with the original, I don't know. That has not been determined yet."
During the commissioners meeting, when asked whether the jail project was still moving forward, Heffner said "it's not a given" despite the county having paid $200,000 to acquire land south of the jail in recent months, and the commissioners "have no deadline" in making a decision.
In a phone call after the meeting, Sinders said the news, which he'd received a week or two prior to the meeting, caught him "off guard."
As of Nov. 2, there wasn't a signed agreement or timetable for a jail expansion, according to Somheil and Sinders.
Are extra beds needed?
The commissioners have argued the jail will need more beds in the future.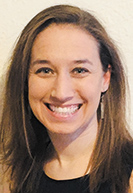 Hannah Cartwright, an Indianapolis immigration attorney and executive director of Mariposa Legal, said she thinks the notion is only true because of the interest in housing more
ICE detainees.
"If you have a 175-bed facility, and your local population is taking up less than 100 of that, if they stopped taking folks from ICE or reduced their ICE population then they wouldn't be near the Indiana requirements for when jails should increase capacity," Cartwright said. But Heffner said the jail would need the beds regardless.
"When you reach 80% capacity the state considers you full. We were running at that level on a regular basis pre-COVID," he said during the commissioners meeting. "Eventually, believe it or not, we're going to get past COVID. … Once we get past this, drugs are still out there and we're still going to have people committing crimes."
During the first week of October, 61 of the jail's 168 beds were filled by ICE detainees.
The push for a jail expansion comes as Illinois looks to shut down its remaining ICE detention facilities. In August, Gov. J.B. Pritzker signed a bill prohibiting the practice.
If the facilities in Illinois are closed, Clay County will be the only ICE detention center between Kentucky and Wisconsin, according to local officials.
In September, McHenry and Kankakee counties in Illinois announced they were suing the state, claiming there would be a detrimental financial impact should they lose their beds.
According to the Daily (Kankakee) Journal, Kankakee County makes nearly $4 million in revenue per year and McHenry brings in $8 million per year for holding ICE detainees.
While the money is lucrative, the contracts between the federal and county governments aren't guaranteed, NIJC senior policy analyst Jesse Franzblau said.
In the case of Clay County, which holds a designation of "does not meet standards" following an ICE inspection this past May, they are especially at risk of losing their contract, Franzblau said. He pointed to a 2009 appropriations law, H.R. 6947, which outlines that if an ICE detention center fails two inspections, the contract must be terminated.
The most recent ICE report found dozens of deficiencies, including multiple issues with medical care. In March and May of this past year, the NIJC filed two complaints on behalf of ICE detainees regarding alleged poor health conditions and COVID-19.
"These (inspections) are very hard to fail," Franzblau said. "The inspection scheme, they do everything in their power to pass them."
Franzblau said the idea that ICE will continue paying the county for years to come is risky.
"If ICE changes their mind, suddenly these rural counties are left in the cold," he said. "Not only are they leaving a jail two-thirds empty, but all the money the county was expecting to pay back bonds, roads, whatever project, that money is suddenly gone. It can be devastating."
The commissioners have made it clear they aren't concerned ICE could leave, and Sinders said he wasn't aware of any rules regarding ending contracts due to failed inspections.
"They come in every so often for inspections, and if they find something not quite right, they immediately correct that," Sinders said. "We are in very good standing with the ICE people. There are no concerns whatsoever.
"… They have made it known to us that they would love for us to have additional beds available here because they will be able to fill them."
Transparency concerns
Immigration rights groups have argued the commissioners haven't been transparent in their dealings with the jail and the information provided to them has been confusing not just for them, but also the public.
The NIJC has filed multiple Freedom of Information Act requests and said it has taken months to get what they want, including documents from executive meetings held by the commissioners as well as emails sent between the county and developers.
"We are familiar with how ICE works with local county governments in order to sort of take advantage of the fact (that) many of these local decisions are made in a vacuum and made outside of public view," Cartwright said. "… It has been really concerning how little Clay County residents know about this. As we become more aware of details of this proposal, there are some concerning aspects. That makes the fact the information isn't getting to the public even more concerning."
Mari Luna, a community organizer with Cosecha Indiana, said her group has canvassed the neighborhoods around the jail.
"A lot of the doors we've knocked on, a lot of the people didn't know this was happening or had heard rumors or read one story about it in the newspaper," Luna said. "A lot of them didn't know how it would impact them. … A lot of locals are mainly worried about the tax and the financial aspect of it."
PJ Nicoson, 80, has lived in Clay County for 77 years and attended the most recent commissioners meeting. He said he planned on reporting back to a group of friends during breakfast the following day.
"My concerns are mainly taxes, naturally," Nicoson said. "I think we're going to get left holding the bag eventually. It seems like our county spends more time promoting criminal issues than it does doing things like bringing in industry. It seems like we're off the beaten path on that."
Sinders contended the constituents he has talked to are in favor of the jail project and didn't attend meetings for that reason.
The commissioners have said they will not raise taxes and that the .25% "jail tax" added on to income taxes (2.0%) each year to pay off the last jail project will be extended further into the future if an expansion takes place.
Franzblau said the money brought in from ICE isn't supposed to be used for anything other than taking care of those in custody.
"It's worth pointing out that despite clear statutory and contractual language requiring local governments to use federal dollars received through ICE contracts exclusively for the care of individuals in federal custody housed in their facilities, Clay County officials appear to be pushing for a $20-25 million project based on the assumption that ICE beds will pay for it," Franzblau said, pointing to 8 U.S.C. 1103.
Sinders said he disagrees with the sentiment it's wrong to hold the detainees, and there has been a lot of misinformation shared about the project in the community — particularly in Facebook groups.
"Basically, these inmates are going to go someplace. We might as well take advantage of the situation that they're going to be someplace, because if they're going to be someplace, why not Clay County?" Sinders said in a phone call. "It is going to increase our income and allow us to do more at the county level. People don't realize, I believe, that with the ICE inmates it helps keep taxes down. … Without the additional income, if there's a shortfall, basically taxes are going to go up, and at this time there is no need for that.
"… I know for a fact, if the expansion does not go here in Clay County, we have some other counties that (want) to jump on this and obtain the benefits from this as we are at the present time," he continued.
An ICE spokesman did not respond to specific questions about the Clay County Jail ICE detention center.•
Please enable JavaScript to view this content.