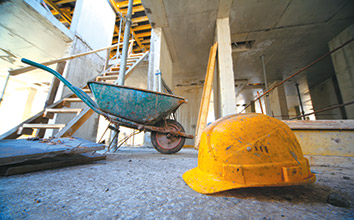 A construction worker who slipped and fell while trying to step from a ladder onto a scaffolding platform was unable to regain his footing before the Court of Appeals of Indiana, which found the contractor's focus on safety did not indicate a duty of care.
Jerry Dixon filed a complaint for injuries he sustained in a fall from a scaffolding platform at a construction site. Although his employer, subcontractor Biancofiori Masonry Inc., had erected the scaffolding, Dixon alleged his injuries were caused by the negligence of the general contractor on the project, Shiel Sexton Company Inc.
The Marion Superior Court granted Sexton's motion for summary judgment and the Court of Appeals affirmed Wednesday in Jerry Dixon v. Shiel Sexton Company, Inc., 22A-CT-847.
Dixon had argued that Shiel Sexton exceeded its designated responsibilities and actually assumed a duty of care for his safety. He pointed to the contractor's conduct, which included utilizing safety managers and giving them the authority to address safety violations, requiring subcontractors to adhere to safety rules and conducting weekly inspections as indicative of its duty of care.
The Court of Appeals found that while Shiel Sexton was responsible for promoting safety by supervising all safety precautions and programs, the subcontractor agreement with BMI stated the subcontractor had the "sole responsibility" for the safety of its workers and would be liable for "each hazardous condition … ."
"Based on our review of the record," Judge Elaine Brown wrote for the court, "we conclude the designated evidence establishes that Sexton's actions regarding safety at the Project fell within the scope of its contractual obligations to the Owner, and it did not assume a duty of care with respect to the safety of BMI employees through its actions to supervise or ensure compliance with general safety requirements imposed by contract."
Please enable JavaScript to view this content.