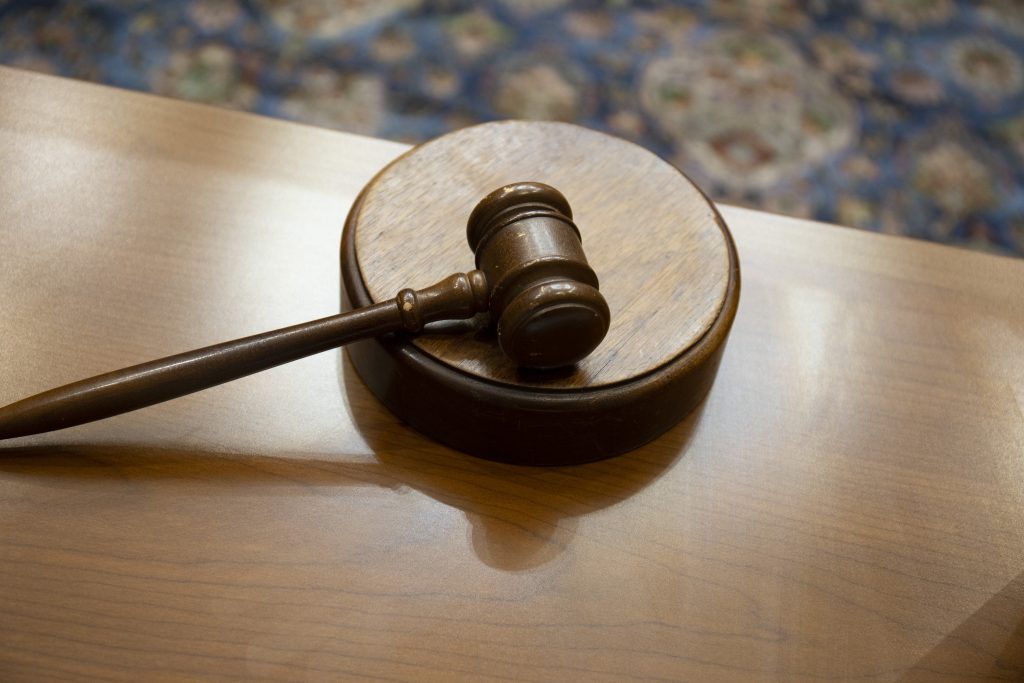 The Court of Appeals of Indiana has affirmed a man's multiple convictions stemming from a domestic violence incident, determining there was no error or constitutional violation.
Appellant-defendant Richard Talbott met P.D. online and started dating her. A few months later, he moved into her mobile home in Hanover.
P.D. testified that things were "OK" for the first day or two, but she became uncomfortable because Talbott was unemployed and would drink all day. He would also question her frequently about her phone, tell her what she could and could not wear, and who she could and could not speak to.
About a month after Talbott moved in, the couple got into an argument while P.D. was driving her car. Talbott demanded to see her phone, which was in her purse on the driver's side floorboard, and pushed her foot off the accelerator as he tried to retrieve it.
Once Talbott had the phone, he announced he was moving back to New Albany. He tried to call his family but didn't get an answer, so he threw her phone out the car window.
P.D. was able to retrieve her broken phone, then drove Talbott back to her mobile home so he could pack his things.
Once they got to the trailer, Talbott cornered P.D. in her bedroom and strangled her on the floor, hitting her head against a nearby wooden box. She passed out and involuntarily urinated on herself. Once she woke up, Talbott helped her clean up and asked her to drive him to the liquor store.
Before he went inside the store, Talbott told P.D. he would kill her if she called the police and got him arrested. But P.D. drove to her sister's mobile home while he was inside the store, where she contacted law enforcement.
The police arrested Talbott at P.D.'s trailer, and the state subsequently charged him with Level 3 felony counts of criminal confinement and aggravated battery, Level 6 felony counts of domestic violence and strangulation, and three counts of Level 6 felony intimidation.
Talbott requested a speedy trial, which was scheduled for Jan. 7, 2020. A month later the state amended the charges to include Level 1 felony attempted murder.
Talbott filed a pro se motion to dismiss the Level 3 felony charges despite being represented by counsel. That same day he wrote a letter complaining about his counsel and asked for a new attorney. His attorney withdrew and a new one was appointed.
The new attorney was appointed a month before the jury trial. At a status conference, the attorney said he was still catching up on the details of the case and requested that the trial begin in May. A new trial date was set for May 11, 2020.
However, on March 16, 2020, the Indiana Supreme Court ordered a suspension and rescheduling of all jury trials due to the emerging COVID-19 pandemic. That postponed Talbott's trial.
In the interim, Talbott requested and received a new attorney , and his trial date was reset for Sept. 1, 2020. His new attorney requested to move the trial date so he could prepare, which the Jefferson Circuit Court granted, rescheduling the trial for Nov. 9, 2020.
Talbott wasn't satisfied with his new attorney, who eventually withdrew. The court then allowed Talbott to continue pro se.
Once he was representing himself, Talbott began filing several motions claiming he was entitled to discharge and challenging the charging information. The court scheduled a hearing for all the motions on April 30, 2021.
But on April 28, Talbott filed a motion to withdraw the case pursuant Indiana Trial rule 53.1. He also asked the Indiana Supreme Court to appoint a special judge but was denied.
Talbott's trial eventually began on Oct. 4, 2021, after being further delayed by his own motions and by the judge's scheduling conflicts. He proceeded pro se and was found guilty of criminal confinement, aggravated battery, domestic battery and strangulation. He was also found to be a habitual offender and was sentenced to an aggregate of 31 years.
Talbott presented several issues to the COA on appeal, the first being whether he was entitled to discharge pursuant to Criminal Rule 4(B) because his request for new counsel resulted in the vacation of his initial trial date and caused him to be held more that 70 days prior to trial.
The Court of Appeals affirmed.
"… (T)he trial court did not err in crediting to Talbott both the acquiescence to the vacation and resetting of the January 8, 2020, status conference and the request for a May 2020 trial date," Judge Melissa May wrote. "The trial court also did not err in concluding Talbott thus waived his earlier speedy trial request."
The second issue was whether Talbott's constitutional right to a speedy trial was violated when delays cause by his repeated changes of counsel, the COVID-19 public health emergency, his pursuit of an interlocutory appeal and court congestion resulted in his trial occurring 23 months after he was charged.
"While Talbott initially asserted he wanted a speedy trial, he consistently pursued litigation tactics that delayed his trial. Moreover, Talbott has not demonstrated the delay prejudiced his defense," May wrote.
Third, Talbott argued the trial court erred when it denied his motion to dismiss the state's charge of Level 3 felony criminal confinement due to an inadequate charging information.
"Talbott contends the criminal confinement charging information 'alleged as an element of the offense that Talbott had caused bodily injury,' but the charging information did not allege 'any facts in support of a bodily injury element,'" May wrote. "… Because it is axiomatic that prolonged strangulation creates a substantial risk of death, the charging information sufficiently alleged facts necessary to put Talbott on notice of the crime charged."
Finally, the last issue was whether the state presented sufficient evidence to prove Talbott committed Level 3 felony criminal confinement.
Finding it did, the COA held, "(A) reasonable jury could conclude from P.D.'s testimony and Dr. Smock's report that Talbott choked P.D. in a manner that she suffered a substantial risk of death, and we affirm Talbott's criminal confinement conviction."
The case is Richard D. Talbott v. State of Indiana, 21A-CR-2625.
Please enable JavaScript to view this content.