When it was Court of Appeals Judge James S. Kirsch's turn at the microphone to reflect on his career, he opted to spend little time talking about himself.
Instead, he thanked the individuals who've been a part of his nearly half-century career in law, saying he felt "blessed" to have always held jobs he loved, and emphasized the importance of the judiciary in our society.
"Every day I am reminded of how special the job is, how meaningful it is," Kirsch said.
On Thursday, a retirement ceremony was held for Kirsch in the Indiana Supreme Court courtroom at the Statehouse in Indianapolis.
Kirsch has worked on both sides of the bench over the years, starting as an attorney at Kroger, Gardis & Regas in 1974.
The lifelong Indianapolis resident then served as judge on the Marion Superior Court, beginning in 1988, before Gov. Evan Bayh appointed him to the COA in 1994. On the appellate court, Kirsch was retained in 1996, 2006 and 2016 and served as chief judge from 2004 to 2007.
During his time as an appellate judge, Kirsch said he has worked on more than 4,000 cases.
Outside of the courtroom, Kirsch taught for more than 30 years at Purdue University, serving as a professor of law and management at the Krannert Graduate School of Management. He also taught legal environmental business and transnational business law in more than 30 countries across five continents.
In addition to his commitment to education, Kirsch has also held major leadership positions in the Hoosier Legal Community — as well as with nonprofits such as the United Way — including serving as president of the Indianapolis Bar Association and the Indianapolis Bar Foundation.
Speaking first during the ceremony was Joseph Heerens, general counsel for Gov. Eric Holcomb. Heerens presented Kirsch with his fifth Sagamore of the Wabash award.
While Sagamore winners aren't officially recorded, Heerens said it was a rare feat for Kirsch to have received the honor five times. He said the governor takes the award very seriously, and when considering Kirsch for it, "he cleared the bar by a mile."
Brian Bosma, former speaker of the Indiana House of Representatives from 2004 to 2006 and 2010 to 2020, then took to the podium to share stories about Kirsch. Bosma, who has known Kirsch since he was in law school, said Kirsch has made a profound impact on young attorneys, including himself.
Bosma said that when he was considering joining the General Assembly in 1986, he reached out to Kirsch and asked him what he should do, because his employer at the time didn't see how he could be a representative and attorney simultaneously. Kirsch then connected Bosma with KGR, which allowed Bosma to work as a partner outside of legislative sessions.
Judge Marla Clark of Johnson Superior Court 4 also shared personal tales of how Kirsch helped her along her professional career, saying Kirsch "has a molded a generation of leaders."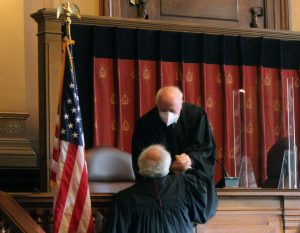 Also speaking on behalf of Kirsch was Court of Appeals Judge Edward W. Najam Jr., who has served with the retiring judge for roughly 28 years.
"(Kirsch) has always been a leader," Najam said. "Leadership has come to him naturally. His peers at every level have trusted him with leadership."
Najam joked that the COA got him "a certificate good for one denial of transfer" as a gift, but also shared serious sentiments during his speech.
"Next year we will observe the 75th anniversary of Article 7 in the Indiana Constitution, which established the selection of Indiana's appellate judges," Najam said. "Jim Kirsch is exactly the judge the judicial study commission and General Assembly had in mind when the constitutional amendment became Article 7."
COA Chief Judge Cale Bradford, citing a story by Indiana Lawyer, concluded Kirsch wasn't the only one who felt blessed by the retiring judge's time in the judiciary.
"You've taken this blessing and blessed all of us, and so many more outside this room," he said.
Bradford said the COA made a donation to the Benjamin Harris Presidential Site in honor of Kirsch's retirement.
During his speech, Kirsch specifically thanked his wife, Jan, his children, Adam and Alexandra, and their spouses, his colleagues on the bench, his former law clerks — many of whom were in attendance — and his administrative assistant of 33 years, Sue Barnett.
Kirsch, who has been certified as a senior judge, will be succeeded by Ice Miller appellate attorney Derek Molter, the third COA judge selected by Holcomb. Molter will join the court on Oct. 1. A robing ceremony has not yet been announced.
"The best advice that I ever heard was to find what you love to do and you'll never have to work a day in your life," Kirsch said. "For the entirety of my career, I've gotten to do what I love to do."
Please enable JavaScript to view this content.